Just For Kids Foundation Topic at Rotary
September 24, 2013
By: Stephen Kent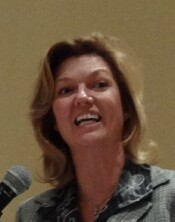 Lisa Rechsteiner
Lisa Rechsteiner
has been board member with the J
ust For Kids Charitable Foundation
for seven years. She spoke to Rotary Tuesday about the foundation and the work it does Lisa works for Graff Chevrolet in her day job.
Just for Kids has a simple mission. They "find the kids who are doing the right things and let them know we appreciate them". They are know for finding kids who are deserving but would often slip through the cracks of the system.
The organization has a relative small board that allows them to react quickly without a lot of red tape. Most kids come to them on recommendation from schools churches and other organizations. "We don't have a vetting process of our own. If those organizations recommend a kid we assume they have done the homework and we take action."
Among the programs is one that works with some forty eighth grade classes and selects deserving kids and awards them recognition. The kids usually know they have been selected, but they are usually surprised to learn that part of the award is a laptop computer.
From twenty to thirty scholarships are awarded each year. These go to kids with GPA's in the 2.5 to 3.5 range. "We know that kids with the highest GPA's will likely get scholarships from other organizations. We want to target those who are deserving but may not make that cut."
The foundation gives backpacks with clothing, boots, shoes, jackets and other items to any child who needs them. All that is required is for a teacher to make the request. No questions are asked. The items are purchased for the child.
Each Christmas fifty families are recipients in the Christmas need program. They receive a tree and gifts for all of the family members, regardless of the financial situation. "We believe every child should have a tree and gifts for Christmas".
The foundation is dedicated to its cause. All funds raised are distributed. Gifts, awards and grants don't get hung up in red tape. If there's a documented need, Just for Kids answers the call.
For more information visit
GoodKids123.org
.
---
CLUB NEWS and ANNOUNCEMENTS
International Night
is approaching quickly. Members are reminded to get in any auction items. If you have not bought tickets, please do that as well.
There are still openings to sign up for
Dictionary and Thesaurus
delivery. Both books will be delivered at the same time this year. In the past each was done at a different time. If you have kids or relations at specific schools you are encouraged to try to deliver to that school.
The
Centennial Committee
will meet before the regular meeting on October 1. Be sure to attend if you're on the committee or have an interest in helping.
Jerome Yantz make an appeal for any
Rotary items from the 1914-1923
period. For that matter, any historical items related to the club would be appreciated. Old copies of the printed Breezes would be very welcomed.
---
DATES TO REMEMBER
The
Centennial Committee
will meet before the regular meeting on October 1.
International Night
"Mardi Gras... off season"
October 3, 2013 at the Doubletree.
A celebration of the Food, Fun & Festivities of "America's Greatest Party".
---
Upcoming Programs
(See the official schedule at RotaryBayCity.org )
October 1, 2013: Junior Achievement of Northeast Michigan
Jen Carpenter, President of Junior Achievement of Northeast Michigan, will present an overview of their programs to the club.
October 08, 2013: Energy Efficiency Programs.
Mary Kulis, Darlene Kusterer from Consumers Energy will talk about the Helping Neighbors program, an income-qualified energy assistance program. They will also provide an overview of our overall program of rebates and incentives.
October 15, 2013: Dow Chemical Student Programs.
October 22, 2013: Delta College Possible Dream Program.
---
Current and past
DISTRICT DISPATCH
newsletters are available on the District site shown in the LINKS section below.


Rotary Bay City on Facebook!
Click on the Blue Facebook to visit us there.

Remember! Check attendance sheets at the front desk.
---
LINKS