Secret Service Agent Sidney Dreasky tells Rotarians how to detect counterfeit money.
---
Group Study Exchange Team to Japan
Is Featured This Week at Rotary
$7,000 to $8,000 Counterfeit Money Circulated Here Each Month, Agent Says
July 24, 2005
By: Dave Rogers
THIS WEEK'S PROGRAM: Kevin Henry and the Group Study Exchange Team outgoing to Japan.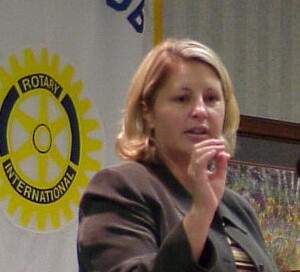 LAST WEEK: Sidney Dreasky, Special Agent, investigations, United States Secret Service, Saginaw office.
From a hectic pace with former President Bill Clinton to tracking counterfeiters in Saginaw, Sidney Dreasky has had an interesting career as a Secret Service agent.
Special Agent Dreasky came to Bay City Rotary last week and related some of her experiences while ducking pointed questions about the jucier details of her days in the protection division following Mr. Clinton.
She did reveal the code used for Mr. Clinton while she was on that assignment with the agency: "Eagle." Hillary Clinton's code was "Evergreen" while daughter Chelsea's was "Energizer."
The thirty-something graduate of Kalamazoo College, served with the Michigan Department of Corrections and has been with the Secret Service for eight years. Nearly half that time was spent guarding former President Clinton, whose peripatetic world travels kept her continually on the go except when he was in New York working on his book.
She now has a hopefully more peaceful job in a district from Howell to the Straits of Mackinaw. The agency after 9-1-1 was placed under the Department of Homeland Security.
The agency's main duties are in the protection of the nation's critical infrastructures -- telecommunications, banking and finance, as well as combatting international organized crime.
Besides counterfeit currency, her current investigation duties involve investigation of identity theft, telecommunications fraud, computercrimes, bank and credit card fraud.
While about $7,000 to $8,000 in counterfeit currency is circulated in this area each month, New York by contrast gets about $100,000 in fake bills monthly.
Real U.S. currency is 25percent linen and 75 percent cotton with small red and blue fibers, she said. Color shifting ink is irridescent and a portrait watermark is reflected in the corners of new bills. Security thread also is located opposite the portraits, she said.
"With scanners and computer equipment, counterfeiting is very easy to do," said Ms. Dreasky. However, detecting counterfeit money is not difficult since it is thinner than real bills.
Machines are supposed to detect the phony bills but the older ones don't have the ability to read the magnetic qualities of the real bills, she said.
The Secret Service cautions citizens who receive a counterfeit note to:
Keep the bill;
Delay the passer, using any excuse;
Phone the police or Secret Service;
Note the passer's description and vehicle;
Write your initials and date on the bill and give it only to the police or Secret Service.
Details about the protection features of new bills are available at: http://www.moneyfactory.com/newmoney .
General information about the agency is available at: http://www.secretservice.gov . ###
---
--- Advertisements ---

---
---
RotaryBayCity.org Rotary Club of Bay City Web Site
eClub-One
: Members with internet connections are encouragedto visit eClub-One monthly for a makeup. To get makeup credit you need to fill out the makeup form on that site. Print the acknowledgement for you receive and turn it in to receive credit. Be sure to enter our club's district number (
6310
) on that form.
Click this link to open eClubOne in a new window:
www.rotaryeclubone.org
.
The Bay City Rotary Club meets at Noon each Tuesday at the Lumber Barons resturant on the West Side.
Rotary Club of Bay City Web Site
District 6310 meeting schedule