Club Holds Annual International Night Dinner
Junior Achievement Topic Of Talk Last Tuesday
October 1, 2013
By: Stephen Kent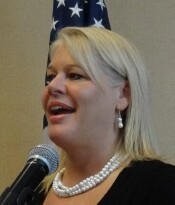 Jen Carpenter
Jen Carpenter, President of Junior Achievement of Northeast Michigan, gave Rotary an update on the organization's progress. A show of hands revealed that many Rotarians had either been in JA as a kid, or had volunteered with the organization. Still, "Many people are surprised that JA is still around", said Jen. "But we're going stronger than ever".
Under the slogan "Empowering young people to own their economic success", JA has become the world's largest organization dedicated to educating young people about work readiness, entrepreneurship and financial literacy.
JA targets the K-12 student and teaches the fundamentals of business as well as life. Partnering with companies and volunteers they teach economic realities from how to handle a bank account to how to run an entire business including selling stock, manufacturing, distributing and making a profit.
Junior Achievement reaches some 4 million students a year. They are in 173,000 classrooms and after school locations. There have 120 offices in all 50 states.
With prepared curriculums, JA has become a part of many school's programs. Teachers work with volunteers to give students the opportunities to learn in a real-world atmosphere.
Despite its successes, JA needs the participation of business to be a success. Rotarians with an interest should call the organization and investigate volunteering.
For more information visit
JAnortheastMI.org
.
---
CLUB NEWS and ANNOUNCEMENTS
OFF-SITE MEETING THIS WEEK
The club will meet at the Country Club on October 8.
(Don't show up at the Doubletree.)
BOARD MEETING THIS WEEK
The Board will meet this Tuesday, October 8, 2013.
11:00 am at the COUNTRY CLUB, before the regular meeting.
An e-mail announcement will be sent to ALL MEMBERS as every member is welcome to attend.
OFF-SITE MEETING AT COUNTRY CLUB
The Club held it's annual
International Night
at the Doubletree on Thursday, October 3. The theme was "Mardi Gras... off season" and featured the food of New Orleans including Red Beans and Rice, Jambalaya, Crawfish, Chicken, Sausage, Beignets, and Pecan Pralines. (As live auctioneer Kim Prime said of the crawfish, "Anyone know now to eat those little lobsters?")
The silent auction was a success as usual. The Northern Bay and Standish brought twenty six items including a national award winning quilt made by Tina Bauer of Bittersweet Quilt Shop in Pinconning. The quilt auction raised over $950 dollars, enough to send four students to Rotary Youth Leadership Camp next year.
Kim Prime ran the live auction. Like her monthly auctions during her year as President, Kim made the entire affair great fun. "Al, are you gonna let a CHICK outbid you?" was just one of her many quips. It was an auction like no other and did a great job of fund raising!
| | |
| --- | --- |
| Mussel, Clam and Crawfish Boil | Quilt from Pinconning Club |
The
Centennial Committee
met prior to last week's meeting. Among the topics were searching the newspaper archives on microfilm at the Bay County Library. Anyone interested in helping should see Jerome Yantz or Linda Heemstra about scheduling a time to scan old papers.
The club also wants to collect the names of as many past members as possible. You can check the on-line directory in the members section of the club web sites to see who is on file now. If you know of missing names, please pass it on to Steve Kent.
Jerome Yantz make an appeal for any
Rotary items from the 1914-1923
period. For that matter, any historical items related to the club would be appreciated. Old copies of the printed Breezes would be very welcomed.
Congratulations to
Dee Dee Wacksman
who, along with Dick Somalski, was presented with the Bay Area Community Foundation's "
Peggy Rowley Community Enrichment Award
" last week.
Eric Jyhla reported that
Jency Schnettler
, our Ambassadorial Scholar to Shanghai, has returned to the states. She's preparing a program about her year abroad and will present it soon.
---
Upcoming Programs
(See the official schedule at RotaryBayCity.org )
October 08, 2013: Energy Efficiency Programs.
Mary Kulis, Darlene Kusterer from Consumers Energy will talk about the Helping Neighbors program, an income-qualified energy assistance program. They will also provide an overview of our overall program of rebates and incentives.
OFF-SITE MEETING Oct 8 AT COUNTRY CLUB
October 15, 2013: Dow Chemical Student Programs.
October 22, 2013: Delta College Possible Dream Program.
---
Current and past
DISTRICT DISPATCH
newsletters are available on the District site shown in the LINKS section below.


Rotary Bay City on Facebook!
Click on the Blue Facebook to visit us there.

Remember! Check attendance sheets at the front desk.
---
LINKS