Comsumers Energy Updates Rotary On Services
October 8, 2013
By: Stephen Kent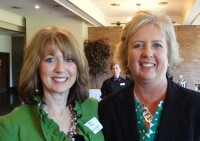 Mary Kulis and Darlene Kusterer
Mary Kulis of Consumers Energy and Darlene Kusterer, Field Outreach Coordinator for CLEAResult, spoke to the club about some of the services and programs offered by and through Consumers. In particular they spoke about the Income-Qualified Energy Efficiency Assistance program.
With almost 3 million customers, Consumers is Michigan's largest utility and the nation's fourth largest combination utility. Serving all 68 counties, the company has some 7,200 employees and another 7,500 contract employees. They operate 26,000 miles of gas pipelines and 85,000 miles of electrical lines. Annual revenue is on the order of $6 billion.
In 2008 Michigan enacted a law requiring utilities to offer energy efficiency programs. Consumers started a six-year, $665 million program to help customers reduce energy use and environmental impact and lower their utility costs.
Some program components are target to low-income households. Others are available to everyone. Energy audits, credits and rebates for replacing older appliances, and over a million compact fluorescent lights are among programs everyone can appreciate.
Darlene Kusterer talked about the Helping Neighbors program. Much of this program is targeted to lower income customers, so Darlene's points were made to educate Rotarians and encourage them to pass the information to those they encounter who might benefit.
Programs like the energy audits involve Consumers technicians visiting customer homes. Both speakers said you should check that person'd ID badge. Be aware of possible scams. This applies to phone calls as well. If you have questions, call Comsumers for confirmation.
Among the questions was a humorous one that stumped the speakers and the audience: When driving East of Bay City at night, look at the large new windmill farm. All of the red lights blink in unison. If you haven't seen this, just watch TV-5's Bay City weather cam on the nightly news. You'll see the lights clearly.
For more information visit
ConsumersHelpingNeighbors.com
.
---
CLUB NEWS and ANNOUNCEMENTS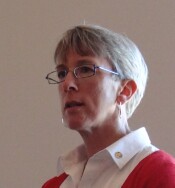 Julane Underhill
Julane Underhill
from the Traverse Bay Sunrise Rotary Club in Traverse City visited the Bay City club to promote her club's signature project called "Backpacks for Kids". The club raises money to provide backpacks and supplies for Traverse area K-12 students in need.
The Traverse club gives out about 1,400 backpacks annually for a total of 13,000 over the last nine years. Backpacks cost $20 each. The Traverse club is currently raising funds for the 2014-15 year.
---
At it's monthly meeting today the
Club Board
voted to
NOT MEET
on December 24 and 31 this year. The birthday program will be held on the 17th along with the annual seasonal music program. Other clubs will be invited to attend.
The club also voted to re-join the
Chamber of Commerce
during their current special membership campaign. The cost is very reasonable and includes advertising premiums that can be used for the concert or related Rotary events.
Our club has accepted, with regrets, the resignation of immediate past president
Kim Prime
. Kim took a new job that takes her out of the area on Tuesdays. She assures us that she'll consider a Saginaw club that might fit her schedule.
The
Centennial Committee
reminds members that to come up with the names of past members. Also look for historic Rotary items that you or a family member might have. In particular they are interested in the very early years, 1914 to 1923.
Congratulations to
Gena Gates
who won the Quilt raffle at International Night. Ironically Gena also won the 50/50 this week! (Tim said, to great laughter, "Is now the time to tell her that we gave her the win because her medication put her in such a foul mood?")
A big Rotary Thanks to
Lynn Weaver
for all her hard work chairing the International Night committee. We couldn't have done it without her.
And another big thanks to
The Bay City Country Club
for hosting our off-site meeting. As usual they did a splendid job!
A Special Note from Brenda Scramlin:

Thank you to those of you who have signed up to deliver Dictionaries and Thesauri this year! By now you have receive a letter with all the information necessary to contact the school, pick up the books and deliver them.

If you have not yet started the process, please do so. The goal remains to have this project completed by Oct 31.

You are welcome to come to my office at COPOCO Community Credit Union; 4265 E Wilder Rd at any time to pick up your books and ?letters to the parent.? Our staff is prepared to direct and help you if I am not available.
---
DATES TO REMEMBER
District Foundation Gala
November 1.
Seasonal Music Program and joint meeting
December 17, 2013
NO MEETING
Decemter 24 and 31, 2013.
---
Upcoming Programs
(See the official schedule at RotaryBayCity.org )
October 15, 2013: Dow Chemical Student Programs.
October 22, 2013: Delta College Possible Dream Program.
---
Current and past
DISTRICT DISPATCH
newsletters are available on the District site shown in the LINKS section below.


Rotary Bay City on Facebook!
Click on the Blue Facebook to visit us there.

Remember! Check attendance sheets at the front desk.
---
LINKS