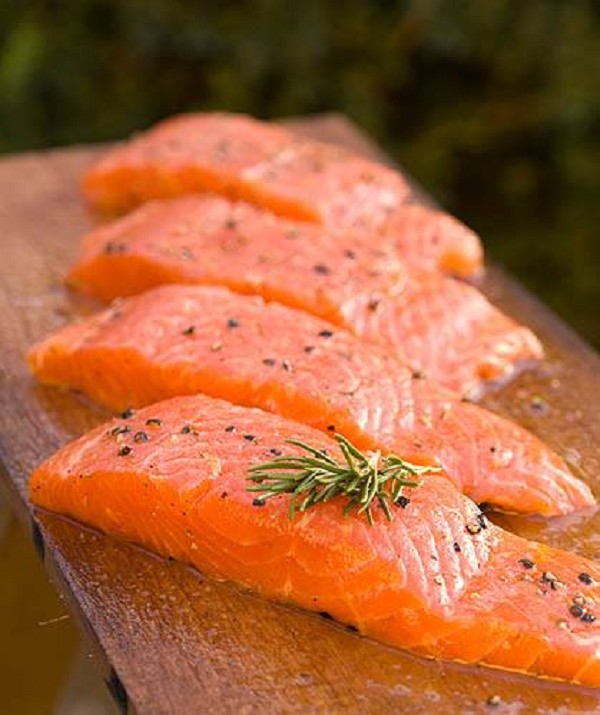 Gourmet salmon a sample of the upscale fare headed to a new eatery on the Saginaw River here.
---
REAL SEAFOOD: Gourmet Restaurant, Upscale Living Here Youth Strategy?
Trendy Eatery, Condos on River Sign Plan to Attract Millennials is Working
October 18, 2013
By: Dave Rogers
"Over the next decade, the Millennial Generation will entirely recast the image of youth from downbeat and alienated to upbeat and engaged--with potentially seismic consequences for America." --from Millennials Rising by Neil Howe and William Strauss.


The special this week at the Real Seafood Company, Ann Arbor, (soon to hit Bay City) is???
Chef's Weekly Feature:
Oven Roasted Stuffed Salmon
Fresh Canadian salmon filled with fresh goat cheese, toasted walnuts and a touch of honey, topped with a crisp artichoke relish, served with roasted seasonal vegetables.
"I loved the ipad menus, you could touch on any item and get photos and full descriptions," wrote a reviewer about the four star eatery.
What other delights can we expect when the new restaurant opens in Uptown at RiversEdge, in the midst of millennial attractions like a Dow Corning center (for jobs), a McLaren Regional Medical Center (for health care), a spanking new Chemical Bank (for financing), a Marriott Courtyard (for schmoozing with out-of-town big shots), and an upscale residential housing array sure to attract the crowd that makes things happen and those who want to see them operate.
Who are millennials? Born after 1982, say the demographical gurus.
The community development planners from the area chambers of commerce that picked Great Lakes Bay Region as the moniker for the old tri-cities are in the process of creating a little Chicago right here; minor league baseball in a fabulous ballpark in Midland, lively hockey in the Dow Center in Saginaw along with medical finishing school and upscale downtown living.
SSP Associates is starting to lease residential units through Century 21 for occupancy in spring 2014, with the following advertising:
"There are thousands of young professionals in the Great Lakes Bay region -- many of them are recruited here from around the world to work at one of the region's global headquarter locations. The region is the global home to The Dow Chemical Company, Dow Corning Corporation, Hemlock Semiconductor Group and Nexteer Automotive. Chemical Bank, a statewide institution, is also headquartered right here in the region. And the county's largest employer is McLaren Bay Region. These organizations attract young professionals who want to live in a sustainable built and managed community, close to amenities and nightlife -- a place that is convenient to work -- but easily convertible to an 'after work' atmosphere."
You can lease or purchase condominiums dubbed the Grant, 1,270 square feet, the Jackson, 1,258 square feet, the Hamilton, 836 square feet, and the Lincoln, 764 square feet. All have balconies overlooking the Saginaw River and the Riverwalk leads to concerts, arts, festivals and downtown.
The entire Uptown complex has heated sidewalks and there is covered private parking.
Sailing, fishing and living on Saginaw Bay and nearby access to wildlife areas like Shiawassee Game Area, Tobico Marsh, Nayanquing Point, and deer hunting north of here, have brought the sports-minded to this area and no doubt will continue to draw.
The new test has been: how to create a metropolitan atmosphere in three old time industrial towns that corporate recruiters have found nearly impossible to sell to newly minted grads looking for the high life after work.
For decades, local leaders have complained that there was nothing to do here so their bright kids were moving to the cities. As the story goes, 56 graduates of John Glenn High School attended a party in Los Angeles a couple of decades ago, indicating the trend that drew most of our young talent to other, more interesting, locales.
Some of these expatriates have turned out to be fabulous entrepreneurs, venture capitalists and business geniuses who perhaps would have infused new life into the old "tri-cities" of Bay City, Saginaw and Midland.
With an international airport as access to the GLB area, world travelers can come and go easier than you can say O'Hare or Detroit Metro Airport.
If we had trains coming in, we'd really be in the big time, but the closest choo-choos are in Flint or Durand.
Soon our restaurant fare will equal Chuck Muer's, the Gandy Dancer or P.F. Chang's in the cities. The H in Midland, and the Zinc, already wow even international sophisticates, and our Old City Hall dazzles gourmands from elsewhere with its ambiance and a comprehensive menu that is trendy to say the least.
"The Uptown at RiversEdge development project will transform acres of longtime  abandoned property into an exciting mixed use, retail, office and residential development that will enhance Bay City's scenic riverfront," says Patti Stowell, city development director.     "The developer plans for the site call for a walkable riverfront community that includes housing, work spaces, retail shops, entertainment, parks, and civic facilities all within easy walking distance of each other."
Another attraction for active young folks is the 92,000 square foot Dow Bay Area Family Y with every possible exercise option within walking distance, an attraction most metro cities cannot match.
Perhaps soon, when a corporate recruiter tries to lure young talent, the combination of hotels, entertainment, restaurants, and other millennials to rub elbows with, will be enough to draw them, or keep them, here.
###