Bolzman Updates Rotary On Dow Chemical's Co-op Program
October 15, 2013
By: Stephen Kent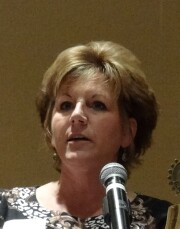 Connie Bolzman
Connie Bolzman
, US Co-op Coordinator and Recruiter for Dow Chemical, spoke to Rotary about Dow's Co-op program for high school and college students. Ed Clements, Co-op Coordinator for Central and Western High Schools, introduced Connie praising her hard work and interest in students. Connie started as a Dow co-op while a student at Delta. She continued with the company working her way up to her current position.
The Dow program has two parts. The first is for High School seniors. The second is for college students. At any time there will be about 200 co-ops in the local program. About eight local colleges and universities participate in the program along with about 27 local high schools.
The high school program caters primarily to traditional business type students. Co-op positions are for clerical and paperwork, administrative support, and general computer work. Dow provides all the training needed for these jobs.
Students need to be 16 years old and have a drivers license or transportation to work. A minimum 2.7 GPA is required. Students work either in the morning or afternoon for . They must be reliable and committed employees. The high school must refer the students and guarantee that they are on track to graduate. Students also take a drug test.
Typically there are 3 students who interview for each available position. Connie tries to interview at least 80% of applicants. The application and interview process is important in itself. High school recruiting and assignment takes place annually in March and April. Hiring is for the following school year. Some can start in the summer.
College positions are generally filled on an "immediate need" basis. Students come into the program throughout the year. There is always demand for these positions so Connie recommends checking the
CareesAtDow.com
web site regularly.
College positions are in most departments and range from administrative work to highly specialized technical work. Newer offerings are found in environmental positions and technical writing. The size of Dow insures that Co-op positions are available in most fields.
College positions can run from a year to five years. In some cases long term co-ops will fine full time jobs waiting for them after graduation. The Co-op program works in tandem with the College or University. Students must maintain a 2.7 GPA and take 6 or more credit hours per semester. Students also submit to drug screening.
Most college level jobs are 8 to 5, Monday through Friday. Security positions are more shift oriented. Students work from 20 to 30 hours a week.
All Co-op positions are paid, usually at rates above minimum wage. It has been shown that students completing co-op work will start their careers making 4 to 7 thousand dollars more annually than other students.
For more information visit
CareesAtDow.com
.
---
CLUB NEWS and ANNOUNCEMENTS
The

Centennial Committee

reminds members that to come up with the names of past members. Also look for historic Rotary items that you or a family member might have. In particular they are interested in the very early years, 1914 to 1923.

Gena Gates

is looking for the person who won the auction for the

Appledore Cruse

at International Night. She has some additional items for them.

The club will meet at the Country Club again on November 5th

. Don't forget.

Lee Newton

made two CD music mixes for International Night. (Don't worry, he said, all appropriate permissions were obtained.) He gave these to members who could answer Rotary trivia questions at the meeting.

Cindy Chadwick

thanked all of the Rotarians who made

Regina Turner's

last days more comfortable. Regina lived a full and meaningful life. She was the widow of member Leo Najar and was herself the past President of the Pinconning/Standish club.

The

Member Recruitment

page in the member's section of the club web site has been updated with a number of new resources. If you have a prospect, check these items.

A Special Note Concerning Dictionaries and Thesauri



Book deliveries are going well. The club has a goal of completing all deliveries by October 31. If you've signed up, please plan with that date in mind.

You may visit Brenda Scramlin's office at COPOCO Community Credit Union; 4265 E Wilder Rd at any time to pick up your books and letters to the parent. Brenda's staff is prepared to direct and help you if she is not available.
---
DATES TO REMEMBER
District Foundation Gala
November 1.
OFF SITE meeting at the Country Club
November 5.
Seasonal Music Program and joint meeting
December 17, 2013
NO MEETING
Decemter 24 and 31, 2013.
---
Upcoming Programs
(See the official schedule at RotaryBayCity.org )
October 22, 2013: Delta College Possible Dream Program.
Mary Harding and Dorian Phelps to speak.
October 29, 2013: Rotary Global Scholar
Peter Ekadu, from Uganda, is completing his Master's degree at CMU via a District 6310 grant. He will share his experiences as part of the Rotary Global Scholar Program.
November 5, 2013: Disability Network of Mid-Michigan
Terri Cady will will provide an overview of the Network's services and will highlight STAGES, their Youth Transitions Program.
OFF SITE MEETING AT COUNTRY CLUB
November 19, 2013: K-12 Education Funding
Doug Newcombe to speak.
---
Current and past
DISTRICT DISPATCH
newsletters are available on the District site shown in the LINKS section below.


Rotary Bay City on Facebook!
Click on the Blue Facebook to visit us there.

Remember! Check attendance sheets at the front desk.
---
LINKS