Inbound GSE Team reports on visit to Japan
July 30, 2005
By: Stephen Kent
THIS WEEK'S PROGRAM - August 2, 2005:
Community Sailing Program boat building, with Brian Donaldson.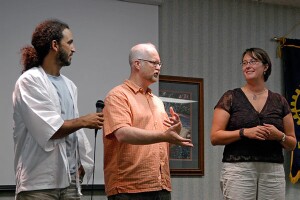 Last week, July 26, 2005:
The inbound Group Study Exchange (GSE) team reported on their March 2005 trip to Japan. Unlike most GSE teams, this one had the opportunity to meet the team from Japan while there were there, then meet them again when the Japan team came to Michigan. Visiting the club were team members
Ray Amin
from the Chippewa Nature Center,
John Metcalf
, a museum administrator, and
Lynn Heil
director of a College Prep Program. The team leader, Mike Straty, has since moved toFlorida and team member Kevin Henry was unable to be at Tuesday's meeting.
Ray, John and Lynn reported the various aspects of their trip and the high points. Although an important part of a GSE trip is vocational comparisons, and the team did get a large dose of that, the things that impressed them the most was the cultural learning experience... and the food.
The team visited Shikoku Island. The population is over 300,000 but it is considered a "rural" area. The explanation was that one sees a modern high rise building then a rice field, then another high rise and then more agriculture. Thus it is considered "rural".
Lynn had a number of humorous comments on the food, mainly fish and rice. She said that this was her first experience eating a fish which still had a face. There was ample opportunity to try raw egg, squid and other delicacies. One dish consisted of uncooked tofu heated in a pan or bowl where the objective was to consume the part skimmed off thesurface.
Two other food observations were: Raw whale blubber is great, even if not environmentally correct, and Sushi at a restaurant and Sushi at a ballpark are entirely different things!
The team talked about many places they visited. They were able to watch and even try they hand at creating hand made paper, pottery using traditional "coil" methods, and in the preparation of indigo dye made from plants.
John talked about a number of museums the team visited. Hewas particularly impressed with a museum of armor and swords. Unlike so many museums the artifacts here had been donated by individuals going back a thousand years and everything was completely documented.
Religion in Japan is obvious "everywhere" as Shinto shrines. One approaches the shrine, makes a donation, rings the bell to wake the spirits, and then prays. Where the predominant religion was historically Shinto, Buddhists are now in the majority. There is a very small Christian representation.
The team stayed with host families during their trip and reported that it was a wonderful experience. Language proved to be a bit of a barrier although interpreters were almost always with the team. The trip was well planned and full of activities. In fact, the team only had one weekend of down time during which they were able to rent kayaks and spend some time on the water.
| | |
| --- | --- |
| Ray discusses Religion | Lynn talked about "intresting" food |
---
--- Advertisements ---

---
---
RotaryBayCity.org Rotary Club of Bay City Web Site
eClub-One
: Members with internet connections are encouragedto visit eClub-One monthly for a makeup. To get makeup credit you need to fill out the makeup form on that site. Print the acknowledgement for you receive and turn it in to receive credit. Be sure to enter our club's district number (
6310
) on that form.
Click this link to open eClubOne in a new window:
www.rotaryeclubone.org
.
The Bay City Rotary Club meets at Noon each Tuesday at the Lumber Barons resturant on the West Side.
Rotary Club of Bay City Web Site
District 6310 meeting schedule