Scholar Talks About His Home In Uganda
October 29, 2013
By: Stephen Kent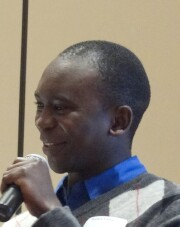 Peter Ekadu
The club heard a presentation by Peter Ekadu on Tuesday. Peter is the "Global Grant Scholar 2013/14" from Uganda. He is enrolled in the MSA-Health Services Administration program at Central Michigan University.
Uganda is a semi-tropical, landlocked African country on the north shore of Lake Victoria. The population is about 37 million, 80% of whom live in rural areas in an agricultural economy. Literacy is around 76% due largely to the universal education system. The political climate is relatively peaceful over the last 27 or so years.
The country has four ethnic groups representing 65 tribes, each with different cultures, traditions and languages. The people live in extended families and the fertility rate is 6 children per woman. Most of the population is 15 to 30 years old and the life expectancy is about 54 years.
Uganda has a high incidence of AIDS. About 1.2 million people live with the disease and the orphan population is 2.7 million.
The country exhibits much of the ecology found in Africa from plain to mountain with beautiful lakes. Many of the large African animals including elephants, lions, buffalo and ape can be found in the wild.
Orphaned at age 12, Peter and his five siblings lived in an extended family with his uncle's family. He was fortunate enough to have a sponsor to fund his high school education and another to cover his under graduate college degree from Makerere University in Uganda.
With the help of his Michigan sponsors Peter made his way to CMU where he is pursuing his MSA-Health Services advanced degree. He plans to return to his country and used this education and his skills to the benefit of his people.
Peter talked about the Rotary Club of his country. Chartered in 2003, the club has about 36 members and meets in Kajjansi. He described a number of the projects undertaken by that club and shows pictures of their work.
---
CLUB NEWS and ANNOUNCEMENTS
OFF SITE MEETING THIS WEEK
The Club will meet at the Country Club this Tuesday, November 5, 2013.
The members section of the club web site has an On-Line directory. This has been updated with all of the names of past members as provided by Rotary International. Take some time to look over this list and tell us about corrections. A printed list will also be provided at a future meeting.
The
Member Recruitment
page in the member's section of the club web site has been updated with a number of new resources. If you have a prospect, check these items.
---
DATES TO REMEMBER
OFF SITE meeting at the Country Club
November 5.
Also International Night wrap-up meeting at 11:00 before the regular meeting.
Board meeting
November 17, 2013
Seasonal Music Program and joint meeting
December 17, 2013
NO MEETING
Decimeter 24 and 31, 2013.
---
Upcoming Programs
(See the official schedule at RotaryBayCity.org )
November 5, 2013: Disability Network of Mid-Michigan
Terri Cady will will provide an overview of the Network's services and will highlight STAGES, their Youth Transitions Program.
OFF SITE MEETING AT COUNTRY CLUB
November 12, 2013: Great Lakes Loons.
Scott Little from the Great Lakes Loons will provide an overview of their organization, their history, goals and objectives, as well as highlight their impact on the Great Lakes Bay Region.
November 19, 2013: K-12 Education Funding
Doug Newcombe to speak.
November 26, 2013: Saginaw Spirit.
Craig Gosling from the Saginaw Spirit will provide an overview of their organization and highlight its impact on the Great Lakes Bay Region.
December 3, 2013: Club Assembly.
As a club, we will present all feedback from recent surveys and club sessions and make some suggestions for moving forward with service projects.
December 10, 2013: District 6310 Water Program Update.
Steve Jennings, from District 6310 Water Committee, will update the club on the water projects that our District is involved with.
December 17, 2013: Rotary Holiday Program.
Join us for our annual Holiday Program, featuring music performed by Rotarians from within the club.
December 24, 2013: NO ROTARY MEETING TODAY - ENJOY HOLIDAY TIME WITH FAMILY
December 31, 2013: NO ROTARY MEETING TODAY - ENJOY HOLIDAY TIME WITH FAMILY
---
Current and past
DISTRICT DISPATCH
newsletters are available on the District site shown in the LINKS section below.


Rotary Bay City on Facebook!
Click on the Blue Facebook to visit us there.

Remember! Check attendance sheets at the front desk.
---
LINKS