WIN THIS BOAT!
Community Sailing Association Boat Building Class Topic of Program.
August 7, 2005
By: Stephen Kent
THIS WEEK - August 9, 2005:
Board meeting Tuesday - 7:30am
Bay Arenac Behavioral Health - room 207
201 Mulholland St.

International Night committee
Meeting before regular meeting Tuesday
(International night is October 13th)
PROGRAM: Robert Wheeler from Sungard Collegis, introduced by Deb Lutz.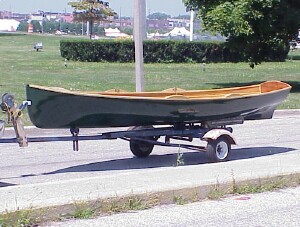 Last week, August 2, 2005
           WIN THIS BOAT!
Brian Donaldson, spokesman for the
Saginaw Bay Community Sailing Association
, brought one of two Rangeley rowing skiffs built by the SBCSA's annual boat building class this past winter.
Donaldson, a commercial videographer for WNEM Channel 5 TV, was one of the instructors who ran the boat building class. About 20 men gathered in Gougeon's boat shop every Monday and Wednesday night from January 31 toJune 16 to build two wooden skiffs. One of the boats went to the Community Sailing program and the other will be raffeled off at the Labadie Pig Gig on August 7.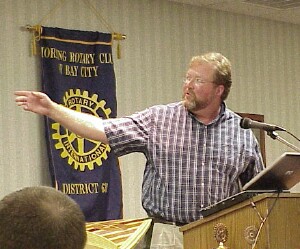 The SBCSA was established in 1995 as a 501(c)(3) charitable organization designed to "support and promote interest in the sport of sailing among able-bodied or physically challenged citizens of Bay County and surrounding communities." With a dock at the foot of Fifth Street in downtown Bay City, the association provides summer sailing lessons for adults and youth.
SBCSA owns a fleet of 10 Optimist prams, some of which were built by earlier boat building classes, whichare used for youth training. The association also teaches intermediate and adult sailing in their three "Transfusion 547s", 16 foot family day sailor with mainsail and jibs.
The boat building class has been offered for several years. Thefirst projects were building and repairing Optomist prams for use in the youth training classes. Later classes built a tender for Bay Sail to use on the Appledore. This year's class built the two skiffs.
The boats are build using thin woodstrips laid over a plywood form. The strips, which have been milled with "bead and cove" edges, are glued together and tacked over the form. When the glue dries the staples are removed and the hull is planed and sanded to a perfect finish. Multiple layers of fiberglass cloth are then laid over the hull and painted with expoxy. The boat is flipped and the inside is fiberglassed. Seats and wood trim are added and the entire boat is painted.
---
UPCOMING PROGRAMS
August 16: SVSU coach
August 23: Dalton Coe, Rotary District Governor
Melinda Bozsik, Rotary Scholarship
August 30: Joe Labelle, Michigan State Police
September 6: Judge Kenneth Schmidt
September 13: Rotary Topics:
International Night (auction Rob Clark's Desk),
Dictionary Project
Rotary Foundation
September 20: Walt Reynolds, FBI
September 27: School Bond Explaination
October 4:Dan Streeter, Rescue Mission update
---
--- Advertisements ---

---
---
RotaryBayCity.org Rotary Club of Bay City Web Site
eClub-One
: Members with internet connections are encouragedto visit eClub-One monthly for a makeup. To get makeup credit you need to fill out the makeup form on that site. Print the acknowledgement for you receive and turn it in to receive credit. Be sure to enter our club's district number (
6310
) on that form.
Click this link to open eClubOne in a new window:
www.rotaryeclubone.org
.
The Bay City Rotary Club meets at Noon each Tuesday at the Lumber Barons resturant on the West Side.
Rotary Club of Bay City Web Site
District 6310 meeting schedule