Disability Network Discussed at Rotary
November 5, 2013
By: Stephen Kent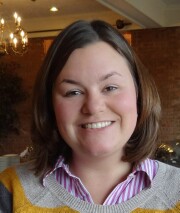 Jennifer Page
Jennifer Page, Business and Community Relations Specialist for Disability Network Mid-Michigan, spoke to Rotary about the program and its services.
The Disability Network is a Center for Independent Living (CIL). CIL's were formed by the US Rehabilitation Act of 1973. It's a community-based non-profit organization that is run by people with disabilities. In fact, 51% of the board must have a disability.
The Mid-Michigan office serves about a dozen counties in this section of the state. The core services include advocacy, peer support, information and referrals, community transitions and independent living skills training.
Advocacy addresses both system and individual cases. Systems refer to housing, transportation, employment and mental health. Individual services work case-by-case with situations including social security, Medicare and ADA.
The network connects people with disabilities to their peers. They provide referals to other agencies and help solve problems with information. They help individuals transition from institutional setting to independent living.
Jennifer also talked about the STAGES program which helps students transition from group settings to independent living. THey are taught to live and work independently in society.
For more information visit
www.dnmm.org
.
---
CLUB NEWS and ANNOUNCEMENTS
BOARD MEETING THIS WEEK
The Board will meet this Tuesday, November 12, 2013.
11:00 am, before the regular meeting.
An e-mail announcement will be sent to ALL MEMBERS as every member is welcome to attend.
Thanks to Wendy Dore and the Country Club for hosting our meeting last Tuesday. The facility and food was excellent, as usual.
The International Night wrap-up was held. Early numbers indicate the club raised about $22,500. These funds are not encumbered at this time. The last major project was recently completed. Community Grants will likely be resumed and other major projects are being considered.
Andrea Hales is the Club's liaison to the Chamber of Commerce. Since the club joined, all club members may go the Chamber's Business After Hours.
The
Member Recruitment
page in the member's section of the club web site has been updated with a number of new resources. If you have a prospect, check these items.
---
DATES TO REMEMBER
Board meeting
November 12, 2013
Seasonal Music Program and joint meeting
December 17, 2013
NO MEETING
Decimeter 24 and 31, 2013.
---
Upcoming Programs
(See the official schedule at RotaryBayCity.org )
November 12, 2013: Great Lakes Loons.
Scott Little from the Great Lakes Loons will provide an overview of their organization, their history, goals and objectives, as well as highlight their impact on the Great Lakes Bay Region.
November 19, 2013: K-12 Education Funding
Doug Newcombe to speak.
November 26, 2013: Saginaw Spirit.
Craig Gosling from the Saginaw Spirit will provide an overview of their organization and highlight its impact on the Great Lakes Bay Region.
December 3, 2013: Club Assembly.
As a club, we will present all feedback from recent surveys and club sessions and make some suggestions for moving forward with service projects.
December 10, 2013: District 6310 Water Program Update.
Steve Jennings, from District 6310 Water Committee, will update the club on the water projects that our District is involved with.
December 17, 2013: Rotary Holiday Program.
Join us for our annual Holiday Program, featuring music performed by Rotarians from within the club.
December 24, 2013: NO ROTARY MEETING TODAY - ENJOY HOLIDAY TIME WITH FAMILY
December 31, 2013: NO ROTARY MEETING TODAY - ENJOY HOLIDAY TIME WITH FAMILY
---
Current and past
DISTRICT DISPATCH
newsletters are available on the District site shown in the LINKS section below.


Rotary Bay City on Facebook!
Click on the Blue Facebook to visit us there.

Remember! Check attendance sheets at the front desk.
---
LINKS