Scott Little Updates Rotary on Great Lakes Loons
November 12, 2013
By: Stephen Kent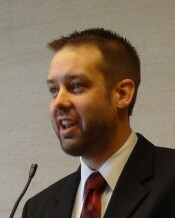 Scott Little
Scott Little spoke to Rotary Tuesday and gave an update on the Great Lakes Loons, the minor league ball club at the Dow Diamond in Midland.
As a non-profit, the Loons organization has become a major part of the local scene. Promoted by Dow Chemical's CEO, the organization was founded and the stadium built in an unheard of one year. About $34 million was spent, none of it from tax moneys.
Among recent expansions was the purchase of a radio station. The team recast the broadcast to showcase local sports. They cover the loons, sports talk and also local school games.
The Loons are also erecting a large building across from the stadium. Planned to be ready for 2014, it will house, among other things, a new restaurant. They also converted the spacious press box, which was under used, into a 25 seat room that can be used by public groups and businesses.
Scott talked about the goals and beliefs of the organization such as "people, planet, and prosperity". Their long term plan is to reduce energy and waste by 2020. Already they have active recycling programs and also give excess food to community organizations.
Despite the many good works and grants, at the core baseball drives everything. As a Dodgers farm team, the big-league management makes all the baseball decisions from players to games to positions. The non-baseball decisions are made locally.
"Minor league ball is different", said Little. The young players make between $1,200 and $1,500 a month during the season. They play 140 games in a 150 day season. Their goal is to get a plane ticket to spring training where they can try out for the big leagues. So far 27 players have made that transition.
For more information visit
greatlakes.loons.milb.com
.
---
CLUB NEWS and ANNOUNCEMENTS
The
Club's board
met Tuesday prior to the regular meeting. A quorum as not present but the group that came had lively discussions about the foundation, community grants, and major projects. A
club assembly
is planned for Dec 3 and those topics will be a big part of the discussions.
President Lee plans to convene a meeting of all of the
fund raising and granting committees
soon. One goal is to come up with an annual calendar of appeals so that larger contributors can be given a single list rather then being approached repeatedly.
The club's financial reports were reviewed and things are on target.
DUES INVOICES
have been mailed for the January to June period. Please try to get these in soon. In the past we have waited until almost everyone has paid before making our payment to Rotary International. This time we plan to pay by the due date regardless. We hope to get everyone's dues promptly.
Ron Bloomfield reported to the board that the
Rotary History book
is being reviewed for a possible reprint for the Club's 100th year celebrations.
Brenda Scramlin reported that all of the
dictionaries and thesauruses
are out of her building. Deliveries to one school that have not been completed but that should be done very soon.
International Night
collections are going well. It looks like the final number will be around $23,500, a bit higher than expected.
The
Member Recruitment
page in the member's section of the club web site has been updated with a number of new resources. If you have a prospect, check these items.
---
DATES TO REMEMBER
Seasonal Music Program and joint meeting
December 17, 2013
NO MEETING
Decimeter 24 and 31, 2013.
---
Upcoming Programs
(See the official schedule at RotaryBayCity.org )
November 19, 2013: K-12 Education Funding
Doug Newcombe to speak.
November 26, 2013: Saginaw Spirit.
Craig Gosling from the Saginaw Spirit will provide an overview of their organization and highlight its impact on the Great Lakes Bay Region.
December 3, 2013: Club Assembly.
As a club, we will present all feedback from recent surveys and club sessions and make some suggestions for moving forward with service projects.
December 10, 2013: District 6310 Water Program Update.
Steve Jennings, from District 6310 Water Committee, will update the club on the water projects that our District is involved with.
December 17, 2013: Rotary Holiday Program.
Join us for our annual Holiday Program, featuring music performed by Rotarians from within the club.
December 24, 2013: NO ROTARY MEETING TODAY - ENJOY HOLIDAY TIME WITH FAMILY
December 31, 2013: NO ROTARY MEETING TODAY - ENJOY HOLIDAY TIME WITH FAMILY
---
Current and past
DISTRICT DISPATCH
newsletters are available on the District site shown in the LINKS section below.


Rotary Bay City on Facebook!
Click on the Blue Facebook to visit us there.

Remember! Check attendance sheets at the front desk.
---
LINKS