Stop SPAM! SunGard Collegis Helps Delta College Manage Computers
94 Percent of E-Mail Received By the College is Spam, Says Expert
August 14, 2005
By: Dave Rogers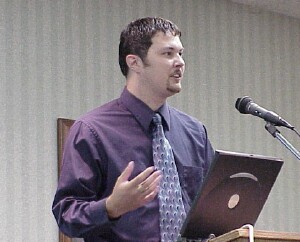 Nathan Ader of SunGard Collegis presented a Power Point program entitled "Safe Computing at Work, Home and On The Road."
THIS WEEK'S PROGRAM: Northwood University head football coach Pat Riepma.
REPORT FROM PRESIDENT RALPH KNOP: Dues are 100 percent paid. Congratulations to all members!
TREASURER'S REPORT FROM WANDA DZIWURA: The club has enough funds on hand to make an $11,000 contribution to the Rotary International Foundation.
LAST WEEK: SunGard Collegis, Deb Lutz, programmer.
A national firm, SunGard Collegis, that is listed on the New York Stock Exchange (NYSE) is helping Delta College and many other institutions manage computers and systems.
The help of a majorcorporate partner is vital in today's complicated world of higher technology, according to Deb Lutz, financial officer of Delta.

The partnership has helped the college "gear up technology," she said, for more efficient delivery of educational services.
She introduced speakers Robert Wheeler, chief information officer, and Nathan Ader, network manager, both of SunGard Collegis.
Mr. Wheeler stressed the importance of safety and security with computer systems, and Mr. Ader presented a Power Point program entitled "Safe Computing at Work, Home and On The Road."
Why protect computers? Because intruders are continually trying to get information from you, said Mr. Ader. "Identification theft is a real issue now."
Besides intruders who want to use your computer, viruses are expanding and "holes" in software allow intruders to use your computer as a spam sending machine.
Ninety four percent of all e-mail received by the college is spam, said Mr. Ader. "You really have to block these unwanted messages."
Make sure your anti-virus software has automatic updates, he said, since each month an average of 40 new viruses hits the Internet.
Information about computer safety is available on the Delta College website, www.delta.edu
UPCOMING PROGRAMS:
Aug. 16: Pat Riepma, head football coach, Northwood University.
Aug. 23: District Gov. Dalton Coe and Rotary Ambassadorial Scholar Melinda Boysik.
Aug. 30: Joe LaBelle, Michigan State Police, and his tracking dog, on the canine program.
Sept. 6: Judge Ken Schmidt.
Sept. 13: Rotary Program Update (International Night, Dictionary Project, Rotary International Foundation).
Sept. 20: Walt Reynolds, FBI station chief in Bay City.
Sept. 27: Bay City Public Schools Bond Issue.
Oct. 4: Dan Streeter, new Good Samaritan Rescue Mission in Bay City.###
---
RotaryBayCity.org Rotary Club of Bay City Web Site
eClub-One
: Members with internet connections are encouragedto visit eClub-One monthly for a makeup. To get makeup credit you need to fill out the makeup form on that site. Print the acknowledgement for you receive and turn it in to receive credit. Be sure to enter our club's district number (
6310
) on that form.
Click this link to open eClubOne in a new window:
www.rotaryeclubone.org
.
The Bay City Rotary Club meets at Noon each Tuesday at the Lumber Barons resturant on the West Side.
Rotary Club of Bay City Web Site
District 6310 meeting schedule