Craig Gosling Speaks to Rotary About Saginaw Spirit Hockey
November 26, 2013
By: Stephen Kent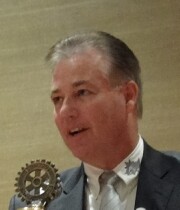 Craig Gosling
Craig Gosling
President and Managing Partner of the Saginaw Spirits Hockey team spoke to Rotary about the team and the current season.
Now in its twelfth season, the Spirit is part of the National Hockey League's development league. Young men between the age of 15 and 20 come to play at Saginaw with the team's slogan in mind: "Here Today, NHL Tomorrow".
Gosling talked about the players on the team. "By the age of 15, players have been scouted by the nationals. Our players are between the ages of 16 and 20". When players get to 20 they are either sent home or they move up to the NHL.
The Spirit's young players come to Saginaw and live with host families during the season. Education is emphasized and they attend local high schools or universities.
"Hockey is a vehicle that takes us to a goal, and that goal is the community", said Gosling. The team's foundation helps fund numerous community projects and activities.
Gosling says he makes a point of being out front after each game and shaking hands with fans as they leave. After a particularly bad performance, he says he asked a colleague "what am I doing this for?". The colleague pointed to a family coming out, kid on dads shoulder and other kids smiling and laughing, and said "that's why".
On December 29 the Spirit will play in an annual outdoor match in Comerica Park in Detroit. "We hope to sell 35,000 tickets. We've already hit the 25,000 mark" said Gosling. The game promises to be a highlight of the season.
Corporate sponsorships account for 65% of the teams funds. Merchandising and tickets account for another portion. The NHL provides $125,000 a year and pays a bonus of $40,000 for any player that moves up to the nationals. Gosling said that they want to see tickets sales become a larger part of the mix to help secure the future.
Gosling also praised his staff which he said is "the best staff in sports". He went on "My Dad told me that a manager's role is not to be the best, but to hire people who are strong where you are weak". He's tried to do that very thing and his staff shows it's worked.
For more information visit
SaginawSpirit.com
---
CLUB NEWS and ANNOUNCEMENTS
President Lee
repeated his challenge to remember to invite prospective members to a meeting. The upcoming holiday music program on December 17 would be an ideal time for a guest to visit. Lee also announced that "there may be a prize for the most guests". The
Member Recruitment
page in the member's section of the club web site has resources you may want. If you have a prospect, check these items.
Lee also said that the holiday program is coming together. There should be several performers. He also said we may try to have a "
Rotary Choir
". If that can be arranged they'll try to have a rehearsal in the next week or so. More to come.
Griff Aker
said that the
Vocational Days
committee has lost one member and really needs someone to step up and help with that important project. Call Griff at home if you will help.
Remember the
December 3 Club Assembly
. We will discuss major projects, grants and other items. (Go to the members section of the club web site and look at the surveys in the ARW section.) The Centennial Committee will meet at 11:00 on that same day.
The
by-laws committee
will hold their final meeting at 11:00 on January 7. Everyone is invited to this important meeting.
Gena Gates
noted that November is Rotary Foundation month. Members working on their first Paul Harris Fellowship can take advantage of matching points grants from members like the
Chadwicks
. The Centennial committee has talked about having every member a Paul Harris Fellow for the 100 year anniversary year.
DUES INVOICES
have been mailed for the January to June period. Please try to get these in soon. In the past we have waited until almost everyone has paid before making our payment to Rotary International. This time we plan to pay by the due date regardless. We hope to get everyone's dues promptly.
---
DATES TO REMEMBER
Centennial Committee
meets December 3 at 11:00.
Seasonal Music Program and joint meeting
December 17, 2013
NO MEETING
Decimeter 24 and 31, 2013.
By-Laws
committee meets January 7 at 11:00.
---
Upcoming Programs
(See the official schedule at RotaryBayCity.org )
December 3, 2013: Club Assembly.
As a club, we will present all feedback from recent surveys and club sessions and make some suggestions for moving forward with service projects.
December 10, 2013: District 6310 Water Program Update.
Steve Jennings, from District 6310 Water Committee, will update the club on the water projects that our District is involved with.
December 17, 2013: Rotary Holiday Program.
Join us for our annual Holiday Program, featuring music performed by Rotarians from within the club.
December 24, 2013: NO ROTARY MEETING TODAY - ENJOY HOLIDAY TIME WITH FAMILY
December 31, 2013: NO ROTARY MEETING TODAY - ENJOY HOLIDAY TIME WITH FAMILY
---
Current and past
DISTRICT DISPATCH
newsletters are available on the District site shown in the LINKS section below.


Rotary Bay City on Facebook!
Click on the Blue Facebook to visit us there.

Remember! Check attendance sheets at the front desk.
---
LINKS