Rotary Holds Assembly To Discuss Fund Raising and Grants
December 3, 2013
By: Stephen Kent
CLUB ASSEMBLY
A
Club Assembly
was held last week, December 3, 2013. The topic of discussion was community grants, historic kiosks, and the Paul Harris Statue project.
President Lee
said that in his high school days he was told by a priest
"You know what they say. Where two or more are gathered, someone it bound to get ticked off".
Lee went on to add: "You are the "tax payers", the constituency, the dues paying members of the club. Your input is important."
For a number of years the club has selected
Major Projects
for funding. These have typically been multi-year commitments costing $200,000 or more. The last of these commitments is now fulfilled and the Club's foundation has begun to accumulate money for granting.
The club has also made smaller
Community Grants
on an annual basis. That practice was suspended for a couple of years to allow funds to accumulate. Lee is proposing that these grants be restarted and he proposed that funds from the foundation be allocated to that purpose.
As a Major Project the club has placed three
historic kiosks
downtown. These are at the Planetarium, Waterfall Park, and the Pere Marquette Depot. A kiosk for the
Post Office
was considered but no decision was made. Post Office officials have expressed interest and a location has been prepared. The club discussed this possibility.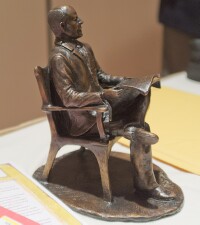 Don Carlyon
updated members on the history and status of the
Paul Harris Statue
project for Rotary Park at the Pere Marquette Depot. The statue is ready and can be shipped to Bay City for installation when the fund raising is complete.
Funding for the statue was proposed to be raised independently from donors. The Club was not intended to be responsible. Some have questioned that policy. Don answered members questions concerning the cost, source of funds, and club participation. A "
Maquette
" (miniature statue), cast in bronze, shows the proposed sculpture. Copies of this maquette will be available for sale to interested parties.
Members were asked to fill out
surveys
with their opinions. These will be evaluated and the results presented to the board meeting and regular meeting next Tuesday, December 10, 2013.
That survey was posted on the Club web site with additional information. An e-mail announcement was sent to everyone asking that, if you have not already done the survey (paper version or on-line), then find your e-mail and go on-line and take that version. (The e-mail is required to take the survey as it contains the necessary security credentials.)
---
CLUB NEWS and ANNOUNCEMENTS
BOARD MEETING THIS WEEK
The Board will meet this Tuesday, December 10, 2013.
11:00 am, before the regular meeting.
An e-mail announcement will be sent to ALL MEMBERS as every member is welcome to attend.
President Lee's challenge
to members stands. Invite prospective members to a meeting. The holiday music program on December 17 would be an ideal time for a guest to visit. Lee also announced that "there may be a prize for the most guests". The
Member Recruitment
page in the member's section of the club web site has resources you may want. If you have a prospect, check these items.
Lee said that the "
Rotary Choir
" may still sing at the Holiday program. Rehearsal may and may not occur. More to come.
The
Vocational Days
committee still needs another member or two. It also needs someone to step into the Chairman role. Call Griff Aker at home if you will help.
The
by-laws committee
will hold their final meeting at 11:00 on January 7. Everyone is invited to this important meeting.
DUES INVOICES
have been mailed for the January to June period. Please try to get these in soon. In the past we have waited until almost everyone has paid before making our payment to Rotary International. This time we plan to pay by the due date regardless. We hope to get everyone's dues promptly.
Carl Lockwood
A
Yellow Rose
was placed on the lectern in honor of
Carl Lockwood
, who passed away this past Sunday at the age of 91. Carl, though frail, attended a meeting 18 months ago and even drove himself. Carl joined the club in 1965 and served as president in 1976. He was a loyal Rotarian and attended almost every meeting. When he was no longer able to attend, the club made him an honorary Rotarian.
---
DATES TO REMEMBER
Seasonal Music Program and joint meeting
December 17, 2013
NO MEETING
Decimeter 24 and 31, 2013.
By-Laws
committee meets January 7 at 11:00.
---
Upcoming Programs
(See the official schedule at RotaryBayCity.org )
December 10, 2013: District 6310 Water Program Update.
Steve Jennings, from District 6310 Water Committee, will update the club on the water projects that our District is involved with.
BOARD MEETING at 11:00 on the 10th, prior to the regular meeting.

December 17, 2013: Rotary Holiday Program. Join us for our annual Holiday Program, featuring music performed by Rotarians from within the club.

December 24, 2013: NO ROTARY MEETING TODAY - ENJOY HOLIDAY TIME WITH FAMILY

December 31, 2013: NO ROTARY MEETING TODAY - ENJOY HOLIDAY TIME WITH FAMILY



---

Current and past DISTRICT DISPATCH newsletters are available on the District site shown in the LINKS section below.




Rotary Bay City on Facebook!
Click on the Blue Facebook to visit us there.

Remember! Check attendance sheets at the front desk.
---
LINKS