Rotary Hears Update On District Water Projects
December 10, 2013
By: Stephen Kent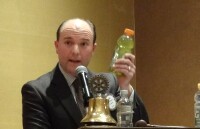 Lee Newton illustrates water
President Lee
introduced Tuesday's talk by showing three bottles of water. A bottle of clear water was from Grand Traverse bay. After months, it was still clear and even froze when left in the car. A second bottle contained yellow green bottle was water which had come from the Saginaw River. It had grown its green shade over time, and did NOT freeze in the car.
The third container was clear water that had come from a Bay City tap. Lee noted that it could have come from the garden hose too. His point was that we don't drink water that many countries would drink, but we take our city water for granted. The same water we drink we also put on our grass.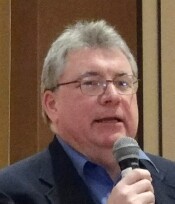 Steve Jennings
Steve Jennings
from District used the rest of the program to talk about District 6310 water projects in South America. These are a joint effort of local clubs and the Rotary Foundation. The Foundation is a financial engine. It leverages dollars, fosters sustainability, establishes schedules, and assures completion of projects.
Photos illustrated before and after stories of water projects. One case showed how water was once carried 2.5 miles by hand. A project of the Frankenmuth club now pipes water from a spring to the village storage tanks.
Other projects include water harvesting, pumps, hollow tube membrane filter systems, latrine installation, hand washing stations, and training in sanitation. Before and after pictures illustrated many of the improvements.
A pilot project addressed hand washing and hygiene training and implementation. Diarrhea is a leading cause of death . It also causes protein-energy malnutrition in surviving children. The primary source of diarrhea is human feces. Locals are taught the three primary barriers, which are, in order, handwashing, clean water, and sanitation.
It was noted that Rotary has many latrine, sanitation and clean water programs worldwide. But hand washing, as important as it is, is boring and doesn't get the attention it deserves. Rotary is spreading the word that simple hand washing required no technology yet proves to be a tremendous benefit.
"Hand washing is the
fastest, simplest, cheapest, and most immediate way
to reduce disease and save lives in developing nations. It's the biggest bang you can get for the humanitarian buck!"
---
CLUB NEWS and ANNOUNCEMENTS
Remember the holiday music program this coming Tuesday, December 17. This would be an ideal time to invite spouses, relatives, friends or prospective members to visit our club.

If you can bring a prospect, remember that President Lee's challenge
to members stands. Lee says "there may be a prize for the most guests". The
Member Recruitment
page in the member's section of the club web site has resources you may want. If you have a prospect, check these items.
Thanks to Matt Felan for stepping up to be the chair of the Vocational Days committee. It was noted that the sponsor form on the web site is last year's. We are working to get the current form and put it on the site.
The Board met and had a long discussion about the club survey on community grants, major projects, the kiosk projects, and the Paul Harris Statue. Those discussions are continuing. One concensus was that the practice of giving Community Grants should be restarted. That will happen soon.
The
by-laws committee
will hold their final meeting at 11:00 on January 7. Everyone is invited to this important meeting.
DUES INVOICES
have been mailed for the January to June period. Please try to get these in soon. In the past we have waited until almost everyone has paid before making our payment to Rotary International. This time we plan to pay by the due date regardless. We hope to get everyone's dues promptly. .
---
DATES TO REMEMBER
Seasonal Music Program and joint meeting
December 17, 2013
NO MEETING
Decimeter 24 and 31, 2013.
By-Laws
committee meets January 7 at 11:00.
---
Upcoming Programs
(See the official schedule at RotaryBayCity.org )
December 17, 2013: Rotary Holiday Program.
Join us for our annual Holiday Program, featuring music performed by Rotarians from within the club.
December 24, 2013: NO ROTARY MEETING TODAY - ENJOY HOLIDAY TIME WITH FAMILY
December 31, 2013: NO ROTARY MEETING TODAY - ENJOY HOLIDAY TIME WITH FAMILY
---
Current and past
DISTRICT DISPATCH
newsletters are available on the District site shown in the LINKS section below.


Rotary Bay City on Facebook!
Click on the Blue Facebook to visit us there.

Remember! Check attendance sheets at the front desk.
---
LINKS