State Police Trooper Joe LaBelle to Bring Tracking Dog to Rotary
Ambassadorial Scholar Melinda Boysik Spotlights Youth Exchange
August 28, 2005
By: Dave Rogers
A great lineup of programs has been announced by program chairs Eric Jylha and Ed Keating:
THIS WEEK: Joe LaBelle, Michigan State Police, and his tracking dog, on the canine program.
NEXT WEEK: Judge Ken Schmidt.
Sept. 13: Rotary Program Update (International Night, Dictionary Project, Rotary International Foundation).
Sept. 20: Walt Reynolds, FBI station chief in Bay City.
Sept. 27: Bay City Public Schools Bond Issue.
Oct. 4: Dan Streeter, new Good Samaritan Rescue Mission in Bay City.
Remember, your attendance is the key to a good, active club that makes a contribution to its community, state and nation . . . and to world peace and understanding.
---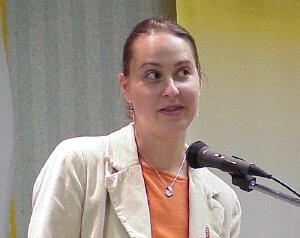 LAST WEEK'S PROGRAM:
"My goal is learning about America and the kinds of things we do as Rotarians," Melinda told the club last Tuesday. "Thank you for the opportunity; I hope I fulfill all your expectations."
Melinda said she will try to visit as many clubs in the district as possible. She cited a "long relationship" with Rotary since her hometown club in Budapest, Hungary had hosted an American boy and she attended a Rotary youth exchange program in Austria. She is a member of a Rotaract club in Budapest. Her family also has hosted Japanese and Brazilian students on Rotary exchange programs.
"I encourage all of you to host an exchange student; it's a wonderful experience," she said.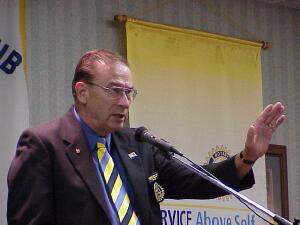 Gov. Coe
was welcomed by a song led by Rob Clark, "Viva La Rotary," enthusiastically performed by club members. "Friends from the Thumb, welcome, have fun, Viva La Rotary!" the lyrics proclaimed.
"Sebewaing Rotary has great affection for Bay City; you sponsored us 66 years ago," said Gov. Coe, the first district governor from the Sebewaing club.
Gov. Coe reviewed the current visit of the Japanese Group Study Exchange team and the planned Jan. 3 departure of the GSE team to India's central diamond mining district. This trip offers and exciting opportunity for young professionals ages 25-40 and members are being sought from Bay City, he said.
He described a variety of international programs designed to build understanding and good will, including water purification and literacy.
"Rotary crosses all borders and that makes us the most powerful organization in the world," said Gov. Coe, noting that Rotary helped found the United Nations, where it has a room in the New York headquarters to continue to work for world peace.
The District 6310 Annual Conference will be held April 27-29, 2006 in Frankenmuth, he announced.
The conference will have a"business format," said Gov. Coe, with Tim Dust of the F.P. Horak Co., Bay City, speaking on business systems, and Dr. Frank Dain of Saginaw Valley State University speaking on ethics.
There will be telecommunication with RI Vice President Francois Garcia at the RI headquarters in Evanston during the district conference, he said.
Featured speaker will be Joanne P. McCallie, women's basketball coach of the Michigan State University Spartans. "We want young people to come and hear her," exclaimed the district governor.
At MSU, Mrs. McCallie promotes the Choice Not Chance" philosophy that focuses on making correct choices in life and she and her staff speak at many schools about the program. She was voted "Big Ten Coach of the Year" by the media and led her team to the NCAA finals last year.###
Rotary in Pictures
Rob Clark leads "Viva La Rotary":
"Friends from the Thumb, welcome, have fun, Viva La Rotary!"
---
--- Advertisements ---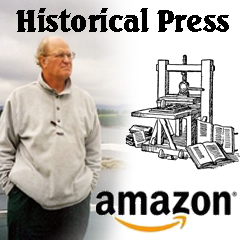 ---
---
RotaryBayCity.org Rotary Club of Bay City Web Site
eClub-One
: Members with internet connections are encouragedto visit eClub-One monthly for a makeup. To get makeup credit you need to fill out the makeup form on that site. Print the acknowledgement for you receive and turn it in to receive credit. Be sure to enter our club's district number (
6310
) on that form.
Click this link to open eClubOne in a new window:
www.rotaryeclubone.org
.
The Bay City Rotary Club meets at Noon each Tuesday at the Lumber Barons resturant on the West Side.
Rotary Club of Bay City Web Site
District 6310 meeting schedule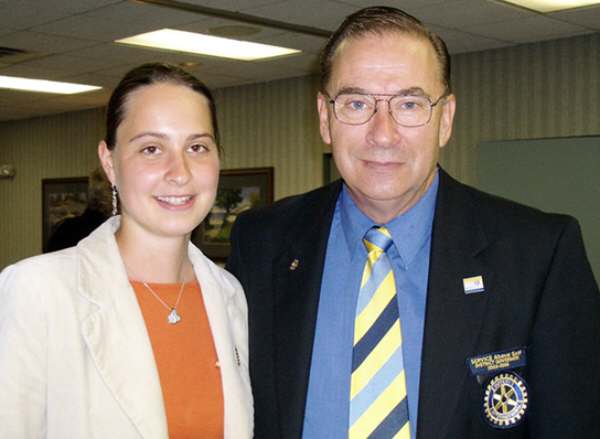 Rotary Ambassadorial Scholar Melinda Boysik with District Gov. Dalton Coe at a recent Noon Rotary Club meeting. - (Andy Rogers Photo)