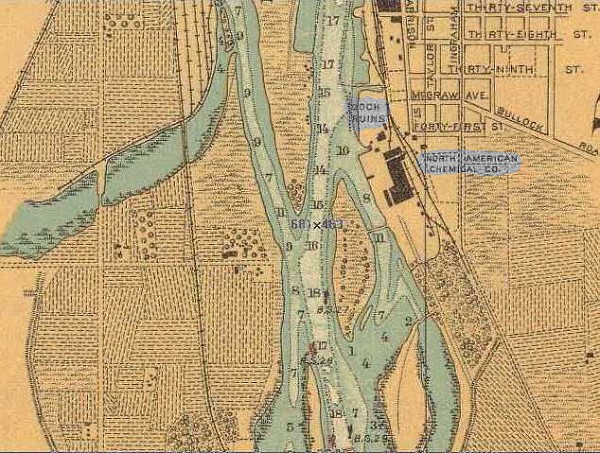 Old map shows location of North American Chemical Company. (Courtesy Bay-Journal.com)
---
CHEMICALS & WAR: British-Owned Bay City Firm Competes with Dow, Germans
Unseen, Unknown Chemicals From Local Wells Helped World War I Effort
January 12, 2014
By: Dave Rogers
In 1915, as the existence of the British Empire was threatened by German war hordes under Kaiser Wilhelm, much of the material for explosives for the British Army was flowing out of bromine wells in Bay City, Michigan.
The North American Chemical Company, owned by the United Alkali Company of Liverpool, England, located south of 41st Street on the Saginaw River, boasted in 1916 that it was the largest producer of chlorates in the world.
"British direct investors assisted their nation's home cause," Wrote Mira Wilkins in her book, "The History of Foreign Investment in the United States 1914-1945" (Harvard Studies in Business History, 2004).
Considered the leading authority on foreign investment, Ms. Wilkins continued:
"United Alkali Company's U.S. subsidiary, North American Chemical Co., in Bay City, Michigan (a producer there since 1898) had a greater output of potassium chlorate in 1915 than ever in history. By 1916, some 60 percent of its electrolytic capacity was devoted to producing sodium chlorate, which it shipped to Liverpool as fast as it could do so."
Potassium chlorate is the basis for explosives and smoke grenades while sodium chlorate is a herbicide and used in explosives. It also was used to produce chlorine dioxide, a disinfectant, which at high concentrations is extremely dangerous and poisonous for all living organisms, and was historically used in World War I as the first gaseous chemical warfare agent.
As the war escalated, the U.S. was drawn in by early 1917 and the American commander, General John J. "Black Jack" Pershing, was seeking mustard gas to match the Germans who had been using it to good effect on the battlefield.
The work of chemists and military personnel at the Dow Chemical Company, Midland, in making the first American mustard gas in 1918 are detailed in a new book, "The G-34 Paradox: Inside the Army's Secret Mustard Gas Project at Dow Chemical Company in World War I."
A book launch event will be held Wednesday, Jan. 29, 6-8 p.m., at the Vno New Age Restaurant, 510 W. Midland Street, with the author, yours truly, D. Laurence Rogers. A wine and cheese tasting party will be hosted in conjunction with the book launch by the publisher, Historical Press L.L.C., of Bay City.
Earlier that day a class at the Osher Lifelong Learning Institute (OLLI) at Saginaw Valley State University will be conducted by the author.
The book describes how Herbert H. Dow and Dr. Albert W. Smith of Case School of Applied Science, Cleveland, collaborated to make perhaps the most important chemical contribution to Allied forces.
It also tells how Dow was able to overcome the price cutting and other competitive tactics of the British and Germans.
In response to the Dingley Tariff, a 49 percent levy imposed by the U.S. government in 1897, the United Alkali Company of Liverpool established the North American Chemical Company here in 1898.
First purchasing land in Detroit for location of their plant, the British firm visited Bay City and officials were persuaded by Alex Zagelmeyer, president of the Monitor Coal Mine Co., to locate here instead of Detroit because of ready supplies of coal.
The North American firm purchased the site of the John McGraw Lumber Mill, 250 acres south of 41st Street on the Saginaw River, and built a plant valued at $1.25 million. The British firm purchased and operated the Bay Coal Mine in Frankenlust Township and leased 9,000 acres for potential coal production.
The plant used an estimated 60,000 tons of coal annually in running huge turbines for its electrolytic processing of bromine into potassium chlorate and sodium chlorate.
That put the Bay City firm in direct competition with Dow as well as German firms that had dominated the market for decades. The onset of World War I in 1914, however, cut off German chemicals and allowed Dow to boom, making it a nationally important enterprise.
While the British firm in Bay City grew to 212 men by 1917, Dow had about ten times more employees producing war-related chemicals, mainly chlorine, bromine and caustic soda. No doubt Dow's proximity to its markets in the U.S. war industries was an advantage since the Brits had to ship their products overseas and run the gauntlet of U-boats (unterseeboots). However, unrestricted German submarine warfare did not hit full stride until 1917.
(Photos of the North American Chemical Company plant are published in Leon Katzinger's 2004 book, "Bay City Then and Now," available on Amazon.com and at the Bay County Historical Museum and local retail outlets) and also are posted on Marv Kusmierz's local history website, bay-journal.com.
The firm, known locally as "the Alkali," operated until 1928 when it was purchased by Consumers Power Company and the huge structure was demolished. The ruins have lain there since, visited by generations of youngsters and other curious folk amazed at their extent.
The company's 160 acre farm was purchased by William Clements and James E. Davidson and turned over to the city of Bay City for use as James Clements Airport, which continues to operate today.
While hardly anyone recalls the North American and its officials, the fame of Herbert H. Dow continues to be recognized more than 80 years after his death in 1930.
"Inducted into the Michigan Walk of Fame on May 25, 2006, Chemical pioneer H.H. Dow developed new processes for extracting bromine, chlorine, calcium, magnesium and sodium compounds from Midland's underground deposits of brine (salt water). During World War I, Dow's company replaced Germany as a supplier of explosives, aspirin, magnesium and synthetic indigo. Dow continued to search for new products and processes; his final project was extracting bromine from sea water."
###