Rotary Hears Experiences Of Ambassadorial Scholar To Shanghai
January 7, 2014
By: Stephen Kent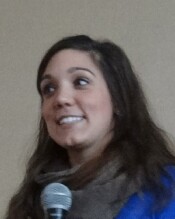 Jency Schnettler
It was June 2009 when the club's board voted to endorse the application of
Jency Schnettler
for a
Rotary Ambassadorial Scholarship
. That local club endorsement was a requirement in a very detailed and involved process Jency had to complete to earn the position.
Last Tuesday Jency completed her journey by presenting a report of her 13 months in Shanghai at Fudan University. She talked about her experiences and study of the Chinese culture and society and the Chinese Language.
Jency described the Rotary Club of Shanghai. Originally chartered in 1919 as the second chapter in Asia and the first in China, the club was disbanded in the Communist era. It was reinstated in 2006 but membership and activities are limited by government restrictions. "They walk a fine line between what they are allowed to do and what they're not allowed to do", said Jency.
She also said this is an international club with members from all over the world. But no People's Republic of China passport holders are allowed to be members. Still it is a large and active club meeting on Tuesdays at the Hilton Hotel.
Another Ambassadorial Scholar was there. He was from El Paso, Texas, which led other members to think Jency was also from El Paso, rather than Michigan. He talked about border relations between the US and Mexico, so Jency followed by talking about border relations between Detroit and Canada.
Jency was more active in the Rotaract Club of Shanghai. In the US Rotaract is thought of as a college student group. In Shanghai it's more young professionals. They sponsor a number of projects and have many volunteer operations. Jency talked about the "Fresh Start Shanghai" program, a pilot project of Rotaract aimed at young professionals in the 30-45 age group.
Through Rotary Jency participated in three projects, which allowed her to get into the country site, an opportunity most people don't get when take the typical trip to China. She said of one trip that on the plane home, the local Rotaract she went with said "I'm so glad this went OK Jency, because I forgot to tell the government you were coming". Apparently that's a requirement for any visits to the provinces. Jency said "I was very happy it went OK too!".
When asked about how she started, Jency said in some respects it was difficult. She started largely on her own and few officials spoke English. She made her way, though, and made friends and got along. She said it was a great experience.
When asked about language, she said that she took courses the entire time she was there and did receive a certificate for the "third level" of Chinese. She also said that one must understand 10,000 characters to read a news paper; in the time she was there she learned 800.
CLUB NEWS and ANNOUNCEMENTS
Congratulations and thanks to
Rod Sundstrom
, who was presented with his Paul Harris Plus Three pin.
Members were asked to
wear your Paul Harris pin next week
when the program will be about the Foundation and the Paul Harris Fellowship.
The club was reminded that 100% of our members could achieve 100% Paul Harris. There are matching points available that allow a member to receive their first Paul Harris level at half the normal $1,000 contribution.
Griff made a plea to Rotarians who plan to host
Vocational Days
students: Please turn in your applications. Only three members have done so and the events are fast approaching!
President Lee accepted the opportunity for the club to sell fifty tickets to the February 18
Saginaw Spirit Rotary Night Hockey
game. Rather than take a chance on selling these tickets, Lee purchased the entire lot himself and will resell them to Rotarians at cost. Several member spoke up. If you want to help, please contact Lee.
It was
a busy Rotary day
as the Club's Foundation Board and the club By-Laws committees each met before the regular meeting. Then the Centennial Committee met after the regular meeting.
BOARD MEETING THIS WEEK
The Board will meet this Tuesday, January 14, 2014.
11:00 am, before the regular meeting.
An e-mail announcement will be sent to ALL MEMBERS as every member is welcome to attend.
DUES INVOICES
have been mailed for the January to June period. Please try to get these in soon. In the past we have waited until almost everyone has paid before making our payment to Rotary International. This time we plan to pay by the due date regardless. We hope to get everyone's dues promptly.
---
DATES TO REMEMBER
Board Meeting
January 14 at 11:00am.
Centennial Committee
meets on January 28 at 11:00am.
---
Upcoming Programs
(See the official schedule at RotaryBayCity.org )
January 14, 2014: Foundation.
Rotary International Foundation and Rotary Club of Bay City Charitable Foundation presented by Gena Gates and Kathy Czerwinski
January 21, 2014: International Projects.
The club's own Chuck Cusick will review our involvement with Adopt-A-Village in Guatemala and highlight opportunities for continued support.
January 28, 2014: 10 Minute Rotarian.
February 18, 2014: Community Advancement Network
. Rob Spurling of the Community Advancement Network will give an overview of his organization and discuss how it impacts non-profit organizations in the Great Lakes Bay Region. Speaker: Rob Spurling
---
Current and past
DISTRICT DISPATCH
newsletters are available on the District site shown in the LINKS section below.


Rotary Bay City on Facebook!
Click on the Blue Facebook to visit us there.

Remember! Check attendance sheets at the front desk.
---
LINKS