Rotary Foundation Update
January 14, 2014
By: Stephen Kent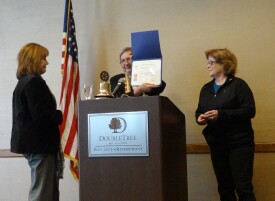 Eileen Curtis receives PH from
Gena Gates and Kathy Czerwinski
The Rotary Club received a review and update on the
Rotary Foundation
last Tuesday from
Gena Gates
and
Kathy Czerwinski
. The Foundation is well known to Rotarians thanks to the many appeals, news articles, and other publicity. Proposed in 1917 by then RI President Arch Klumph as an endowment fund "for the purpose4 of doing good in the world", the foundation received its first donation of $26.50.
Within a year the foundation had grown from that original $26.50 to $5,000. At that time it was renamed "The Rotary Foundation". At the end of 2012 the Foundation had net assets of $813.7 million and receives some $181 million a year.
Among the many grants and projects of the Foundation,
Polio Plus
is perhaps the best known and most publicized. Supported by Rotary and a 2 to 1 match from the
Bill and Melinda Gates Foundation
,
Polio Plus
has the goal of eradicating polio world wide. That goal is within reach now with polio found in only a few middle eastern countries.
Rotarians may contribute to the Rotary Foundation in a number of ways. Whey a Contributor's total donations reach $1,000, that person becomes a
Paul Harris Fellow
and is presented with a special pin and other recognition. Subsequent $1,000 donations are recognized with numbered levels. Four designations were presented on Tuesday (see club news below).
Locally, the Rotary Club of Bay City operates its own
Foundation
for the purposes of raising money for club efforts including community grants and major projects.
Rich Milster
gave a brief update on how this foundation works and its relation to the club at large.
The local foundation was started in 1998 to provide a proper mechanism for the club to raise funds. Legally, the foundation is, and must be, a separate organization with its own board and the ability to manage and control the funds it receives and how those funds are disbursed.
From the beginning, the foundation was designed to work with the recommendations and wishes of the club itself. The club controls this relationship by "hiring and firing" the foundation's board of directors.
The Foundation board met prior to the Club's regular board meeting on Tuesday. At the board meeting, the Foundation was represented by Tim Holsworth and Rich Milster, who reviewed how the board works and how it interacts with the club. A recap of this information was presented to the club during the regular meeting.
The Foundation is further defined on a separate page in the members section of the club web site. That page includes by-laws, financial statements, and other information.
In closing, Gena Gates noted that there is a wealth of information on the Foundation on
rotary.org
. She said "you can be very proud to be part of an organization the is only here for service and to do good in the world. There are very few organizations that can say that, and ours is one of them."
CLUB NEWS and ANNOUNCEMENTS
Congratulations and thanks to four members who received
Paul Harris Fellow
recognition.
Eileen Curtis
and
Anne Russell
were presented as new PH Fellows.
Cindy Luczak
received her PH Plus 1 pin.
Linda Heemstra
received her PH Plus 6.
The club was reminded that 100% of our members could achieve 100% Paul Harris. There are matching points available that allow a member to receive their first Paul Harris level at half the normal $1,000 contribution.
Matt Felan
reminded Rotarians that
Vocational Days
are right around the corner. Anyone who plan to host
Vocational Days
students should turn in your information forms immediately!
Ron Bloomfield
said that
Rotary Rocks
is scheduled for Thursday April 10 at the State Theater. The theme will be
"Sticks and Stones... It's Only Rock and Roll".
Tim Moulthrop
reported that
Al Hicks
is currently in a nursing home on M-84. Tim says Al would appreciate visitors.
The Club's Board and met before the regular meeting. A summary was given later at the regular meeting.
Lee reported from the board meeting that the Club Foundation approved $10,000 for
Community Grants
. That committee and process will be re-started after a couple of years off. They also approved next year's Dictionary and Thesaurus project for $5,000.
The board also approved a special committee to review the potential for another historic kiosk with outside funding. There has been discussion of the Post Office as a location and there are possibly two non-club sources of funds.
A special club assembly will be scheduled with the Paul Harris statue as the sole topic. The history, funding, and status will be discussed.
A
special board meeting
has been scheduled for February 4 to discuss the plans, budget and events for the club's
Centennial Year
celebrations. Decisions on schedule and funding will then be decided the following week at the regular board meeting on February 11.
Lee read a letter from
Jency Schnettler
, our Rotary Ambassadorial Scholar who spoke last week.
DUES
for the January to June period Are NOW DUE. About 75% of members have made their payments. For those who have not paid, please get these in as soon as possible! Rotary International payments are due now and the club will pay for everyone anticipating that late payments will arrive soon.
---
DATES TO REMEMBER
Centennial Committee
meets on January 28 at 11:00am.
Rotary Rocks
is scheduled for Thursday April 10 at the State Theater.
This year's theme:
"Sticks and Stones... It's Only Rock and Roll".
---
Upcoming Programs
(See the official schedule at RotaryBayCity.org )
January 21, 2014: International Projects.
The club's own Chuck Cusick will review our involvement with Adopt-A-Village in Guatemala and highlight opportunities for continued support.
January 28, 2014: 10 Minute Rotarian.
February 18, 2014: Community Advancement Network
. Rob Spurling of the Community Advancement Network will give an overview of his organization and discuss how it impacts non-profit organizations in the Great Lakes Bay Region. Speaker: Rob Spurling
---
Current and past
DISTRICT DISPATCH
newsletters are available on the District site shown in the LINKS section below.


Rotary Bay City on Facebook!
Click on the Blue Facebook to visit us there.

Remember! Check attendance sheets at the front desk.
---
LINKS