State Trooper Joe LaBelle and police dog Charlie visit Rotary
September 4, 2005
By: Stephen Kent
Upcoming Rotary Programs:THIS WEEK:
Judge Ken Schmidt.
Sept. 13:
Rotary Program Update (International Night, Dictionary Project, Rotary International Foundation).
Sept. 20:
Walt Reynolds, FBI station chief in Bay City.
Sept. 27:
Bay City Public Schools Bond Issue.
Oct. 4:
Dan Streeter, new Good Samaritan Rescue Mission in Bay City.
Remember, your attendance is the key to a good, active club thatmakes a contribution to its community, state and nation . . . and to world peace and understanding.
---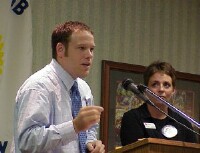 Hurricane Katrina
: Rotarian Melissa Gleeson, Executive Director of the East Shoreline Chapter of the American Red Cross, introduced Chris Izworski who talked about the Hurricane Katrina relief efforts which were just starting on Tuesday.
By now everyone knows the horror of what happened on the Gulf. Contributions can be made by calling the Red Cross at (989) 892-8541, or (800) HELPNOW, or by visiting
www.RedCross.org
.
---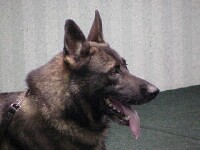 Last Week's Program:
State Police Trooper Joe LaBelle of the Canine Team presented a program on how dogs are trained and how they work with law enforcement. He was joined by his German Shepherd Charlie who apprehended "bad guy" Rob Clark in a demonstration.
LaBelle, a 2nd generation police officer, was raised in Alpena then went on to Ferris State University. When the opportunity presented itself, Labelle joined the State Police and headed off for 17 weeks of recruit school. "It's a lot like military boot camp except they can't hit you. I weighed 205 pounds when I went in and 165 when I came out!"
At age 21 Labelle joined the Battle Creek post as its youngest trooper. He said it was an interesting introduction to the job when there was a shootout on his third day.
After 2 years another opportunity landed him in the Canine division and back to school for 14 weeks to learn dog handling and training. He and his wife and child went to Sault St. Marie for two years after which they moved to Bay City.
LaBelle's first dog was a golden retriever. Each breed of dog has its strong points and weak points. Goldens are good trackers, but they're too friendly to take down a bad guy. Dobermans and Rotweilers are agressive but not great trackers. The Shepherds do well at both jobs.
Dogs are given many jobs besides tracking and intimidating criminals. They can be trained to find drugs and explosives and even bodies. The dogs sense of smell is so acute that they can actually find bodies of drowning victims under many feet of water. Some dogs are being trained to wear video cameras which allow the officers to see what the dog sees.
To demonstrate what LaBelle's 5 year old Shepherd Charlie can do, Rob Clark was invited to play a "bad guy" and "take a bite." (Cindy Chadwick
really
wanted that job, but LaBelle preferred to have someone just a tiny bit bigger.) Charlie had no problem "intimidating" Rob, and almost dragging him off the stage. It was a very impressive demonstration.
---
Service Opportunity
Paint-N-Pride September 17. Contace Rob Clark for details.
16 year old Tulio Villarz
, our Youth Exchange student from Recife Brazil, has arrived in town and is staying with Rob and Debra Monroe. Rob reports that Tulio has proved a great addition to the Central High soccer team!
Rotary in Pictures
Trooper Joe LaBelle
Great information, funny stories and an impressive demonstration
| | |
| --- | --- |
| "Bad Guy" hiding in the room | "Bad Guy" under control! |
---
--- Advertisements ---

---
---
RotaryBayCity.org Rotary Club of Bay City Web Site
eClub-One
: Members with internet connections are encouragedto visit eClub-One monthly for a makeup. To get makeup credit you need to fill out the makeup form on that site. Print the acknowledgement for you receive and turn it in to receive credit. Be sure to enter our club's district number (
6310
) on that form.
Click this link to open eClubOne in a new window:
www.rotaryeclubone.org
.
The Bay City Rotary Club meets at Noon each Tuesday at the Lumber Barons resturant on the West Side.
Rotary Club of Bay City Web Site
District 6310 meeting schedule