Don't Miss This Week's Meeting - Rob Clark's Desk Junk Auction Fundraiser is Scheduled
---
Rob's Excellent Desk Junk Auction on Tap This Week: Bring Your Spare Cash!
Judge Ken Schmidt Discusses Private Property Seizure Ruling
September 11, 2005
By: Dave Rogers
PROGRAM THIS WEEK:
International Night Update, Rob Clark's Desk Junk Auction Fundraiser.
LAST WEEK:
Judge Ken Schmidt.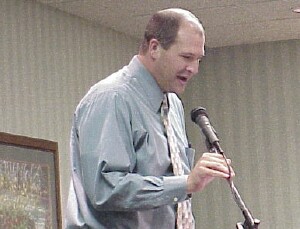 CONGRATULATIONS: Rob Clark
, named president-elect of the Rotary Club of Bay City (to serve 2007-2008); he also reported his promotion to assistant metro editor, The Bay City Times.
BOARD MEETING:
Tuesday, 7:30 a.m., 2nd floor, Room 207, Bay-Arenac Mental Health Building.
PROJECTS:
Dictionary Project underway, aims to furnish dictionaries to all third graders in Bay County schools. Orders have been placed for 1,200 dictionaries for 40 schools. Rotary volunteers are needed to deliver dictionaries. Chair, Chuck Cusick.
Sept. 17, Paint 'n Pride. Volunteers needed. See Rob Clark or President Ralph.
New club sponsorship: Outreach efforts underway in Pinconning, Standish. See Mike Stoner.
Several dozen Red Cross volunteers from Bay County, including Kelly Kent, daughter of Rotarian Steve Kent, club secretary, are enroute to or already serving in Louisiana and Mississippi to help refugees from the effects of Hurricane Katrina. See Gena Gates of AAA, a local Red Cross board member.
UPCOMING EVENTS:
13th Annual International Night, Thursday, Oct. 13, 5:30-9 p.m., DoubleTree Hotel - Bay City Riverfront. See Larry LaPorte for tickets.
---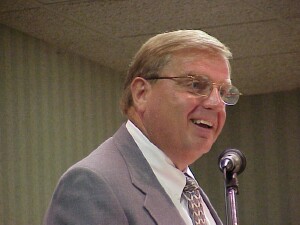 Circuit Judge Ken Schmidt
, after loosening up club members with a little humor from the bench, got down to a more serious topic in his talk to the club last week: the effects of a Supreme Court ruling allowing the seizure of private property for public uses.
Fortunately, Michigan has laws on the books prohibiting such governmental condemnation actions, but Judge Schmidt noted that the July 24 ruling in a New London, Connecticut case has "ignited a revolt."
The public firestorm comes in response to a high court ruling that the taking of private property by New London was not prohibited by the U.S. Constitution.
A major effect of the ruling may be legislation to strengthen the federal Ownership of Private Property Act, Judge Schmidtsaid.
Some states have already initiated legislation to overturn the ruling and bar eminent domain, the principle by which government may condemn private property for public uses, he said.
Judge Schmidt urged Rotarians to "get to know your elected public officials," especially the seven judges in various posts in Bay County. "Find out what they're doing -- it's important," concluded the judge.###
---
RotaryBayCity.org Rotary Club of Bay City Web Site
eClub-One
: Members with internet connections are encouragedto visit eClub-One monthly for a makeup. To get makeup credit you need to fill out the makeup form on that site. Print the acknowledgement for you receive and turn it in to receive credit. Be sure to enter our club's district number (
6310
) on that form.
Click this link to open eClubOne in a new window:
www.rotaryeclubone.org
.
The Bay City Rotary Club meets at Noon each Tuesday at the Lumber Barons resturant on the West Side.
Rotary Club of Bay City Web Site
District 6310 meeting schedule