Rotary's Guatemala Projects
January 21, 2014
By: Stephen Kent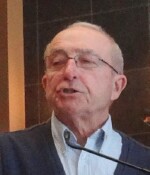 Chuck Cusick
Rotary heard from one of its own as
Chuck Cusick
talked about the club's participation in "
Adopt-A-Village in Guatemala
" (AAV). The program started as one person's pet project and has grown to become an incorporated organization with wide support from Rotarians.
Chuck and Nancy Cusick
count Guatemala as one of the many Rotary trips they've taken. They've helped with this effort, given polio immunizations, and done so many other worthwhile things.
The AAV program targets poor regions in the Central American country of Guatemala. Chuck's slide show illustrated the region on a map and in pictures from the ground. Travel went from good highways to what looked like quite perilous roads in the mountains.
The Bay City Rotary participation started with AAV's 2008-09 "Make Dreams Real" project. This funded the purchase and installation of a satellite system. It also addressed infant and child mortality with educational programs that targeted hygiene, oral re-hydration of babies with diarrhea, and anti-parasite medication.
The 2009-10 year efforts funded new computers and a garden seed program. 2010-11 programs included a sustainable village organic garden project, teacher's guides and books, INTERNET fees, solar power for the nutritional training center, and 3 water catchment tanks for the gardens.
2011-12 supported material for the Community Nutritional Training Center. The 2012-13 dollars helped provide a partial scholarship for a young man pursuing academic courses and sustainable agriculture. Through Rotary, these efforts are transforming villages.
---
CLUB NEWS and ANNOUNCEMENTS
Tom Tabor
5/20/1924 - 01/14/2014
A
yellow rose
stood at the front of the room as Rotary remembered
Tom Tabor
, long time Rotarian and prominent Bay City Businessman who passed away last Tuesday at his home in Florida. Tom was Club President in the 1967-68 year and is remembered as the author of the club's induction ceremony. Many of our members were inducted by Tom, who was known for insisting that new members always wear their Rotary Pin, even on their pajamas. He was also fond of saying that "Bay City is the center of the known universe", and that "the Bay City Rotary Club is the best in the world". Tom will be missed by everyone.
Tuesday presented a slight challenge as the club was moved into the restaurant area for its meeting. We've used this venue before and it worked again.
Members are reminded that 100% of our members could achieve 100%
Paul Harris Fellow
status. There are matching points available that allow a member to receive their first Paul Harris level at half the normal $1,000 contribution.
Griff Aker
reminded Rotarians that
Vocational Days
are right around the corner. The committee was to meet with schools the next day to make the final plans.
Note that a special board meeting will be held on February 4th to discuss the plans, budget and events for the club's
Centennial Year
celebrations. Decisions on schedule and funding will then be decided the following week at the regular board meeting on February 11.
Following the program last week, the club was given "homework" assignments. Cindy Luczak, Brenda Scramlin, and Lee Newton reported the results this week by briefly relating three projects of the Rotary Foundation taken from the Rotarian magazine.
DUES
for the January to June period Are NOW DUE. About 75% of members have made their payments. For those who have not paid, please get these in as soon as possible! Rotary International payments are due now and the club will pay for everyone anticipating that late payments will arrive soon.
---
DATES TO REMEMBER
Centennial Committee
meets on January 28 at 11:00am.
Special Board Meeting
at 11:00 on February 4, 2014, before the regular meeting. The
Centennial Committee
will present their plans for the Club's year-long 100th birthday celebration.
Rotary Rocks
is scheduled for Thursday April 10 at the State Theater.
This year's theme:
"Sticks and Stones... It's Only Rock and Roll".
---
Upcoming Programs
(See the official schedule at RotaryBayCity.org )
January 28, 2014: 10 Minute Rotarian.
February 4, 2014: Paul Harris Statue initiative
. Fellow Rotarians
Don Carlyon
and
Jerome Yantz
will discuss the history and current status of the effort to bring a life size statue of Rotary's founder to Bay City.
February 4, 2014: Centennial Committee Update.
Rob Clark
and
Ron Bloomfield
from the Centennial Committee will apprise the club of the Committee's plans for the Club's 100th anniversary year (7/1/14-6/30/15) and highlight some of the special events planned.
February 18, 2014: Community Advancement Network
. Rob Spurling of the Community Advancement Network will give an overview of his organization and discuss how it impacts non-profit organizations in the Great Lakes Bay Region. Speaker: Rob Spurling
February 25, 2014: SVSU's Osher Lifelong Learning Institute
.
Jo Brownlie
, directed of the O.L.L.I. at SVSU, will discuss the organization - one that has over 1500 members and a 12-year track record.
---
Current and past
DISTRICT DISPATCH
newsletters are available on the District site shown in the LINKS section below.


Rotary Bay City on Facebook!
Click on the Blue Facebook to visit us there.

Remember! Check attendance sheets at the front desk.
---
LINKS