10 Minute Rotarian Presented At Rotary
January 28, 2014
By: Stephen Kent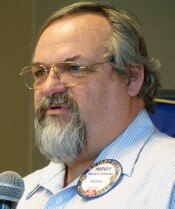 Harvey Schneider
Harvey Schneider
took the podium to deliver the popular 10-Minute Rotarian talk this past week. Born and raised in the rural St. Charles area, Harvey was one the oldest of three kids.
He related his early years when a neighbor
let him
care for the neighbor's horses. As Harvey said, "I learned about alfalfa, oats and straw. I learned to braid rope. And I learned that what goes in one end comes out the other". He then noted that caring for horses seemed more associated with that third item than anything else.
Other than the horses, Harvey spent his summers fishing, swimming and playing in the woods. He went to St. Charles Community Schools and "tried" to play teams sports like basketball, baseball, and intramural softball. He was on the yearbook and homecoming float committees. He went on to Delta College and earned his Associates in Applied Science in Architectural Technology.
Harvey listed a large number of awards and community volunteer positions that he's held over the years. That service started with the St. Charles Jaycees where his first experiences were on the park, parade and Christmas decorating committees.
Harvey married Cynthia Schmidt in 1976. They have two children, Jamie and Jeremy and one grandchild, Celeste. The couple continue to love fishing, golf and the outdoors.
Harvey may be best known for his work as a community volunteer. He's been involved in the United Way, Big Brothers / Big Sisters, The Red Cross, Tall Ships, Saginaw Field and Stream Club, and many more.
After 35 years of service, Harvey retired from GM Powertrain in 2012, where he filled many roles and volunteer positions within the community. After GM he took a part time position at Delta as a Shilled Trades Liaison Specialists. A year later he moved into the full time manager position.
As many Rotarians will agree, retirement doesn't mean that a community volunteer can take it easy. It usually just means more time and more opportunities to give back to the community. Harvey certainly has done that.
---
CLUB NEWS and ANNOUNCEMENTS
SPECIAL BOARD MEEETING

A special board meeting will be held at 11:00 this week, February 4th, to discuss the plans, budget and events for the club's Centennial Year celebrations. Decisions on schedule and funding will then be decided the following week at the regular board meeting on February 11.

Two weeks ago club members were given "homework" assignments.

Kathy Czerwinski

,

Cindy Chadwick

and

Linda Heemstra

reported their results this week by briefly relating three projects of that Rotary Clubs have done in recently.

Andrea Hales

updated the club on

Beto Dominguez

, our current exchange student here from Mexico. "For someone who has never worn a heavy coat", she said, "the current polar vortex weather is quite different. Beto has leaned he really hates the cold."

Matt Felan

reminded members that Vocational days are right around the corner on March 11 and March 25. Thanks to electronic communications, there is still time for Rotarians to sign up to take students. If you can help (preferably on the 11th), please contact Matt, Griff or Ralph as soon as possible.

Lee reminded the club that the meeting on

March 25 will be at the Country Club

.

Cathy Czerwinski

presented a first level

Paul Harris Fellow

to

Ann Grady

. Ann thanked the club and said that her fellowship was made possible by matching points from the club. She said anyone who doesn't now have a PH should take advantage of this opportunity.

Members are reminded that 100% of our members could achieve 100%

Paul Harris Fellow

status. There are matching points available that allow a member to receive their first Paul Harris level at a fraction of the normal $1,000 contribution.

DUES

for the January to June period Are NOW DUE. About 75% of members have made their payments. For those who have not paid, please get these in as soon as possible! Rotary International payments are due now and the club will pay for everyone anticipating that late payments will arrive soon.
---
DATES TO REMEMBER
Special Board Meeting
at 11:00 on February 4, 2014, before the regular meeting. The
Centennial Committee
will present their plans for the Club's year-long 100th birthday celebration.
Regular Board Meeting
at 11:00 on February 11, 2014, before the regular meeting.
March 11 and March 25, 2014: Vocational Days.
March 25 meeting will be at the Country Club.
Rotary Rocks
is scheduled for Thursday April 10 at the State Theater.
This year's theme:
"Sticks and Stones... It's Only Rock and Roll".
---
Upcoming Programs
(See the official schedule at RotaryBayCity.org )
February 4, 2014: Paul Harris Statue initiative
. Fellow Rotarians
Don Carlyon
and
Jerome Yantz
will discuss the history and current status of the effort to bring a life size statue of Rotary's founder to Bay City.
February 11, 2014: Centennial Committee Update.
Rob Clark
and
Ron Bloomfield
from the Centennial Committee will apprise the club of the Committee's plans for the Club's 100th anniversary year (7/1/14-6/30/15) and highlight some of the special events planned.
February 18, 2014: Community Advancement Network
. Rob Spurling of the Community Advancement Network will give an overview of his organization and discuss how it impacts non-profit organizations in the Great Lakes Bay Region. Speaker: Rob Spurling
February 25, 2014: SVSU's Osher Lifelong Learning Institute
.
Jo Brownlie
, directed of the O.L.L.I. at SVSU, will discuss the organization - one that has over 1500 members and a 12-year track record.
---
Current and past
DISTRICT DISPATCH
newsletters are available on the District site shown in the LINKS section below.


Rotary Bay City on Facebook!
Click on the Blue Facebook to visit us there.

Remember! Check attendance sheets at the front desk.
---
LINKS