Jo Brownlie speaks to Rotary on the phenomenal growth of the OLLI program at SVSU. (Photo by Andy Rogers).
---
PROGRAM BOOMS: OLLI at SVSU Shows Phenomenal Growth Since 2005
February 28, 2014
By: Dave Rogers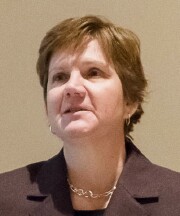 Jo Brownlie
"He who stops learning, stops living."
-- Henry Ford
Want to go on a trip to the Florida Everglades, travel the Great Rivers of Europe, ride a Mississippi Riverboat, or take a train trip through the Rockies?
If so, join the Osher Lifelong Learning Institute at Saginaw Valley State University that has sponsored such exotic trips in the past, Jo Brownlie, director, told Bay City Rotarians on Tuesday.
OLLI is supported by the Osher Foundation as part of a national lifelong learning network for "seasoned" adults.
The group, known affectionately as OLLI, has six trips planned for 2014 -- Tucson, Arizona, Spain, Gettysburg, Yellowstone National Park, the Shaw Festival at Niagara on the Lake, Ontario, and New England.
OLLI, that started in 2005 at SVSU, was the first Osher Foundation funded program in Michigan, Ms. Brownlie said, noting that the University of Michigan and Acquinas College have since followed suit. There are 117 OLLIs in all 50 states, she said.
The first Osher grants to SVSU were received in 2007 and 2009, she noted.
OLLI has boomed to 1,600 members here, said Ms. Brownlie, since its kickoff announced with a newspaper insert on the fateful day in history, 9-11-2001, drew 250 attendees.
One drawing card for membership is the 50 percent discount on classes and discovery trips and a complimentary monthly meeting with speaker, coffee and donuts.
Want to present a class on a topic you like? She is looking for "experts" in their fields to bring knowledge to others in two hour non-credit, ungraded classes. Topics have included everything from Buddhism to the Civil War and golf. Two day trips are held monthly guided by members, community experts and SVSU faculty personnel.
A host of special groups meet regularly, attending Loons baseball games in Midland, singing, tailgating at Cardinal football games, etc., she said.
Average age of an OLLI member is 70 and 70 percent are women; 54 percent are from Saginaw, 26 percent from Bay County and 13 percent from Midland; 60 percent have post-bachelor's degrees and 90 percent have Internet access.
OLLI members attend 2.4 classes per year on average and attend 3-4 monthly meetings.
OLLI is part of the SVSU Center for Business and Economic Development, headed by Bay City Rotarian Harry Leaver, who introduced Ms. Brownlie.
She is a native of Bay City who now lives in Saginaw. She attended Delta College and got a bachelor's in Broadcasting from Central Michigan University and a master's in business administration from SVSU. She began work at SVSU in the Great Lakes Bay Manufacturing Association and joined Mr. Leaver's Manufacturing Improvement Program in 2003.
Goals of the program? Continued growth as more "baby boomers" retire, attracting people who are still working, more partnerships, improvement of the campus culture and more interaction with traditional SVSU students, she concluded.
The Bernard Osher Foundation, headquartered in San Francisco, was founded in 1977 by Bernard Osher, a respected businessman and community leader. The Foundation seeks to improve quality of life through support for higher education and the arts.
The Foundation provides post-secondary scholarship funding to colleges and universities across the nation, with special attention to reentry students. It also benefits programs in integrative medicine in the United States and Sweden.
The Osher Lifelong Learning Institutes have a National Resource Center at the University of Southern Maine. Finally, an array of performing arts organizations, museums, and selected educational programs in Northern California and in Mr. Osher's native state of Maine receive Foundation grants.
The Foundation has a nine-member Board of Directors which is chaired by the Honorable Barbro Osher, Consul General of Sweden in California.
---
CLUB NEWS and ANNOUNCEMENTS
Jeff Yantz has a new album out, noted president-elect Ron Bloomfield. Jeff left for Maui on Thursday -- what a way to celebrate!
Dee Dee Wacksman, just back from vacation, brought a supply of fresh new chocolate kisses for all since she wasn't here on Valentine's Day.
Rotary Rocks
concert is on the calendar and coming up on Thursday April 10 at 6:30 p.m. at the State Theatre. Andrea Hales is now selling program ads. The club hopes that every Rotarian will participate in some way. The theme is "Sticks and Stones: It's Only Rock and Roll". President Lee urges all Rotarians to buy a ticket and bring a friend and consider becoming a patron.
Remember that
Vocational Days
are the 11th and 25th. The board meeting is moved back a week. The club meets off site at the Country Club on the 25th.
The club will also meet
off site on April 22
. Member
Greg Rosecranz
has arranged for the
Bay City Players
to host the club's luncheon and give a tour of the changes at the theater. Rotary helped underwrite this work as part of the last major projects funding.
The Centennial Committee has set the goal of EVERY MEMBER achieving
Paul Harris Fellow
status during the Centennial Year. There are matching points available that allow a member to receive their first Paul Harris level at a fraction of the normal $1,000 contribution.
DUES for the January to June period Are NOW PAST DUE.
Anyone who has not yet paid is asked to make payment now! Rotary International payments have been paid by the club anticipating that late payments will arrive soon.
Rotary Club of Bay City
View Centennial Year Celebrations Schedule
July 2014-June 2015
---
DATES TO REMEMBER
Next month's
Board Meeting
has been changed to March 18, 2014 in light of the Vocational Day on the 11th.
March 11 and March 25, 2014: Vocational Days.
March 25 meeting will be at the Country Club.
Rotary Rocks
is scheduled for Thursday April 10 at the State Theater.
This year's theme:
"Sticks and Stones... It's Only Rock and Roll".
---
Upcoming Programs
(See the official schedule at RotaryBayCity.org )
March 4, 2014: Values Based Leadership.
David Burney
, 2013 Bay City Central High School graduate and current CMU student, will present this program. David is involved with CMU student government and the University's Honors Program.
March 11, 2014: Special Assignment.
From visiting shipwrecks deep underwater to soaring through the skies in an F-16, Ric Mixter's career in journalism has taken him to where many only dream to go. Speaker:
Ric Mixter
March 18, 2014: Maximum Yield, The importance of agribusiness to Bay County's Economy .
Ray Van Driessche
, Vice President for government and public affair at Michigan Sugar Company and Chairman of the Bay Area Chamber of Commerce Agribusiness Council, will speak.
March 25, 2014: Assistance beyond applying for scholarships.
Renee Courier
, Program Director for the Great Lakes College Resource Center through the Bay Area Community Foundation, will highlight the many ways the Center may assist high school students preparing for higher education.
***NOTE - Nov 25th OFF-SITE MEETING AT BAY CITY COUNTRY CLUB
April 27, 2014: Bay City Players Off Site Meeting
---
Current and past
DISTRICT DISPATCH
newsletters are available on the District site shown in the LINKS section below.


Rotary Bay City on Facebook!
Click on the Blue Facebook to visit us there.

Remember! Check attendance sheets at the front desk.
---
LINKS