DYNAMIC YOUTH: David Burney IV Talks Leadership to Rotarians
March 4, 2014
By: Dave Rogers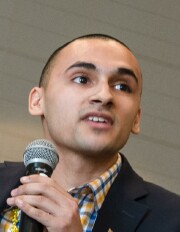 David Burney
David Burney IV, graduate last year of Bay City Central, showed why he has quickly become a leader as a freshman at Central Michigan University.
Burney, who is majoring in bio-medical engineering with a minor in leadership, is on a fast track for success in college and the world of work. His hobby is public speaking, a skill he called "a connecting factor."
Introduced by Matt Felan, Burney proclaimed his "passion for leadership" in an earnest, enthusiastic speaking style. Rotarians couldn't help but responding positively to his list of activities: student government senator, ROTC, the CMU Leadership Institute (one of 40 scholarship winners), 20 hours of community service per semester and a residence hall assistant (RA).
Burney was highly complimentary about the leadership program, headed by Dan Gaken, that attracts students from many other colleges, including Harvard, for six week summer retreats aimed at developing value-based leadership.
Burney has embraced the "Fred Factor" as defined in a best-selling book by Mark Sanborn that stresses "everyday leadership."
The author tells of being inspired to write the book by his mailman, Fred, who was "interested, not just interesting." Fred the mailman volunteered to hold Sanborn's mail while he was gone on frequent travels. "Fred was a leader because he was interested in others," said Burney.
The enthusiastic young man also espouses the "Athena Principles," eight values, and the concept of "igniting others so others will ignite the community."
Burney takes every opportunity to take speaking engagements, typically high school students and business leaders like those at Rotary.
Rotarians seemed to see Burney's energetic presentation as a good lead-in for upcoming vocational days that will bring a host of high school students in for a morning on the job and a Rotary luncheon. Felan said the second vocational meeting, slated for the Bay City Country Club, will probably have about 100 students in attendance.
President Lee announced that five Bay City Rotarians had attended a recent grant seminar, noting that the district evaluates a club's Rotary Foundation contributions when grants are being considered. "You have to give to receive," he commented.
Dee Dee Wacksman handed out colorful neck chains marking Fat Tuesday. Rev. Jeff Weenink enlightened the club with a list of questions about Mardi Gras (Fat Tuesday), celebrated as state holidays in which two states??? Louisiana and Alabama!
We all learned something from Jeff's probing questions in his role as sergeant at arms.
---
CLUB NEWS and ANNOUNCEMENTS
Rotary Rocks
concert is on the calendar and coming up on Thursday April 10 at 6:30 p.m. at the State Theatre. Andrea Hales is now selling program ads. The club hopes that every Rotarian will participate in some way. The theme is "Sticks and Stones: It's Only Rock and Roll". President Lee urges all Rotarians to buy a ticket and bring a friend and consider becoming a patron.
Remember that
Vocational Days
are the 11th and 25th. The board meeting is moved back a week. The club meets off site at the Country Club on the 25th.
The club will also meet
off site on April 22
. Member
Greg Rosecranz
has arranged for the
Bay City Players
to host the club's luncheon and give a tour of the changes at the theater. Rotary helped underwrite this work as part of the last major projects funding.
The Centennial Committee has set the goal of EVERY MEMBER achieving
Paul Harris Fellow
status during the Centennial Year. There are matching points available that allow a member to receive their first Paul Harris level at a fraction of the normal $1,000 contribution.
DUES for the January to June period Are NOW PAST DUE.
Anyone who has not yet paid is asked to make payment now! Rotary International payments have been paid by the club anticipating that late payments will arrive soon.
Rotary Club of Bay City
View Centennial Year Celebrations Schedule
July 2014-June 2015
---
DATES TO REMEMBER
Next month's
Board Meeting
has been changed to March 18, 2014 in light of the Vocational Day on the 11th.
March 11 and March 25, 2014: Vocational Days.
March 25 meeting will be at the Country Club.
Rotary Rocks
is scheduled for Thursday April 10 at the State Theater.
This year's theme:
"Sticks and Stones... It's Only Rock and Roll".
---
Upcoming Programs
(See the official schedule at RotaryBayCity.org )
March 11, 2014: Special Assignment.
From visiting shipwrecks deep underwater to soaring through the skies in an F-16, Ric Mixter's career in journalism has taken him to where many only dream to go. Speaker:
Ric Mixter
March 18, 2014: Maximum Yield, The importance of agribusiness to Bay County's Economy .
Ray Van Driessche
, Vice President for government and public affair at Michigan Sugar Company and Chairman of the Bay Area Chamber of Commerce Agribusiness Council, will speak.
March 25, 2014: Assistance beyond applying for scholarships.
Renee Courier
, Program Director for the Great Lakes College Resource Center through the Bay Area Community Foundation, will highlight the many ways the Center may assist high school students preparing for higher education.
***NOTE - Nov 25th OFF-SITE MEETING AT BAY CITY COUNTRY CLUB
April 27, 2014: Bay City Players Off Site Meeting
---
Current and past
DISTRICT DISPATCH
newsletters are available on the District site shown in the LINKS section below.


Rotary Bay City on Facebook!
Click on the Blue Facebook to visit us there.

Remember! Check attendance sheets at the front desk.
---
LINKS