Auction of items from ROB'S DESK raises $250
September 15, 2005
By: Stephen Kent
Upcoming Rotary Programs:THIS WEEK:
Walt Reynolds, FBI station chief in Bay City.
Sept. 27:
Bay City Public Schools Bond Issue.
Oct. 4:
Dan Streeter, new Good Samaritan Rescue Mission in Bay City.
Remember, your attendance is the key to a good, active club that makes a contribution to its community, state and nation . . . and to world peace and understanding.
---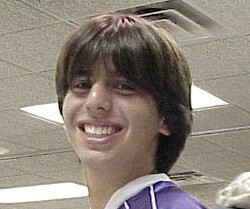 Club News
Our international exchange student, Tulio Villar from Recife Brazil, came to the meeting and was introduced by Rob Monroe. Tulio is 16, turning 17 in November. He is staying with the Monroes and attending Central High school where he has been a welcome addition to the soccer team, having scored more than half the team's points in the most recent game. Tulio's primary language is Portugese but he speaks excellent English, as well asSpanish.
Crime Stoppers
has publicized the vandalism of the micro-park and the reward which is being offered. Some tips and activity has been generated by the publicity. The Oscoda club sent a contribution to add to the reward.
The Dictionary Project
is proceeding well. Over 800 books have been given out to date with some 400 yet to go. Volunteers to help with the distribution are still welcomed.
Mike Stoner reported that
New Rotary Club
meeting was held in Pinconning. Those who attended were very positive. Mike thought it was a good sign that eight of the nine who came were women! Another meeting is scheduled for Standish on the 29th.
Eric Jylha reported that a number of Rotarians manned the phone for the recent
Red Cross Hurricane Relief Telethon
. Some $63,000 was raised as well as 500,000 pounds of food donations. The club has voted to make a donation through Rotary International which will go directly to a club in the disaster region for distribution.
---
International Night Update
The club was updated on a number of items of interest including the status of this year's 13th Annual International Night, which will be held Thursday, Oct. 13, 5:30-9 p.m., at Bay City's DoubleTree Hotel. As the major fund raiser for the club, everyone's support is critical. Members were encouraged to donate auction items, to contribute to the "Bucket of Fun", to purchase their tickets soon and tobring a guest.
The "Bucket of Fun" is a traditional raffle for a large plastic tub full of party items, food and drink. In the past members contributed items to fill the bucket. This year cash donations are being solicited, which the committee will use to purchase a selection of items to fill the bucket.
Auction items are still needed. The committee requested that they be brought in as soon as possible so the program and the setup can be done in advance. Popular items include food and beverages, trips, garden items, and sporting items. There are typically 170+ auction items each year. Only a fraction of that number has been donated so far this year.
---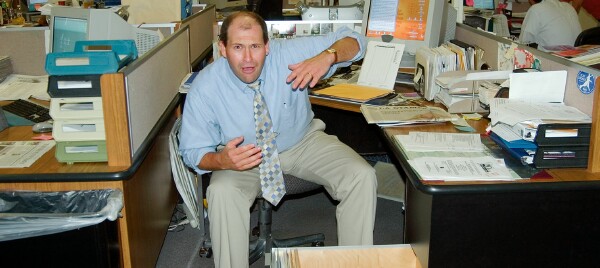 Rob Clark's Annual Desk Junk Auction Fundraiser
concluded the program.For this popular event Clark, Bay City Times Assistant Metro Editor, brings some of the valuable, but excess, goodies from his desk draw, in brown paper bags, and auctions them to the room.
It's easy to understand the attraction to items with descriptions like:
Looking for something fun to do this weekend? Be the highest bidder on this item and you can say "Ya, that's the ticket!"


If your name is Cathy Czerwinski, you'll definitely want to bid on this item. If your name is NOT Cathy Czerwinski, you'll definitely want to encourage Cathy Czerwinski to bid on this item."


If you use your noodle you'll be the highest bidder on this item. Want to know what's in the bag? Here's a hint: The item in this bag will come in handy if you ever have a moving experience.


Be the highest bidder on this item and I'll give you the "Daffynition" of the word "Solo".
The auction raised over $250 this year, which goes to International Night.
---
---
---
RotaryBayCity.org Rotary Club of Bay City Web Site
eClub-One
: Members with internet connections are encouragedto visit eClub-One monthly for a makeup. To get makeup credit you need to fill out the makeup form on that site. Print the acknowledgement for you receive and turn it in to receive credit. Be sure to enter our club's district number (
6310
) on that form.
Click this link to open eClubOne in a new window:
www.rotaryeclubone.org
.
The Bay City Rotary Club meets at Noon each Tuesday at the Lumber Barons resturant on the West Side.
Rotary Club of Bay City Web Site
District 6310 meeting schedule