Rotary Hosts Vocational Day Students - Mixter Speaks
March 11, 2014
By: Stephen Kent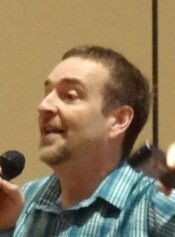 Ric Mixter
Rotary hosted high school students last Tuesday for the first of its two annual Vocational Days. Students from seven local high schools spent the morning job shadowing professionals in vocations from medicine to law enforcement to the local newspaper.
When introducing students who visited the paper, Bay City Times Editor Rob Clark said that they sent two students to Linwood where they cold called on people where there had been a water main break. "They got to see what it's like to walk into a place as a journalist and have someone say I really wish you wern't here and I don't really want to talk to you today." He also said they learned that "the story you're working on may mean you'll be late for lunch."
Ric Mixter was the featured speaker of the day. The well known reporter, documentarian and filmmaker departed from his usual presentation on shipwrecks, or flying, or diving, or any of "the crazy adventures I've had as a videographer". Instead he told the gathered students about his own life story and his journey to where he is now.
Starting as one of seven kids raised in a trailer in Michigan's Upper Peninsula. "My dad was in the Air Force but I thought he was Superman. My mom was a cosmologist and I thought that meant she was an astronaut rather than work on hair and nails." He went on to say "we were dirt poor, but we had a good time".
Ric went on to sort of back into a job in radio. He had made a home movie as "Captain Macho" and began calling the local rock and roll station. After a week of that the DJ said "I don't know who you are, but you have to come in to the station." That was the beginning. At age 16 he was working for the top rock station in the UP.
Ric soon learned that he couldn't go far without schooling. He tried CMU, paying from his own pocket, but could not get a job. He went to NMU where he got his old job back. After doing a telethon for Jerry's Kids, he was offered a job doing the news and, of course, he took it. "I had learned, when opportunity comes, you take the job."
While going to school and working in radio, live threw Ric another curve. His girlfriend was attacked in an awful incident in Marquette. He could no longer live there and they left. He took another low paying radio job and then she got pregnant.
Not long after that his life turned around. He ended up at News 5 in the local area. When News 12 "kicked our butt" with underwater coverage of the Jupiter explosion on the Saginaw River, Ric convinced the station to get him a dive certificate. Following that trend, he got an Air Force certificate to fly on military planes and reported that. He's been on expeditions to the Edmund Fitzgerald. And today he makes documentaries used by PBS.
In closing Ric said that "life can be a crap sandwich. You may think you can't get over it. But the truth is you can." Among his points to students were "train, train, train". Train yourself every day.Be positive. Be kind to everybody. And live an aggressive life. Be ready for the opportunities that come up and embrace them.
Rick can be found on the web at
RicMixter.com
,
AirWorthy.tv
, and
LakeFury.com
.
---
CLUB NEWS and ANNOUNCEMENTS
Rotary Rocks
concert is on the calendar and coming up on Thursday April 10 at 6:30 p.m. at the State Theatre. Andrea Hales is now selling program ads. The club hopes that every Rotarian will participate in some way. The theme is "Sticks and Stones: It's Only Rock and Roll". President Lee urges all Rotarians to buy a ticket and bring a friend and consider becoming a patron.
Remember that the second
Vocational Day
us scheduled for the 25th at the Country Club.
The club will meet
off site on April 22
. Member
Greg Rosecranz
has arranged for the
Bay City Players
to host the club's luncheon and give a tour of the changes at the theater. Rotary helped underwrite this work as part of the last major projects funding.
The Centennial Committee has set the goal of EVERY MEMBER achieving
Paul Harris Fellow
status during the Centennial Year. There are matching points available that allow a member to receive their first Paul Harris level at a fraction of the normal $1,000 contribution.
Rotary Club of Bay City
View Centennial Year Celebrations Schedule
July 2014-June 2015
Board Meeting Next Week
March 18, 2014 - 11:00 prior to regular meeting.
---
DATES TO REMEMBER
Next month's
Board Meeting
has been changed to March 18, 2014 in light of the Vocational Day on the 11th.
March 25, 2014: Vocational Days.
March 25 meeting will be at the Country Club.
Rotary Rocks
is scheduled for Thursday April 10 at the State Theater.
This year's theme:
"Sticks and Stones... It's Only Rock and Roll".
---
Upcoming Programs
(See the official schedule at RotaryBayCity.org )
March 18, 2014: Maximum Yield, The importance of agribusiness to Bay County's Economy .
Ray Van Driessche
, Vice President for government and public affair at Michigan Sugar Company and Chairman of the Bay Area Chamber of Commerce Agribusiness Council, will speak.
March 25, 2014: Assistance beyond applying for scholarships.
Renee Courier
, Program Director for the Great Lakes College Resource Center through the Bay Area Community Foundation, will highlight the many ways the Center may assist high school students preparing for higher education.
***NOTE - Nov 25th OFF-SITE MEETING AT BAY CITY COUNTRY CLUB
March 25, 2014: Michigan Weather Update.
The club's own
Eric Jylha
will discuss recent Michigan weather and seasonal/historic averages as winter comes to a close.
April 22, 2014: Bay City Players Off Site Meeting
The Bay City Players will highlight improvements to their facility made possible by grants from the Rotary Club of Bay City, as well as give an overview of their operation and specific activities/improvements relevant to their upcoming 100th anniversary.
April 29, 2014: S.O.S. - Save Our Shoreline
Save our Shoreline is a non-profit, grass roots organization of property owners and others committed to the preservation of riparian rights along Michigan's 3288 miles of Great Lakes shoreline. Ernie Krygier, president of S.O.S., will provide a history.
---
Current and past
DISTRICT DISPATCH
newsletters are available on the District site shown in the LINKS section below.


Rotary Bay City on Facebook!
Click on the Blue Facebook to visit us there.

Remember! Check attendance sheets at the front desk.
---
LINKS