You Can Talk About The Weather All Day
Jylha Speaks to Rotary About Weather Forecasting and Reporting
April 1, 2014
By: Stephen Kent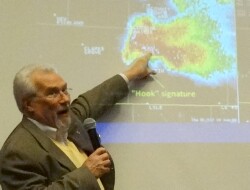 Eric Jylha Explains
Rotary's own
Eric Jylha
spoke to the club Tuesday and presented Basics Of Weather. The popular, and freshly retired, television weatherman talked about Michigan trends, records, and weather events. He went on to discuss television weather reporting and forecasting.
Starting with factoids, Jylha noted that Michigan's coldest day was February 5, 1918 when the mercury dropped to 31 below zero. The winter just ending, although cold, was only the 8th coldest with an average temperature of 18.2. The coldest average winter was in 1962 at 15 degrees. For the entire winter, November 1 to now, the average temp was 23, a first place tie with the winter of 77-78.
Snowfall has been pretty good this winter. Detroit and Flint had record snowfall. Six of the last fourteen winters have been in the top twenty for snow. "So we've had a lot of snow recently".
Normally about 52 inches fall in the Bay City area. This year we're at almost 59 inches. So we're above average but not by much. "In fact we ranked 15th, not a particularly record setting snowfall. But in the record for us is 87 inches and that was in 1966-67" said Jylha. By comparison, Detroit had 91.7 inches, the second snowiest on record. Flint hit 82.6 inches, the 3rd snowiest winter. Flint only missed the record by half an inch.
The snow north of Lake Superior hit levels of 100 inches. Melt from that should help Great Lakes water levels. A great deal of the lakes froze entirely and the thaw is very late. Last year sugar beets were in the ground by this time. This year planting has not even started.
Jylha went on to talk about the history of weather radar, which started almost by accident in WWII. Britain had the initial goal of building a "Death Ray". That effort evolved into radar for tracking warships and planes, which lead to operators complaining that "weather is always getting in the way". That in turn was the genesis of weather radar with the first shower tracked in 1941.
---
CLUB NEWS and ANNOUNCEMENTS
The
District Conference
is slated for May 2 and 3 in Saginaw. The club will continue the tradition of paying half of the registration fee for anyone requesting that reimbursement. Members are encouraged to attend since the Conference is so close. This will also be the Saginaw Club's 100 year anniversary, just before Bay City's anniversary.
The Community Grant process is being restarted and the committee will report back soon with procedures.
Dave Rogers wrote a very nice article on the Paul Harris statue. It appears in the latest MyBayCity.com in, which you can read by clicking
article 8828
Rotary Rocks
concert is coming up
THIS WEEK
, on Thursday April 10 at 6:30 p.m. at the State Theatre. The club hopes that every Rotarian will participate in some way. The theme is "Sticks and Stones: It's Only Rock and Roll". We urge all Rotarians to buy a ticket and bring a friend and consider becoming a patron.
More information is on the club web site
.
It's probably too late to get an ad in the program. But if you want to beg, try calling Cindy Chadwick, who will be doing the program.
The club will meet
off site on April 22
. Member
Greg Rosecranz
has arranged for the
Bay City Players
to host the club's luncheon and give a tour of the changes at the theater. Rotary helped underwrite this work as part of the last major projects funding.
The Centennial Committee has set the goal of EVERY MEMBER achieving
Paul Harris Fellow
status during the Centennial Year. There are matching points available that allow a member to receive their first Paul Harris level at a fraction of the normal $1,000 contribution.
Rotary Club of Bay City
View Centennial Year Celebrations Schedule
July 2014-June 2015
---
DATES TO REMEMBER
Board Meeting
- April 8 - 11:00 before regular meeting - Everyone invited.
Rotary Rocks
Thursday April 10 at the State Theater.
This year's theme:
"Sticks and Stones... It's Only Rock and Roll".
Rotary Golf Outing
- Monday, June 16, 2014 - Bay City Country Club.
International Night 2014
- October 23, 2014 - 5:30 to 9 - Bay City Country Club
---
Upcoming Programs
(See the official schedule at RotaryBayCity.org )
April 8, 2014: Competitive Fishing.
Our own Ed Clements will describe one of his favorite hobbies and will discuss competing at the tournament level.
April 15, 2014: CAN Council in Saginaw and Bay Counties
Suzanne Greenberg, President of the Child Abuse and Neglect (CAN) Council, will discuss the Council's work in Bay County (Nathan Weidner Children's Advocacy Center) and Saginaw County. (To be confirmed)
April 22, 2014: Bay City Players Off Site Meeting
The Bay City Players will highlight improvements to their facility made possible by grants from the Rotary Club of Bay City, as well as give an overview of their operation and specific activities/improvements relevant to their upcoming 100th anniversary.
April 29, 2014: S.O.S. - Save Our Shoreline
Save our Shoreline is a non-profit, grass roots organization of property owners and others committed to the preservation of riparian rights along Michigan's 3288 miles of Great Lakes shoreline. Ernie Krygier, president of S.O.S., will provide a history.
---
Current and past
DISTRICT DISPATCH
newsletters are available on the District site shown in the LINKS section below.


Rotary Bay City on Facebook!
Click on the Blue Facebook to visit us there.

Remember! Check attendance sheets at the front desk.
---
LINKS