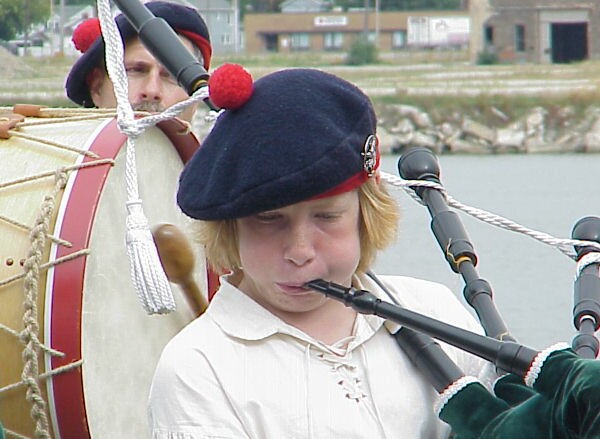 Music is everywhere at River of Time
September 25, 2005
By: Stephen Kent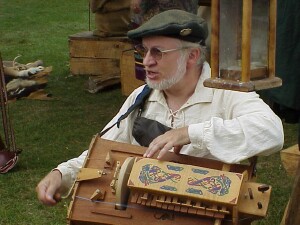 There are many sounds associated with the River of Time; random canon fire, the report of muskets, the chopping of firewood, the laughter of children.
The other sound of the camp is music. The lilting sound of the hammered dulcimer, the strumming of guitars, the wail of country fiddles, and the call of flutes. At times the Tittabawassee Valley Fife and Drum Corps will march past. At the south end of the park you'll come across Dave Leonard, "The Hurdy-Gurdy Man", entertaining the crowd and explaining his instrument.
Above all, the sound that carries over the entire camp is the sound of the Midland Highlanders bagpipe band. The old story holds that the bagpipe was a military instrument meant to instill fear in an unsuspecting enemy. Whether the story is true or not, the sound does carry well and is certainly unique. The Highlanders were selling CD titled "Annoying the Neighbors". On the rive, the bagpipes were not annoying at all. They were making music and there was always a large crowd on hand to listen.
Midland Highlanders is a non-profit bagpipe group.
Part of their support comes from sale of their CD titled "Annoying the Neighbors".
 


"Singing Strings" features musicians from around the Bay City Area.




Emelia Allen of Midland




The Rostollan Family



The Kuhlman Family.
Fixtures at the River of Time for 15 years.


---
--- Advertisements ---

---
---
MyBayCity.com has covered the River of Time since 2003.
Take any of these links for prior year coverage:

2018.a, 2018.b
2017.a, 2017.b, 2017.c,
2015, 2014, 2013,
2012, 2011, 2010, 2009,
2008, 2008, 2008, 2008,
2007, 2007,
2006, 2006,
2005, 2005, 2005,
2004, 2003,


0202 nd 06-23-2019