CAN Council Topic Of Talk At Rotary
Stopping Child Abuse and Neglect in Bay County
April 15, 2014
By: Stephen Kent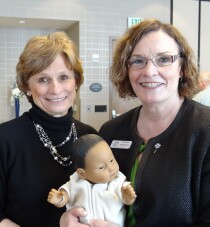 Jeanne Murphy and Suzanne Greenberg
Suzanne Greenberg, President of the CAN Council Great Lakes Bay Region, and volunteer Jeanne Murphy spoke to Rotary about the work of the CAN Council and their recent merger with Nathan Weidner Foundation in Bay City.
CAN's mission is "Building a better future for our children". They partner with "Court Appointed Special Advocates" (CASA) professionals to intervene on behalf of children who suffer abuse or neglect and need that assistance. Referrals can come from police, the courts, social workers, and others.
The effects of abuse and neglect can be life long. In the past, abuse was considered a private matter and was not talked about. Adults today can be found who exhibit long term damage both physical and mental. Today the subject is talked about openly and organizations like CAN and the legal system take pro-active action to intervene.
In Saginaw County 5,326 cases of child abuse or neglect were reported annually. The latest statistics show 3,054 cases in Bay County, a number that speaks to the problem locally.
The CAN Council started in Saginaw in 1979 in a basement room of the Norman Weslan Child Guidance Center. They moved to their current location next to Covenant Health Care in 1998. In 2011 CAN merged with the Nathan Weidner Center of Bay Country and jointly provide services.
Over the last decade the reporting of child abuse and neglect has increased 138%. To react to these loads, CAN is expanding their center in Saginaw and improving the Nathan Weidner center in Bay City. Greenberg talked about changes to the program which include enhances programming, new efficiencies, increased revenue, mergers with groups like Nathan Weidner.
The merger has resulted in Nathan Weidner moving 100% of the administration to the Saginaw Office. They've eliminated their executive director and their accountant, which has allowed them to hire their first full-time Prevention Educator and to add a Community Outreach director.
Greenberg also introduced their "computerized infant simulator". She hopes that by next year you'll see these in many public locations. "This is a reality check. It's great this time of year when kids are getting ready for Prom." The infant is not a teen pregnancy prevention tool, although it's really good for that. The purpose is to stop shaken baby syndrome and to illustrate the realities of having a baby.
Plans are underway to significantly improve the Saginaw facility. Greenberg showed maps, photos, drawings, and floor plans comparing the current and future based on the new construction. Fundraising plans call for generations over $2.6 million from foundations, corporations, individuals and organizations.
The CAN Council actively cultivates a societh that protects Children. Their message can be summarized as: Learn, Donate, Volunteer, Speak out.
For more information visit
www.CanCouncil.org
---
CLUB NEWS and ANNOUNCEMENTS
The members were reminded that the District Conference is this coming weekend in Saginaw.

Rotary Birthdays

for March and April were jointly acknowledged with cake and the singing of Happy Birthday.

President Lee reminded members of the challenge with the Morning Club to see which group can generate the largest, club-wide, average gift to the Rotary Foundation between April 8 and June 30. Make your contributions through Gena Gates, or directly to the foundation, which can be done at Rotary.org.

The Centennial Committee has set the goal of EVERY MEMBER achieving

Paul Harris Fellow

status during the Centennial Year. There are matching points available that allow a member to receive their first Paul Harris level at a fraction of the normal $1,000 contribution.

Off site meeting NEXT WEEK, April 22.
Bay City Players
Lunch to be provided by the Players.



Member Greg Rosecranz made arrangements. The Bay City Players will host the club's luncheon and give a tour of the changes at the theater. Rotary helped underwrite this work as part of the last major projects funding.

Rotary Club of Bay City
View Centennial Year Celebrations Schedule
July 2014-June 2015
---
DATES TO REMEMBER
Rotary Golf Outing
- Monday, June 16, 2014 - Bay City Country Club.
International Night 2014
- October 23, 2014 - 5:30 to 9 - Bay City Country Club
---
Upcoming Programs
(See the official schedule at RotaryBayCity.org )
April 22, 2014: Bay City Players Off Site Meeting
The Bay City Players will highlight improvements to their facility made possible by grants from the Rotary Club of Bay City, as well as give an overview of their operation and specific activities/improvements relevant to their upcoming 100th anniversary.
April 29, 2014: S.O.S. - Save Our Shoreline
Save our Shoreline is a non-profit, grass roots organization of property owners and others committed to the preservation of riparian rights along Michigan's 3288 miles of Great Lakes shoreline. Ernie Krygier, president of S.O.S., will provide a history.
---
Current and past
DISTRICT DISPATCH
newsletters are available on the District site shown in the LINKS section below.


Rotary Bay City on Facebook!
Click on the Blue Facebook to visit us there.

Remember! Check attendance sheets at the front desk.
---
LINKS