Superintendent Carolyn Weirda Presents School Bond Issue
September 27, 2005
By: Stephen Kent
Upcoming Rotary Programs:THIS WEEK: Oct. 4:
Dan Streeter, new Good Samaritan Rescue Mission in Bay City.
Oct. 11
Steve Wildes from pure water for the world
Oct. 18
open
Oct. 25
Tulio Villar
Nov. 1
Leo Najar and performers from "and the world goes round"
Remember, your attendance is the key to a good, active club that makes a contribution to its community, state and nation . . . and to world peace and understanding.
---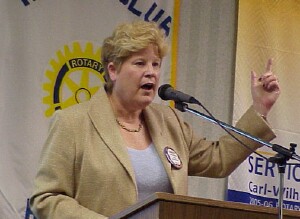 Carolyn Weirda, Bay City School Superintendent
presented information on the upcoming $68.8 million bond issue which will appear on the November ballot. "This bond issue enables us to create a safe, secure, and less crowded learning environment" said Weirda. She went on to say that the bond issue will help remove asbestos, bring some buildings up to code, provide handicap access and create less crowded learning areas."
The 1.63 mill bond will cost the owner of a $75,000 house just $61.13 a year. The figure can actually be considered much lower in that the last bond issue will be expiring soon. Eliminating that millage from the current tax means that the effective cost of the new bond would be more like $19.00 per year.
The campaign for the bond issue has been highly organized. Some $30,000 has been raised to promote the issue. Weirda noted that there are some 52,000 voters representing some 27,000 households. Of these only 10,000 are considered to be "voting households". These people have been surveyed to identify potential YES and NO voters.
A poll taken by Epic MRA showed that the chances of passage are barely 50/50 at this time. The remaining campaign efforts will concentrate on the YES people as research has shown that it's very unlikely that the NO's can be converted. The effort must be to get the YES voters to go to the polls!
Over 50% of the probable voters in this election will be 60 years old or older. Part of this reflects the fact that many parents either don't vote are have not registered.
The last bond issue passed for Bay City schools was $15 million in 1992. The state provides $6,700 per student but this is for operations and not for facilities and improvements. The district's $77 million annual budget goes primarily to salaries and supplies. Michigan's only method for funding building upgrades and construction is to pass a bond issue.

---
The Dictionary Project
is almost complete and is waiting for the final order of books to be delivered. Another large envelope of thank you letters was received this week.
---
International Night
preparations are going well. Auction items donations have picked up considerably since last week but the total is still less than half of last year's number. The items currently on hand are listed at the end of this issue of the Breezes.
Members are encouraged to buy their tickets as soon as possible so that plans can be finalized for the number of meals.
---
---
--- Advertisements ---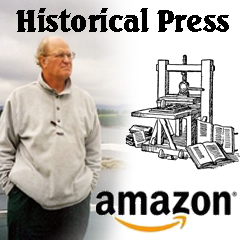 ---
---
RotaryBayCity.org Rotary Club of Bay City Web Site
eClub-One
: Members with internet connections are encouragedto visit eClub-One monthly for a makeup. To get makeup credit you need to fill out the makeup form on that site. Print the acknowledgement for you receive and turn it in to receive credit. Be sure to enter our club's district number (
6310
) on that form.
Click this link to open eClubOne in a new window:
www.rotaryeclubone.org
.
The Bay City Rotary Club meets at Noon each Tuesday at the Lumber Barons resturant on the West Side.
Rotary Club of Bay City Web Site
District 6310 meeting schedule