SOS Updates Rotary On Its Activity
Ernie Krygier, of Save Our Shoreline, Speaks To Group
April 29, 2014
By: Stephen Kent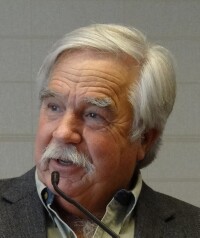 Ernie Krygier - SOS
Ernie Krygier
, a name and face well known to Rotarians, spoke to the group about
"Save Our Shoreline" or SOS
. A non-profit, grass roots organization of property owners, SOS was founded to fight for those owner's rights as they relate to beach-front property on the Saginaw Bay.
Krygier outlined the history of the organization. He and others had, for years, groomed the beach from their houses to the water's edge. They removed weeds as well as other plants and cleaned the ground.
The group was formed in 2001 after state and federal environmental offices threatned fines and other actions against owners. The first meetings brought a hundred or more interested people. A later membership drive took membership to over 3,200 people and brought in over $200,000 for legal actions.
Kreiger went on to talk about court actions and results, current groom activities, and plans for the future. He noted that there are other, similar, groups around the Great Lakes and in other states. With almost 3,300 miles of Great Lakes shoreline, Michigan property owners have a significant interest in these issues.
According to the group's web site, the mission statement is: "To organize waterfront property owners and those with similar interests consistent with the goals of the organization; to preserve and maintain riparian rights, including the right to maintain safe recreational beaches and waterfront areas, both public and private; and to preserve and maintain a proper balance for the coexistence of man and nature upon and near waterfront property."
For more information visit
www.saveourshoreline.org
---
CLUB NEWS and ANNOUNCEMENTS

Andrew Tracey
Rotary welcomes new member
Andrew Tracey
. Andrew is a commercial loan officer with Wolverine Bank. He lives in Midland but works in the Bay City area. Andrew is a graduate of CMU with a Masters from Northwood. He is active in his church and service groups focusing on winter weatherization and feeding the hungry.
President Lee
reminded members of the
challenge
with the Morning Club to see which group can generate the largest, club-wide, average gift to the Rotary Foundation between April 8 and June 30. Make your contributions through Gena Gates, or directly to the foundation, which can be done at Rotary.org.
Cindy Chadwick
talked about the Paul Harris Statue project. She passed out photos, discussion and a form outlining suggested contribution levels and benefits. She noted that the minimum donation required to have your name engraved on a plaque to be displayed with the statue has been lowered to make it more accessible to any contributor. Additional information is available in the members section of the club web site
www.rotarybaycity.org
.
The Centennial Committee has set the goal of EVERY MEMBER achieving
Paul Harris Fellow
status during the Centennial Year. There are matching points available that allow a member to receive their first Paul Harris level at a fraction of the normal $1,000 contribution.
Rotary Club of Bay City
View Centennial Year Celebrations Schedule
July 2014-June 2015
---
DATES TO REMEMBER
Rotary Golf Outing
- Monday, June 16, 2014 - Bay City Country Club.
International Night 2014
- October 23, 2014 - 5:30 to 9 - Bay City Country Club
---
Upcoming Programs
(See the official schedule at RotaryBayCity.org )
May 6, 2014: Rotary Youth Exchange 2013-2014 student.
Beto Dominguez, our current Youth Exchange student, will make a presentation to the club.
May 13, 2014: Bay City Public Schools/China Exchange
. Judy Cox, principal of Western High School, and Amy Bailey, principal of Western Middle School, will be accompanied by 4 teachers and 5 students from China. They will discuss the BCPS exchange program with China in partnership with SVSU.
June 6, 2014: OFF-SITE MEETING at BAY CITY COUNTRY CLUB
Program to be announced.
Aug 19, 2014: Field Neurosciences Institute
Thomas Cline will review the FNI as well as highlight its largest annual fundraiser, a concert that typically features Saginaw native Brian D'Arcy James.
---
Current and past
DISTRICT DISPATCH
newsletters are available on the District site shown in the LINKS section below.


Rotary Bay City on Facebook!
Click on the Blue Facebook to visit us there.

Remember! Check attendance sheets at the front desk.
---
LINKS