Dan Streeter describes progress made by the Good Samaritan Rescue Mission in renovating the old Samaritan Hospital.
---
Tuesday Program: Honduras Water Project; Thursday: International Night
A New Helping Hand in the Community: Good Samaritan Rescue Mission
October 7, 2005
By: Dave Rogers
This is the BIG WEEK of the year for the Bay City Rotary Club.
Tuesday's program is Steve Wilde, speaking on the Honduras Water Project.
Thursday the year climaxes with the 13th annual International Night, beginning at 5:30 p.m. at the DoubleTree Hotel - Bay City Riverfront.
A crowd of about 300 is expected to attend the event, which could set records for attendance and hopefully for funds raised.
"World Friendship" is the theme of this year's International Night extravaganza, proceeds of which go to the Rotary Club of Bay City's Charitable Foundation that supports local community programs.
A fabulous list of items awaits Rob & Jeff's Lively Auction.
The list of items posted below includes a one week vacation in Cancun, Mexico, and a Hungarian dinner for six.
The silent auction already includes more than 100 items. Get your pocketbooks ready because these are very desirable items that will no doubt be hotly contested.
A delectable assortment of eastern Mediterranean food is on the menu, to be served from food stations. And a belly dancer will be on hand to add zest to the event.
New honorary member Tom Tabor has promised to be on hand for the momentous event, bringing cheer to oldtimers and newcomers alike with his advice for wearing the Rotary pin and other pithy comments.
---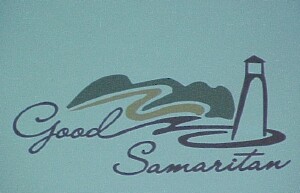 Dan Streeter, who has been associated with the Saginaw Rescue Mission for 13 years, is Bay City's newest missionary to the poor, homeless and otherwise needy. He spoke to Rotarians last week.
The Good Samaritan Rescue Mission in the partially renovated old Samaritan Hospital opened Mar. 23 and had seven clients the first night. Since then the mission has booked 165 residents into 2,700 nights, averaging 15 a day. Some 14 souls have professed their faith, Mr. Streeter said. Chapel services are offered every morning and evening.
Help is needed from the community to renovate other wings of the building for families and single men. So far only women with children have been able to be accepted.
About $200,000 has been raised and spent on the project so far, said Mr. Streeter. "This is becoming a gem in the neighborhood, providing new hope. We are starting to see a transformation take place in the neighborhood."
---
RotaryBayCity.org Rotary Club of Bay City Web Site
eClub-One
: Members with internet connections are encouragedto visit eClub-One monthly for a makeup. To get makeup credit you need to fill out the makeup form on that site. Print the acknowledgement for you receive and turn it in to receive credit. Be sure to enter our club's district number (
6310
) on that form.
Click this link to open eClubOne in a new window:
www.rotaryeclubone.org
.
The Bay City Rotary Club meets at Noon each Tuesday at the Lumber Barons resturant on the West Side.
Rotary Club of Bay City Web Site
District 6310 meeting schedule