Exchange Student Beto Dominguez Speaks to Rotary
May 6, 2014
By: Stephen Kent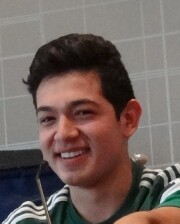 Beto Dominguez
Beto Dominguez
, the Club's current exchange student from Veracruz, Mexico, spoke to the club about his home country. Using a slide show, Beto showed a map of Mexico and pointed out his home town of Veracruz.
Mexico, said Beto, has a population of some 119 million. The primary language is, of course, Spanish, but there are another 67 languages considered native to the country. The country is a democratic republic with 31 states and one federal district.
The national sport is Soccer, and Beto has played the sport here in the local high school league. He also showed pictures of his school, his friends, and his family.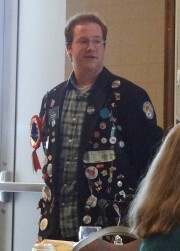 Tanner Norton shows off jacket
Tequila and Tacos are as popular in their Mexican home as they are here. When asked about the drinking age, Beto indicated that although the legal age is 18, it is not always strictly enforced.
Veracruz is close to the equator so the weather is generally much warmer than Michigan. When asked if he liked the Michigan winter that just ended, Beto's simple answer was "No".
Beto wore a shirt typical of one worn by students in his country. He was accompanied by Tanner Norton, the clubs recent outbound exchange student to xxx. Tanner modeled the blue sport coat worn by all exchange students and covered with club pins and other Rotary related pins. When asked how heavy the coat was he laughed and said "heaver than it was before".
Beto presented president Lee Newton with a trading flag from the "Martinez De La Torre" club in Veracruz. That flag has been added to the club's flag collection, which can be viewed on the club web site.
---
CLUB NEWS and ANNOUNCEMENTS
The club was informed that recent storms have caused significant damage in the area of Guatamala where the club supports the "Adopt-A-Village" program. Anyone wanting to make contributions should check with Chuck Cusick for more information.
Lee and several other members attended the District Conference last weekend. He bought a collection of Rotary Pins and donated them to the club. These are available for $10 each.
It was reported that several clubs participated in the gift basket auction. Our basket was one of the largest and most sought after.
President Lee
reminded members of the
challenge
with the Morning Club to see which group can generate the largest, club-wide, average gift to the Rotary Foundation between April 8 and June 30. Make your contributions through Gena Gates, or directly to the foundation, which can be done at Rotary.org.
The Centennial Committee has set the goal of EVERY MEMBER achieving
Paul Harris Fellow
status during the Centennial Year. There are matching points available that allow a member to receive their first Paul Harris level at a fraction of the normal $1,000 contribution.
Rotary Club of Bay City
View Centennial Year Celebrations Schedule
July 2014-June 2015
---
DATES TO REMEMBER
Board Meeting
- May 13 - 11:00 before regular meeting - Everyone invited.
Rotary Golf Outing
- Monday, June 16, 2014 - Bay City Country Club.
International Night 2014
- October 23, 2014 - 5:30 to 9 - Bay City Country Club
---
Upcoming Programs
(See the official schedule at RotaryBayCity.org )
May 13, 2014: Bay City Public Schools/China Exchange
. Judy Cox, principal of Western High School, and Amy Bailey, principal of Western Middle School, will be accompanied by 4 teachers and 5 students from China. They will discuss the BCPS exchange program with China in partnership with SVSU.
June 6, 2014: OFF-SITE MEETING at BAY CITY COUNTRY CLUB
Program to be announced.
Aug 19, 2014: Field Neurosciences Institute
Thomas Cline will review the FNI as well as highlight its largest annual fundraiser, a concert that typically features Saginaw native Brian D'Arcy James.
---
Current and past
DISTRICT DISPATCH
newsletters are available on the District site shown in the LINKS section below.


Rotary Bay City on Facebook!
Click on the Blue Facebook to visit us there.

Remember! Check attendance sheets at the front desk.
---
LINKS