RUNNING EVANGELIST: Ultra-Marathoner Touts This Weekend's Dow Races
By the Luck of the Irish She Missed the Boston Marathon Bombing Last Year
May 14, 2014
By: Dave Rogers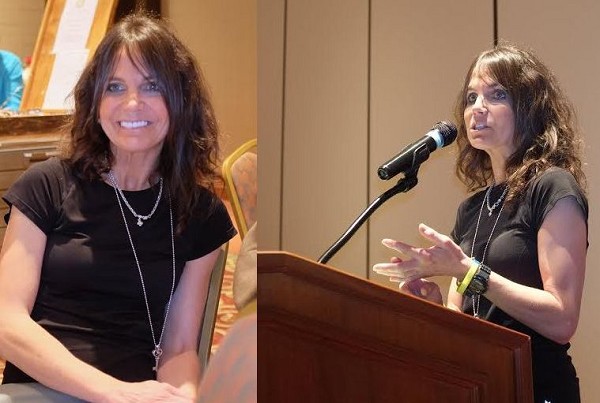 Bridget Looby waxes enthusiastic about the upcoming Dow Weekend of Races.
(Photos by Andy Rogers)
Bridget Looby wants you to run with her.
Not for 50 miles, like the ultra marathon she recently completed in Chicago, unless of course you're up to it.
Just a 10K, 5K, 5K Walk, 1 mile run, "Girls on the Run" or "Tot Trot," -- take your pick, on Saturday, May 17, and the Great Lakes Bay Marathons and Relay on Sunday, May 18.
The marathon is a qualifier for the Boston Marathon, which Bridget has completed five times. Although she did not make a point of it during her talk at Rotary, she told MyBayCity.com she has only missed one Boston Marathon in the past six years.
The fabled Luck of the Irish was with this local Irish lass when she fell ill last year just before her flight was scheduled to take off for Boston, thus she missed the 2013 Boston Marathon bombing perpetrated by two terrorists using pressure cooker bombs. The explosions near the finish line killed 3 spectators and injured 264 others, including many runners. At least 14 people required amputations as a direct result of the blasts.
The 50-year-old "Running Evangelist," as she is called, spoke to the Rotary Club of Bay City last Tuesday about the Dow Chemical and Midland Community Center's sponsored Weekend of Races and the GLBay Marathon and half-marathon.
Bridget is a graduate of Central Michigan University and is vice president of the Catholic Federal Credit Union. She has two children.
If you don't run, at least come to the Great Lakes Bay Loons stadium and watch the starts and finishes, she urged Rotarians.
Her most satisfying moments are when she puts a medal on a runner who has completed a race, a tribute, she says, to "dedication, determination and heart."
Some day, soon she hopes, all three Great Lakes Bay Counties -- Bay, Saginaw and Midland, will be linked by 100 miles of trails, expanding Bay County's Rail Trail and other trails in Saginaw and Midland with assistance and coordination from the Great Lakes Bay Alliance.
She is a true Great Lakes Bay person, having lived in all three communities -- currently residing in Midland.
The tri-county trail already has an advocate, bicyclist Jeff Yantz, who has completed the "Tour de Yantz," involving trails to Midland and Clare and lunch at the Doherty Hotel before returning.
Programmer Eileen Curtis, executive director of the Bay Area Community Foundation, is an enthusiastic supporter of the Great Lakes Bay Trail and also a trail from Detroit to Mackinac, a dream of many Michigan tourism promoters.
Cindy Chadwick reported that $2,200 has been pledged by the local Rotary Foundation for the Paul Harris Beautification project near the pending Paul Harris statue in Rotary Park at the Pere Marquette Depot. "Pledge forms are available," said Cindy.
The committee needs to raise only another $7,900 to go over the top and get the statue here, installed and a recognition plaque added, she said.
If you weren't at the meeting, ask Cindy about how Niagara Falls came to her backyard the other day. And you missed the question of the day that stumped everybody: when was Bay City settled? (Answer: 1837, (when the Saginaw Bay Company was founded by James Fraser, Gov. Stevens T. Mason and several other prominent Detroiters)
###
---
CLUB NEWS and ANNOUNCEMENTS
President Lee
reminded members of the
challenge
with the Morning Club to see which group can generate the largest, club-wide, average gift to the Rotary Foundation between April 8 and June 30. Make your contributions through Gena Gates, or directly to the foundation, which can be done at Rotary.org.
The Centennial Committee has set the goal of EVERY MEMBER achieving
Paul Harris Fellow
status during the Centennial Year. There are matching points available that allow a member to receive their first Paul Harris level at a fraction of the normal $1,000 contribution.
Rotary Club of Bay City
View Centennial Year Celebrations Schedule
July 2014-June 2015
---
DATES TO REMEMBER
Rotary Golf Outing
- Monday, June 16, 2014 - Bay City Country Club.
International Night 2014
- October 23, 2014 - 5:30 to 9 - Bay City Country Club
---
Upcoming Programs
(See the official schedule at RotaryBayCity.org )
May 27, 2014: Innovation in Mid Michigan
. Presented by
Chris Moulthrup
, manager, MidMichigan Innovation Center in Midland. The Mid-Michigan Innovation Center is a nonprofit incubator committed to growing and sustaining Michigan small businesses. What starts as a "dream in a garage" can become your million-dollar enterprise. Since inception, MMIC member companies have created hundreds of jobs in greater Michigan, with an average annual salary in excess of $50,000.
June 3, 2014: OFF-SITE MEETING at BAY CITY COUNTRY CLUB
Program to be announced.
June 10, 2014: TBA
June 17, 2014: Club Assembly - By-Laws update
Ron and Lee will present the summary of the proposed changes to the club's by-laws and any additions recommended by Rotary International, subsequent to review and approval by the Board of Directors at the 6/10 Board Meeting. If time permits, discussion will also ensue about adopting a club constitution, another recommendation from Rotary International.
June 24, 2014: The District 6310 RYLA experience
Our student attendees of RYLA will report back to the club with their experiences at RYLA.
July 1, 2014: Passing of the Gavel
In historic fashion Lee will pass the gavel to 2014-2015 Club President Ron Bloomfield, thus commencing the club's Centennial Celebration Year.
---
Current and past
DISTRICT DISPATCH
newsletters are available on the District site shown in the LINKS section below.


Rotary Bay City on Facebook!
Click on the Blue Facebook to visit us there.

Remember! Check attendance sheets at the front desk.
---
LINKS