10 Minute Rotarian: New Member Andrew Tracey
May 20, 2014
By: Stephen Kent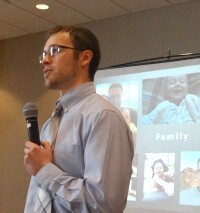 Andrew Tracey
New member Andrew Tracey gave a 10 Minute Rotarian talk and outlined some of his background. Born in Cadillac, he was raised in Alpena where he went to Alpena High School. He played soccer, rand track and was in the band.
Andrew, along with his wife Tiffany went to CMU for their under graduate degrees. He studied finance while she studied German and psychology. Tiffany went to Germany for three months and Andrew visited her there. He also had the opportunity to tour seven countries in Europe as part if his high school bank.
After CMU he worked for Wolverine bank followed by a stint at Isabella bank. He enrolled in the graduate program at Northwood and spent a year in Midland then a year at the Dallas, Texas campus. He noted that Dallas was a hot climate and something of a culture shock. "You don't realize how much you appreciate family until you move 1500 miles away".
After a brief time with American Airlines Credit Union in Dallas (where the young couple took advantage of free travel opportunities), Wolverine offered him the chance to return to Michigan. He, Tiffany, and their 6 month old son Isaiah returned to Midland. "We're happy, our parents are happy", he said.
While in school and in Dallas, Andrew and Tiffany spent much time with campus ministry groups and churches. He talked about volunteering with the Christmas at the Omni program in Dallas where some 200 homeless are put up, fed and clothed by the Omni Hotel on Christmas eve.
As a young man Andrew spent a lot of time on the water, riding 4 wheelers, hunting and fishing. He also got a pilots license at age 17 and enjoyed flying. "It's a bit expensive now and my interest have changed a lot. But I'll get back to it someday.". He still enjoys outdoor activities and has taken hiking trips with his Dad in Glacier National Park Montana.
Andrew's other interests include tinkering in the garage. "I just got a 1978 Yamaha IT 175 bike that I'm fixing up. We can't get my wife's car in the garage, but I guess that's OK."
Coming from a Rotary family where his Dad is a long time Rotarian, we look forward to Andrew's active participation in the Bay City club.
---
CLUB NEWS and ANNOUNCEMENTS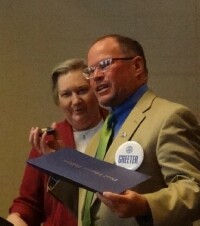 Frank Janca
Newest Paul Harris Fellow
Congratulations and thanks to Frank Janca who was presented with his first level Paul Harris Fellowship today. Gifts such as Frank's combine with thousands of other Rotarians to promote the worldwide works of Rotary and the Rotary Foundation.
Brenda Scramlin said that 6 students have signed up for RYLA, the Rotary Youth Leadership Academy this summer.
Andrea Hales said that Ed Clements and Brenda Rowley arranged for Andrea to speak to Central, Western and John Glen high schools over 2 days, where they spoke to a number of classes about the exchange program. Breanda Rowley is hosting a Parent Informational night to provide more information.
Ron Bloomfield and Rob Clark are developing the programs for the 100th anniversary year. They are looking for people to work on events. Ron asked that interested members volunteer. He also laughed that in some cases he and Rob may appoint members themselves.
Reporting on actions from last week's board meeting, Lee said that the board wholeheartedly supported the recommendation of the Community Grants Committee to move forward with this year's recommended grant.
The board also supported Tim Holsworth's recommendation that the proceeds of this year's golf outing be focused on the needs of local area schools. The organizers will also work to involve teachers, administrators, parents and others from the schools in the event.
The board approved membership for Rick Finn, Bay City's new city manager. This was the second reading of Rick's name.
The board also approved Andrea Hales as the Presidential nominee for the year following Brenda Scramlin.
President Lee also took a few minutes to give a live demonstration of the Club's FaceBook page, which is maintained and updated by Jenna Schrumpf.
President Lee
updated members on the
challenge
with the Morning Club. As of April first, our club's year to date foundation giving was $7,675. As of this morning the totals was $10,822, an increase of about $30 per member. The challenge is to see which club can give the most per member between April 1 and June 30.
The Centennial Committee has set the goal of EVERY MEMBER achieving
Paul Harris Fellow
status during the Centennial Year. There are matching points available that allow a member to receive their first Paul Harris level at a fraction of the normal $1,000 contribution. Make your contributions through Gena Gates, or directly to the foundation, which can be done at Rotary.org.
Rotary Club of Bay City
View Centennial Year Celebrations Schedule
July 2014-June 2015
---
DATES TO REMEMBER
Rotary Golf Outing
- Monday, June 16, 2014 - Bay City Country Club.
International Night 2014
- October 23, 2014 - 5:30 to 9 - Bay City Country Club
---
Upcoming Programs
(See the official schedule at RotaryBayCity.org )
May 27, 2014: Innovation in Mid Michigan
. Presented by
Chris Moulthrup
, manager, MidMichigan Innovation Center in Midland. The Mid-Michigan Innovation Center is a nonprofit incubator committed to growing and sustaining Michigan small businesses. What starts as a "dream in a garage" can become your million-dollar enterprise. Since inception, MMIC member companies have created hundreds of jobs in greater Michigan, with an average annual salary in excess of $50,000.
June 3, 2014: OFF-SITE MEETING at BAY CITY COUNTRY CLUB
Program to be announced.
June 10, 2014: TBA
June 17, 2014: Club Assembly - By-Laws update
Ron and Lee will present the summary of the proposed changes to the club's by-laws and any additions recommended by Rotary International, subsequent to review and approval by the Board of Directors at the 6/10 Board Meeting. If time permits, discussion will also ensue about adopting a club constitution, another recommendation from Rotary International.
June 24, 2014: The District 6310 RYLA experience
Our student attendees of RYLA will report back to the club with their experiences at RYLA.
July 1, 2014: Passing of the Gavel
In historic fashion Lee will pass the gavel to 2014-2015 Club President Ron Bloomfield, thus commencing the club's Centennial Celebration Year.
---
Current and past
DISTRICT DISPATCH
newsletters are available on the District site shown in the LINKS section below.


Rotary Bay City on Facebook!
Click on the Blue Facebook to visit us there.

Remember! Check attendance sheets at the front desk.
---
LINKS