Michigan Innovation Center Topic Of Rotary Program
May 27, 2014
By: Stephen Kent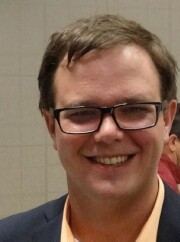 Chris Moultrup
Chris Moultrup
, Program Director for Midland's Mid-Michigan Innovation Center spoke to Rotary about the numerous exciting new ventures that MMIC is associated with.
Founded in 2005 by Ted Doan, MMIC fulfills his dream of a place where people in the community could go to and get the resources they needed to start a business and commercialize their technology.
MMIC is based in Midland, but they are a regional entity. "Our service area goes from the Great Lakes Bay Area down to Flint up to Traverse City and over to Alpena. So we are basically I-69 to the Bridge, which is a lot of geography to cover, but in order to find the entrepreneurs we need to do that."
"We are a business incubator and accelerator" said Moultrup. "That means we work with entrepreneurs, inventors, innovators, and existing companies to reinvent themselves and get new products to market with the main goal of creating new jobs and new wealth for this reason."
MMIC has three main areas of interest: Access to capitol, access to talent, and accelerated commercialization. Under capitol, MMIC is home to the Blue Water Angles. Started in 2008, Blue Water Angles now includes 50 members. These are older, successful business people with the interest and resources to invest in new companies. A third of all angel investment in the state comes out of the Great Lakes Bay region. The southeast Michigan area is the ninth largest concentration of millionaires in the country.
Moultrup went on to describe some of the key factors from their various companies. He described several of the companies and products that MMIC has backed and talked about how MMIC participated.
Despite the successes, Moultrup made the point that failure is as important as success. "One of the troubles we have in the Mid-west, specifically Michigan, is that failure is looked at as a bad thing. You go to the coast and it's a badge of honor. If you're walking down the street in Silicon Valley and you say I was with MySpace, people say COOL, What did you learn, because that thing really sucked. " MMIC emphases a "fail-fast" approach. If something doesn't work, get onto something new that will work.
For more information visit
www.mmic.us
.
---
CLUB NEWS and ANNOUNCEMENTS
Tim Holsworth spoke about the upcoming
Golf Outing
on June 16. He highlighted the brochure designed by Cindy Chadwick. Proceeds will go to the Bay City School System for technology.
Tim said that there will be a free
golf clinic
at 10:30 before the outing. This is sponsored by Wendy Dore and the Country Club.
Raffle tickets for the
50 inch TV
will be available before the event. You don't have to be present to win this one!
Covenant Health Care
is the title sponsor.
Wildfire CU
is sponsoring the TV.
Bay Eye Care
is sponsoring the 19th hole.
Full information is available on the club web site
RotaryBayCity.org
President Lee
updated members on the
challenge
with the Morning Club. As of April first, our club's year to date foundation giving was $7,675. As of this morning the totals was $11,822, an increase of about $40 per member. The challenge is to see which club can give the most per member between April 1 and June 30.
The Centennial Committee has set the goal of EVERY MEMBER achieving
Paul Harris Fellow
status during the Centennial Year. There are matching points available that allow a member to receive their first Paul Harris level at a fraction of the normal $1,000 contribution. Make your contributions through Gena Gates, or directly to the foundation, which can be done at Rotary.org.
Rotary Club of Bay City
View Centennial Year Celebrations Schedule
July 2014-June 2015
---
DATES TO REMEMBER
Rotary Golf Outing
- Monday, June 16, 2014 - Bay City Country Club.
International Night 2014
- October 23, 2014 - 5:30 to 9 - Bay City Country Club
---
Upcoming Programs
(See the official schedule at RotaryBayCity.org )
June 3, 2014: OFF-SITE MEETING at BAY CITY COUNTRY CLUB
Program to be announced.
June 10, 2014: TBA
June 17, 2014: Club Assembly - By-Laws update
Ron and Lee will present the summary of the proposed changes to the club's by-laws and any additions recommended by Rotary International, subsequent to review and approval by the Board of Directors at the 6/10 Board Meeting. If time permits, discussion will also ensue about adopting a club constitution, another recommendation from Rotary International.
June 24, 2014: The District 6310 RYLA experience
Our student attendees of RYLA will report back to the club with their experiences at RYLA.
July 1, 2014: Passing of the Gavel
In historic fashion Lee will pass the gavel to 2014-2015 Club President Ron Bloomfield, thus commencing the club's Centennial Celebration Year.
---
Current and past
DISTRICT DISPATCH
newsletters are available on the District site shown in the LINKS section below.


Rotary Bay City on Facebook!
Click on the Blue Facebook to visit us there.

Remember! Check attendance sheets at the front desk.
---
LINKS