Bay City Manager Speaks to Rotary
June 3, 2014
By: Stephen Kent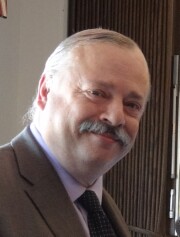 City Manager Rick Finn
New City Manager Rick Finn
spoke to Rotary Tuesday and outlined some of his goals and observations after just a few months with the city.
Rick started by saying that "we have just submitted the first balanced budget in a long time." He added that the budget does not go into the city surplus at all and it reduced the budget by almost $250,000, all without layoffs. And, for the first time in about six years, there is money for a small pay increase for employees.
He also addressed streets and their problems. "We've actually increased the street funding, which is a good thing because obviously our streets are in very very poor condition as are most cities in the state". With grant money and city funds roads will see a total of about $4.5 million for "reconstruction, milling and overlaying, and generally just cleaning up pot holes and that type of thing."
Meetings with the commission are underway to discuss their vision for the city. What should Bay City look like in 5, 10, and 15 years. Some of the goals already identified include:
City Image: Everything dealing with the images of the city, which includes every aspect of the city and what we portray to our citizens, including streets, signs, employees, and how citizens are treated.


Infrastructure: Obviously we are an older city with all those issues. Water is now being switched to the county. The sewer system and streets are very old. The city will devise a multimillion dollar plan to reinvest in the city over the years.


Public Safety: Everyone is aware of the move to combine police and fire departments. That process is still going on. All police officers have gone through fire training and fire people are now going through police training. All new hires will be cross trained.


Economic Development will receive more time and energy. The activity on the river front is expected to lead to other exciting new developments.


Partnerships with organizations, other governments, the county are being pursued. Where can the city do better, spending less tax dollars to accomplish the same thing.


A new Commitment to Customer Service will become a focus. Over the next three years the goal is to train employees to build a new culture in the organization and how they deal with the public.

Rick also addressed the problem of blight and how the city will address it. He said that the state has adopted a measure allowing cities to an administrative hearing officer, an attorney with the legal ability to address problems. The hope is to reduce a six month process to 30 days.

When asked why he came to Bay City, Rick cited several points. First, he and his wife like a waterfront community. Second, he felt that his skill set was a perfect match for the city "I've already done all fo the things that need doing". Then there's the quality of life. Bay City is a safe, friendly city where a person can walk the streets and not worry about a thing.


---
CLUB NEWS and ANNOUNCEMENTS
Tim Holsworth spoke about the upcoming Golf Outing on June 16. Proceeds of this year's event will go to the Bay City School System for technology.

"We've done well with sponsors this year. Now we need golfers" he said. He went on to say that historically people tend to sign up at the last minute, but it would really help if people did it sooner.

Tim also thanked Ed Clements for all his work on the event. "This is the Ed Show" he added.

Raffle tickets for the 50 inch TV will be available before the event. You don't have to be present to win this one!

Covenant Health Care is the title sponsor. Wildfire CU is sponsoring the TV. Bay Eye Care is sponsoring the 19th hole.

Full information is available on the club web site RotaryBayCity.org

Lynn Weaver mentioned that the NEXT fund raiser will be International Night in the fall. She is beginning to assign committees and is looking for anyone who is interested.

Rotary Club of Bay City
View Centennial Year Celebrations Schedule
July 2014-June 2015




---
DATES TO REMEMBER
Board Meeting - June 10 - 11:00 before regular meeting - Everyone invited.

Rotary Golf Outing - Monday, June 16, 2014 - Bay City Country Club.

International Night 2014 - October 23, 2014 - 5:30 to 9 - Bay City Country Club


---
Upcoming Programs
(See the official schedule at RotaryBayCity.org )


June 10, 2014: Real Estate Market The club's own Frank Janca will provide data on the real estate market including before, during, and after the recession and will explain what this data means to home sellers and home buyers. Regional and national trends will also be discussed.

June 17, 2014: Club Assembly - By-Laws update Ron and Lee will present the summary of the proposed changes to the club's by-laws and any additions recommended by Rotary International, subsequent to review and approval by the Board of Directors at the 6/10 Board Meeting. If time permits, discussion will also ensue about adopting a club constitution, another recommendation from Rotary International.

June 24, 2014: The District 6310 RYLA experience Our student attendees of RYLA will report back to the club with their experiences at RYLA.

July 1, 2014: Passing of the Gavel In historic fashion Lee will pass the gavel to 2014-2015 Club President Ron Bloomfield, thus commencing the club's Centennial Celebration Year.



---

Current and past DISTRICT DISPATCH newsletters are available on the District site shown in the LINKS section below.







Rotary Bay City on Facebook!
Click on the Blue Facebook to visit us there.

Remember! Check attendance sheets at the front desk.
---
LINKS




0202 nd 03-22-2019