Rotary Meets To Discuss Bylaws Updates
June 17, 2014
By: Stephen Kent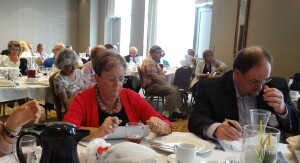 Rotarians study bylaws changes.
Rotary held a "club assembly" to discuss proposed changes and updates to the 2003 bylaws. A committee has been working for just over a year to review the old document.
Part way through that process, a directive from Rotary International and the District came down instructing clubs to prepare bylaws, if none was in place, and to include certain standard items and language. RI also asked clubs to prepare a Club Constitution.
The Bay City club was somewhat ahead of the curve by already having bylaws in place. Furthermore, the club was already working on a review and revision. The timing was just right.
There were few changes deemed necessary. For the most part the language was clarified, some wording was revised, and the required sections were added.
The committee also recommended minor changes that made the bylaws more consistent with actual practice. The most controversial change was wording to allow board votes to be taken by e-mail. This practice has been incorporated into the bylaws or adopted by many organizations. Valid questions were raised and good points were made. The proposed wording was modified to insure that the process is effective and is not abused.
The proposed bylaws are being revised to incorporate the club feedback. When that document is completed it will be available in the member's section of the club web site,
RotaryBayCity.org
.
---
CLUB NEWS and ANNOUNCEMENTS
Wendy Dore
reported on the
Golf Outing
held yesterday, June 16. Golfers enjoyed a great day at the Country Club. Hratch was visiting from Chicago and won the 50 inch TV.
After the
Rotary Minute
presented by President Lee,
Sergent at Arms Nancy Greve
did the regular happy bucks / hard luck bucks followed by the question of the day dealing with geese and the benefit they enjoy from flying in a "V" formation. Naturally, the selected table did not get the answer correct and therefore made a dollar per person contribution to Rotary. (The answer, by the way, was a 71% increased flying distance).
Other announcements and activities were held to a minimum to allow more time for the bylaws discussions.
Rotary Club of Bay City
View Centennial Year Celebrations Schedule
July 2014-June 2015
---
DATES TO REMEMBER
International Night 2014
- October 23, 2014 - 5:30 to 9 - Bay City Country Club
---
Upcoming Programs
(See the official schedule at RotaryBayCity.org )
June 24, 2014: The District 6310 RYLA experience
Our student attendees of RYLA will report back to the club with their experiences at RYLA.
July 1, 2014: Passing of the Gavel
In historic fashion Lee will pass the gavel to 2014-2015 Club President Ron Bloomfield, thus commencing the club's Centennial Celebration Year.
---
Current and past
DISTRICT DISPATCH
newsletters are available on the District site shown in the LINKS section below.


Rotary Bay City on Facebook!
Click on the Blue Facebook to visit us there.

Remember! Check attendance sheets at the front desk.
---
LINKS