Energy Crisis Could Help Michigan, SVSU Science Prof Tells Rotarians
Tulio Villar, Rotary Exchange Student from Brazil, to Address Club Tuesday
October 23, 2005
By: Dave Rogers
THIS WEEK'S PROGRAM: Tulio Villar, Rotary exchange student from Brazil at Bay City Central High, who is staying with past president Rob Monroe and his wife Deb.
LAST WEEK: Dr. Dave Swenson, Saginaw Valley State University, on the energy crisisand alternative fuels.
NEWS HIGHLIGHTS: Chuck Cusick reported that the club has distributed 1,470 dictionaries to third grade students in Bay County.
INTERNATIONAL NIGHT: President Ralph Knop credited Mike Stoner and Jeff Yantz for their leadership in conducting a successful International Night. A report of the income from the event will be given this week.
---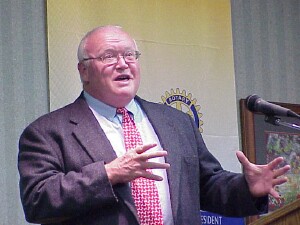 "The energy crisis could be good for Michigan," says Dr. Dave Swenson, H.H. Dow Professor of Chemistry at Saginaw Valley State University.
Dr. Swenson told Bay City Rotary Club members last week that Michigan could benefit if new ways of using fuel like burning corn for heat are adopted.
"The federal government can't help you, but you can help yourself," said Dr. Swenson. Even though natural gas prices in Michigan are the lowest in the nation, they still twice as costly as biofuels.
Wise energy policies must be embraced, starting with individuals, he said. Besides corn, in abundance here, the sugar beet industry could help address the energy crisis.
Some wise energy policies are developing, said Dr. Swenson. TheCity of Bay City is looking at a mini power plant that would use alternative fuel, he said. The Good Neighbor Mission, a homeless shelter in Saginaw, is burning corn donated by the Farm Bureau. Also, he noted that European countries import wood pellets from Canada for fuel.
"We're selling pelletized beet sugar waste at $60 a ton to feed cows when the energy value is $200 a ton," the professor exclaimed.
---
--- Advertisements ---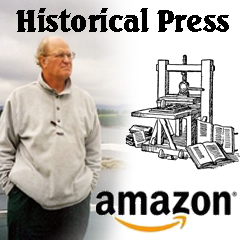 ---
"Stop trying to raise sugar beets for sugar; we can't compete with cane sugar," he asserted.
About 120 bushels of corn is produced per acre, a yield that would produce about 400,000 BTUs (British Thermal Units) of heat per acre. "We have lots of heat," Dr. Swenson added, noting further that soybeans also are acceptable for fuel use.
His department at SVSU is experimenting with alternative uses of heat like growing fresh water shrimp and tilapia, a highly edible fish, using biofuels. ###
---
UPCOMING PROGRAMS:
Oct. 25: Tulio Villar, Rotary Exchange student from Brazil;
Nov. 1: Presentation on LiquiForce, with City Manager Robert Belleman, or Kelly Kenton her Red Cross volunteer service after Hurricane Katrina;
Nov. 8: Leo Najar, presentation on "And The World Goes Round" musical production;
Nov. 22: Pat Riepma, Northwood University football coach, reviewing the GLIAC grid program;
Nov. 29: President Ralph Knop on Rotary International Foundation;
Dec. 6: Melinda Boysik, Rotary Ambassadorial Scholar at SVSU.
---
---
RotaryBayCity.org Rotary Club of Bay City Web Site
eClub-One
: Members with internet connections are encouragedto visit eClub-One monthly for a makeup. To get makeup credit you need to fill out the makeup form on that site. Print the acknowledgement for you receive and turn it in to receive credit. Be sure to enter our club's district number (
6310
) on that form.
Click this link to open eClubOne in a new window:
www.rotaryeclubone.org
.
The Bay City Rotary Club meets at Noon each Tuesday at the Lumber Barons resturant on the West Side.
Rotary Club of Bay City Web Site
District 6310 meeting schedule