RYLA Students Speak to Rotary
Rotary Youth Leadership Awards Camp An Exciting Experience For Students
June 24, 2014
By: Stephen Kent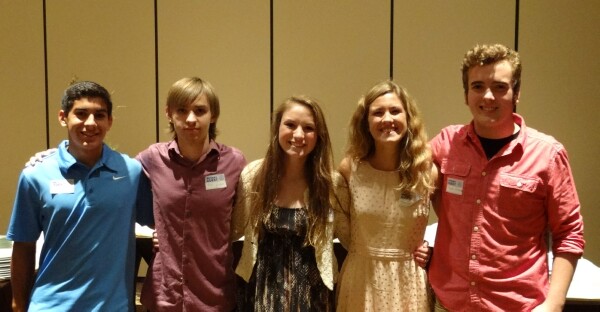 Adam Bilodeau, Troy Purdom, Julia Bublitz, Breana Baranek, Chandler Michalsky
The Bay City Rotary Club sent six students to
Rotary Youth Leadership Awards (RYLA)
this year. The Northern Bay and Arenac club in Pinconning sponsored another student.
RYLA is Rotary's leadership training program for young people. It emphasizes leadership, chitizenship, and personal growth and aims to demonstrate Rotary's respect and concern for youth. RYLA provides an effective training experience for selected youth and potential leaders, it encourage leadership of youth by youth and it recognizes publicly young people who are rendering service to their communities.
Last Tuesday saw five of this year's six students visit Rotary and talk about their experiences. Each student spoke and it was apparent that RYLA was fun, but it was also a growing experience that improved both leadership skills and self confidence.
All of the students agreed that camp started with typical school rivalries, people they didn't know, and questions about what they were going to do. By the time camp was over they all agreed that had become close and trusted friends with everyone.
Among the activities were team building exercises from getting the team over a large PVC pipe. Teams learned to trust and to get along when the group was asked to line up on a narrow beam then figure out how to move people from one end to the other, an exercise after which the group was much "closer".
Troy Purdom, who had already graduated, said "when I went to camp I would not be able to talk to any of you like this. Normally I'm very different. After camp I'm able to talk to a group of people", which he did very well. He went on to say that his employer has seen and commented on his growth and new tendency to take more responsibility in his work.
All of the students were very outgoing and expressed thanks to Rotary for the RYLA experience.
For more information visit the Club web site at
RotaryBayCity.org
.
---
CLUB NEWS and ANNOUNCEMENTS
Last week was
birthday Tuesday
and the club celebrated the big day for a group of members. Adhering to tradition, the entire 50/50 proceeds went to the Rotary Foundation in the name of the winner.
Tim Holsworth reported on the success of the
Golf Outing
last week. He singled out Ed Clements for all of his hard work and his efforts to involve the school system. The Outing earned about $7,500 and the proceeds go to purchase laptop and tablet computer system for the schools.
President Lee reminded everyone that the next big event will be
International Night
in the Fall.
President Lee also noted that last week's
bylaws
discussion point are being incorporated into the document. As soon as the committee has the chance to look things over again the bylaws will be posted to the web and everyone will have another chance to view them.
Bob Chadwick
updated the club on the
Paul Harris
statue. Anyone who wishes to donate to the statue and get recognition needs to have their money to Bob by the end of this month. The
dedication will be held at 5:30 on September 11, 2014
.
Bob also presented Rotary Foundation Major Donor awards and pins to Andrea and Tracy Teich and to Dee Dee Wacksman. As Bob sat down he was called back to be presented, himself, with his Paul Harris Fellow PLUS SEVEN. The entire club honors these four individuals and thanks them for their contributions.
The club received a report on member and past president
Al Hicks
, who is now in a nursing home. Should anyone wish to visit they are encouraged to call first. We all wish Al the best and hope that he can return to our meetings.
Rotary Club of Bay City
View Centennial Year Celebrations Schedule
July 2014-June 2015
---
DATES TO REMEMBER
Paul Harris Statue Dedication
- September 11, 2014 - 5:30 pm - Rotary Park at the Pere Marquette Depot
International Night 2014
- October 23, 2014 - 5:30 to 9 - Bay City Country Club
---
Upcoming Programs
(See the official schedule at RotaryBayCity.org )
July 1, 2014: Passing of the Gavel
In historic fashion Lee will pass the gavel to 2014-2015 Club President Ron Bloomfield, thus commencing the club's Centennial Celebration Year.
July 8, 2014: Downtown and (a little) Uptown
Candace Bales, Club Member and Executive Director of the Bay City Downtown Management Board and Development Authority, will give an update of what is going on in Downtown Bay City with all of the new construction, changing businesses and general, overall status of the downtown business community.
July 15, 2014: District 6310 Water and Sanitation Project in the Dominican Republic
In the past three years, District 6310 has pioneered two remarkable new Rotary programs in the Dominican Republic: one in handwashing and one in the launch of a new type of water filter. Charles and Dr. Alexandra Adams, the lead Rotarians on the project will give and update on the project and their perspective on its impact on health and wellness in the region.
July 19, 2014: Field Neurosciences Institute
Mr. Thomas Cline will review the FNI as well as highlight its largest annual fundraiser, a concert that typically features Saginaw native Brian D'Arcy James.
---
Current and past
DISTRICT DISPATCH
newsletters are available on the District site shown in the LINKS section below.


Rotary Bay City on Facebook!
Click on the Blue Facebook to visit us there.

Remember! Check attendance sheets at the front desk.
---
LINKS