Rotary President Passes Gavel To Incoming President
July 1, 2014
By: Stephen Kent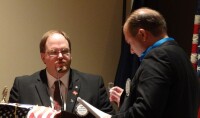 Ron Bloomfield gives
Past President Pin to Lee Newton
In a time honored tradition, outgoing President
Lee Newton
"passed the gavel" to incoming 2014-15 President
Ron Bloomfield
.
Lee ran the first part of the meeting, which included a special auction run by Rob Clark (more below) and the Sargent at Arms. Following that Lee said a few words about his year as President starting with "I was excited at my first meeting a year ago, and I was excited again today".
Lee's year had many high points. We continued to have a program every week. We inducted a number of great new members. The year saw a number of special board meetings but also resulted in a new funding focus and a reinvestment in the club for the centennial year.
Lee incorporated a Rotary Minute into his part of most meetings. This allowed him to bring some attention to the international aspects of Rotary and it's service to the world.
The club enjoyed the friendship, fellowship of other service clubs including Optimists, the Pinconning and the Morning Rotary Clubs. A contest with the morning club to contribute to Rotary International's efforts has just concluded. The winner won't get much more than bragging rights, but the results will be felt worldwide.
We also saw the comsumation of the efforts and dreams of several Rotarians who have worked for over five years to bring a life size statue of Rotary Founder Paul Harris to Rotary Park. That project is now funded, the statue complete and the dedication is scheduled for September as part of the club's Centennial year.
Youth services remained alive and well with two successful Vocation Days. The club also sent six students to RYLA, Rotary Youth Leadership camp this summer.
The club conducted its three customary fund raisers with solid results. For the first time in many years the club is raising funds first and selecting a project second. This practice has proved easier to manage. The latest report from the local foundation shows a large balance available for granting to community needs and projects.
The club also continued the Community Grant program, which was scheduled to take a year off but ended up being off for three years.
The club and the local foundation boards have reviewed their relationship and both have a better understanding of how they work together. The club has also completed a year long review and revision of the bylaws. Rotary International came out this year with recommendations for club bylaws and Bay City was pleased to note that we have already been following most of those for years.
Lee took time to acknowledge the members who have maintained 80% attendance and those who have made 100%. He also said "No matter how it worked out, you got the best of me, the club got the best of me, or at least the best of which I was capable." He closed with three points: 1) we won't see him for the next 2 meetings because his family will be on vacation. 2) the club will have an immediate past-president this year. 3) "I will remain humbly at your service".
Following Lee's words, President Ron Bloomfield took the reigns of power and received the antique President's Pin from Lee, a pin that Lee said "has resided securely in my home in the vaults of Lee for much of the past year."
Ron announced that a contribution to the Rotary Foundation is being made by the club in Lee's name to commemorate his year as President. Ron then presented his President-Elect pin to his successor Brenda Scramlin, after which he introduced the officers and board for the coming year.
Ron also made some remarks about what the club can expect next year. He quoted from a book written by the club's first president, Otto Soverign, who talked about the changes that occurred in the club's first fifty years. Ron than talked about the fifty years that followed that. "Bay City has changed a lot since 1914", he said. Then he quipped that was when roads were brick and combined with the cars of the day didn't give a much better ride than the roads in Bay City today."
Ron talked about two new features of programs this year. "Vocations are a cornerstone of Rotary. As such we're going to have a 2 minute 'commercial' each week when we'll ask a member to talk about their own business". Ron will also incorporate in the greeting time a few comments about the international work of Rotary.
Ron introduced Rob Clark to talk about the upcoming monthly events to celebrate the club's 100 year anniversary. Passing of the Gavel is the first event. Next month on Wednesday, August 13, the club will hold a Family of Rotary picnic from 5:30 to 7:30 at Rotary Park. There will be food, beverage and live music. All day the club will partner with Hidden Harvest to fill a trailer with food for distribution to those in need. Rotarians are asked to sign up for one hour shifts to man this truck.
Ron noted that the Rotary International theme this year is "Light Up Rotary". The Bay City Club's Centennial Year theme is "Celebrate and Give Back." The two themes compliment each other well. It will be a year to look forward to!
---
CLUB NEWS and ANNOUNCEMENTS
A special auction, run by Rob Clark, was sponsored by visiting
Rotarian Gus Gallagher
from New York. Gus donated $1,000 toward the Paul Harris Statue project if the club could auction off one of the $500 sponsorships that qualify the donor to have their name on the plaque that will accompany the statue. Proposed new member Konnie Gill spoke up to ask if a non-member was eligible to bid. The entire club exploded with applause and affirmation. Konnie promptly won the auction with a $600 contribution.
Thanks Konnie! A great way to get started in Rotary
. And a double thanks to Gus for his generous contribution.
Tim Holsworth announced that the proceeds from the golf outing should net out to over $8,000. These funds will be used to buy laptops and tablet computers for Bay City Schools.
Lee reported on visiting with Al Hicks last week. Al is in good spirits but not doing well. However, before leaving, Lee said that Al pointed his finger and said firmly "I'll be back.". We all hope that Al does just that.
City Manager Rick Finn made a good natured promise. "We've used thousands of pounds of patch on city pot holes. I promise to contribute a dollar at each Rotary meeting until the last hole is patched." The club gave a rousing response.
Deb Lutz is in charge of volunteers for jobs at the meetings. If you are interested, she has a sign up sheet.
Cindy Chadwick, chief Sargent at Arms, reviewed club fines: $2 if you leave early. $5 if your cell phone rings ($10 if you answer it). $1 for a happy buck announcement. $2 for a commercial. And sometimes the Sargent may impost the "Kwiatkowski Fine" if you make a program out of an announcement.
The question for the day had two parts (neither of which was answered). 1) who was the RI president last year? A question that had been asked a number of times over the year. [a: Ron Burton]. 2) Who is the current RI president? [a: Gary C.K. Huang].
The Centennial Committee plans to revise and re-print the 100 year book for the Bay City Club.

If you are interested in bidding on this project, please contact Ron Bloomfield.
Rotary Club of Bay City
View Centennial Year Celebrations Schedule
July 2014-June 2015
---
DATES TO REMEMBER
Board Meeting
- July 8- 11:00 before regular meeting - Everyone invited.
Family of Rotary Picnic and Hidden Harvest Food Drive
- Wednesday August 13 - food drive all day - picnic 5:30 to 7:30 - food, beverage and entertainment - Rotary Park at the Pere Marquette Depot
Paul Harris Statue Dedication
- September 11, 2014 - 5:30 pm - Rotary Park at the Pere Marquette Depot
International Night 2014
- October 23, 2014 - 5:30 to 9 - Bay City Country Club
---
Upcoming Programs
(See the official schedule at RotaryBayCity.org )
July 8, 2014: Downtown and (a little) Uptown
Candace Bales, Club Member and Executive Director of the Bay City Downtown Management Board and Development Authority, will give an update of what is going on in Downtown Bay City with all of the new construction, changing businesses and general, overall status of the downtown business community.
July 15, 2014: District 6310 Water and Sanitation Project in the Dominican Republic
In the past three years, District 6310 has pioneered two remarkable new Rotary programs in the Dominican Republic: one in handwashing and one in the launch of a new type of water filter. Charles and Dr. Alexandra Adams, the lead Rotarians on the project will give and update on the project and their perspective on its impact on health and wellness in the region.
July 19, 2014: Field Neurosciences Institute
Mr. Thomas Cline will review the FNI as well as highlight its largest annual fundraiser, a concert that typically features Saginaw native Brian D'Arcy James.
---
Current and past
DISTRICT DISPATCH
newsletters are available on the District site shown in the LINKS section below.


Rotary Bay City on Facebook!
Click on the Blue Facebook to visit us there.

Remember! Check attendance sheets at the front desk.
---
LINKS