Holsworth Speaks On Keys To A Successful Retirement
July 22, 2014
By: Stephen Kent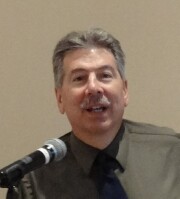 Tim Holsworth
Member
Tim Holsworth
spoke to the club on the topic of
Keys To A Successful Retirement
. The key message was that reaching your goals starts with a process to identify those goals.
Tim said to start by asking yourself about your vision for the future: Where will you live, what will you do, who are the people who matter most to you. He noted that he's talked to clients who say they have no plans to leave Michigan. Then a couple of years later they're looking at property in sunny Florida.
Once you know what your goals are, you should prioritize wants and needs. Wants are the fun things:, a boat, travel, leisure activities. Needs are hings you can't do without: your home, health, food and staples.
The next step is to evaluate your resources. Look at reliable income such as wages, a pension and social security ("we're assuming that social security is safe. Some people may have other opinions" said Tim). You then consider your retirement assets such as your savings and your home.
With the facts in hand you can start planning for both the short and the long term. The objective is to develop a "confidence meter". How comfortable are you with that the facts show.
Tim illustrated how a "net worth statement" might work. He noted that his firm, AHP Financial and Raymond James, uses software tools to make these evaluations. He said that no matter who you work with, good computer software is an essential tool in today's financial world.
The talk included comments on investment history and strategy. Tim noted that rather than look at the best years, you may be better served to look at the worst years. Use the "bear market test" to see what might happen. Without giving a "sales pitch", Tim did make it clear that working with a qualified financial advisor who uses modern software is worth investigating.
---
CLUB NEWS and ANNOUNCEMENTS
President Ron opened the meeting with a greeting in Russian (to the best of his abilities). He noted that the first Russian club was founded in 1988 in Moscow, just before the end of the Soviet Union.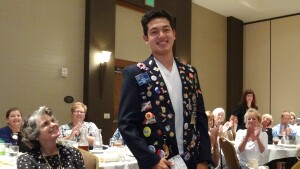 Beto Dominguez shows off his pins
Beto Dominguez
, the Club's current exchange student from Veracruz, Mexico, visited the club for the last time. He'll be heading home shortly. Brenda Rowley said it's been a great year and we'll all miss Beto. She noted that when he arrived his blue Rotary jacket was almost bare. He showed off the current jacket with his huge collection of pins.
Doug Rise
was tapped to give a two minute update on his job and employer, the Bay City Housing Commission. He talked about the clients served, the type of housing provided and a few things about the numbers in Bay County.
The club inducted new member
Konnie Gill
of the McLaren Bay Medical Foundation. Welcome Konnie, we look forward to having you as a member of this club!
The
District
is sponsoring a
Rotary Day at the Loons
baseball game on August 17. It will be Family and Fellowship day at the Loons, which is appropriate for Rotary. Cost is $9.50 for a box seat, $6.50 for lawn seats. The district is collecting payment and needs checks by August 1. Talk to Ron or Doug Rise if you're interested.
Ron reminded everyone that the club is taking bids from anyone interested in the project to revise the club's history book for the 100th anniversary year. See the announcement below.
REMINDER: The club will hold a Family of Rotary picnic on August 13 at Rotary Park, following the club's food drive with Hidden Harvest. The food drive will run from 8am to 5pm with the picnic following. As Rob Clark said last week: "After the picnic you can go to the State Theatre to see Jeff Daniels... which is not part of the Rotary event!".
Past-President Lee
reported that the results are in for the contest with the Morning Club to see which club could raise the most money
on a per-member basis
for Rotary International. The Morning Club Won! That's a bit unusual for our club but, as Lee said, the funds all go to a good use.
SPECIAL NOTE:
The Paul Harris statue dedication has been changed from September 11 to the 16th. More announcements will be coming.
The Centennial Committee plans to revise and re-print the 100 year book for the Bay City Club.

If you are interested in bidding on this project, please contact Ron Bloomfield.
Rotary Club of Bay City
View Centennial Year Celebrations Schedule
July 2014-June 2015
---
DATES TO REMEMBER
Family of Rotary Picnic and Hidden Harvest Food Drive
- Wednesday August 13 - food drive all day - picnic 5:30 to 7:30 - food, beverage and entertainment - Rotary Park at the Pere Marquette Depot
Paul Harris Statue Dedication
- September 16, 2014 - 5:30 pm - Rotary Park at the Pere Marquette Depot
International Night 2014
- October 23, 2014 - 5:30 to 9 - Bay City Country Club
---
Upcoming Programs
(See the official schedule at RotaryBayCity.org )
July 29, 2014: GLBR Update
Executive Director Matt Felan will update the club on the Great Lakes Bay Regional Alliance.
August 12, 2014: District 6310 Governor Visit:
Delores Brock will present her vision for the District for the upcoming Rotary year. Governor Brock will also be a special guest at our 11:00AM board meeting.
August 19, 2014: Field Neurosciences Institute
Mr. Thomas Cline will review the FNI as well as highlight its largest annual fundraiser, a concert that typically features Saginaw native Brian D'Arcy James.
---
Current and past
DISTRICT DISPATCH
newsletters are available on the District site shown in the LINKS section below.


Rotary Bay City on Facebook!
Click on the Blue Facebook to visit us there.

Remember! Check attendance sheets at the front desk.
---
LINKS