Leo Najar Makes the World Go Round at Rotary on Tuesday
Red Cross Volunteers Tell of Adventures in New Orleans
November 3, 2005
By: Dave Rogers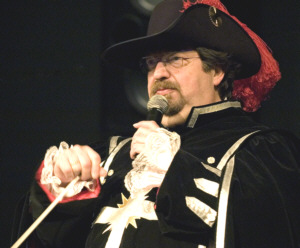 Leo Najar will present a preview of "And The World Goes Round" musical production
THIS WEEK'S PROGRAM: Leo Najar, presenting a preview of "And The World Goes Round" musical production.
BOARD MEETING: Tuesday, 7:30 a.m., Room 207, Bay-Arenac Mental Health Building, 201 Mulholland St.
UPCOMING PROGRAMS:
Nov. 22: Pat Riepma, Northwood University football coach, reviewing the GLIAC grid program.
Nov. 29: President Ralph Knop on Rotary International Foundation.
Dec. 6: Melinda Boysik, Rotary Ambassadorial Scholar at SVSU.
LAST WEEK'S PROGRAM:Americorps members and Red Cross Volunteers Kelly Kent, Ellen Rodman and Chris Izworski.
An amazing number of Red Cross volunteers from the East Shoreline Chapter, 81, served at the scene of the Hurricane Katrina disaster in Louisiana and Mississippi, Bay City Rotarians learned last week.
TV-5 Weatherman Eric Jylha, introducing the Red Cross program, noted that last year "was a real bad year," with more Catogory 5 storms, and more storms making landfall, than any timein the last 30-year cycle.
The Red Cross volunteers showed a video with scenes from the Houston Astrodome, where many refugees stayed, and the startling information that so far there have been 3,372,979 overnight stays in shelters as a result of the storm.
"Louisiana, it kinda washes away,' crooned Randy Newman on the video, reprising a song from another storm era in the early 1900s.
Ms. Rodman called her time in the storm area "an incredible experience," noting that she assisted in management of three shelters housing about 4,000 persons. She ended up managing one shelter in the Reliant Center with 2,000 persons.
A big part of the job of volunteers was talking to people who had lost everything and delivering basic needs, food, clothing and shelter, she noted.
Ms. Kent was floor manager of a shelter, working the night shift, 10 p.m. to 7 a.m. "We saw a few reunions and the people were so happy," she said. "They were pulling together and helping each other."
The Red Cross had set up 125 shelters before Hurricane Katrina and was ready when the storm hit, Melissa Gleason, local Red Cross official, reported.
Lynn Weaver, of the local Red Cross office, said the volunteers are there "as long as they are needed."