Keyes Talks To Rotary About Bay Future, Inc.
August 5, 2014
By: Stephen Kent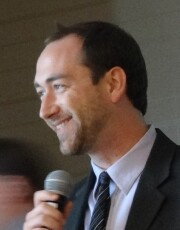 Trevor Keyes
Trevor Keyes
, Acting Interim President and CEO of
Bay Future
, spoke to Rotary about the organization and what it does. The non-profit corporation was founded in 2004 and works toward the economic development of its clients.
The mission statement is "Bay Future, Inc. is dedicated to facilitating economic development strategies that promote and secure opportunities for business retention, growth, and the attraction of new industries that create quality jobs for community residents. BOTTOM LINE: Jobs & Investment"
Bay Future is funded by both public and private stake holders. The organization has over 80 private businesses investors and two staff members. The board of directors includes representatives from all of the major companies and governments in the area.
Among its clients are all the Bay County community DDA's, the townships and the cities. Investors include all of the major companies, both large and small. Foundations, farms, the Bay City Mall, and professional groups.
Keyes pointed to more than $691 million in announced investments for Bay County and the creation or retention of over 2,100 jobs. In 2012 alone the numbers were 345 jobs and over $300 million.
Bay Future's retention program includes proactive calls on area CEO's, noting that 80% of all new jobs from from existing industry. They also make calls with the Michigan Economic Development Corp and they assist in areas like tax incentives, job training, infrastructure grants, financial resources, and procurement of export assistance.
Supporting his statements, Keyes showed headline screen shots from MLive. These included Thomas Instrument announcing a new location in Bay City. Modern Machine Co. invested $660,000 in new equipment with a tax break. General Motors announced $31.7 million investments in Bay City Powertrain.
Bay Future does extensive marketing for the area including all of the electronic media from its web site to Facebook, LinkedIn, links on other web sites and portals like MiGreatLakesBaySites.com, and ads with e-publications like MyBayCity.com.
For more information start at the
BayFuture.com
web site.
---
CLUB NEWS and ANNOUNCEMENTS
President Ron opened the meeting with a greeting in his "approximation" of "good afternoon" in French. Paul Harris was instrumental in the formation of a Paris club at the end of World War I, which was primarily a place for soldiers and other westerners. In 1921 another delegation helped form the first actual Paris club. By 1925, additional clubs had been founded and District 49 was founded. The RI convention were held in 1937, 1953, 1967, and 1995. More information is available at RotaryFirst100.org (link at bottom of this article).
The district governor will visit the board meeting and the regular meeting next week. Everyone is encouraged to attend.
Remember that the
September 16
noon meeting will be held at the
Pere Marquette Depot
where the Paul Harris statue will be unveiled.
Rob Clark told everyone to
check the hallway
where the Rotary Plaques have been prominently displayed!
Rob reminded members of of the club's upcoming food drive in conjunction with Hidden Harvest. The drop-off point will be in Rotary Park from 8am to 5pm on August 13. Following the drive the club will hold a Family of Rotary Picnic in Rotary Park. Everyone should make plans to attend.
An e-mail was sent to all members reminding them of the event and asking that they post on their Facebook pages to raise awareness.
The
Community Grants
application process is now open through August 15. Information and applications are on the club web site.
The
International Night
theme was announced as "Celebrate Rotary Around the World". The event will be at the Country Club. The committee gathered before today's meeting and received an exciting report on potential food. They also discussed new ideas for auctions and other plans. That committee meets next on August 19.
Chris Girard announced that this year's exchange student should arrive shortly and will be attending Bay City Central High.
Cindy Chadwick
presented the business spotlight for the day. After several other careers, including 11 years as head of the YWCA, Cindy formed her own business in 2000 providing promotional services, including "anything in print", to smaller organizations, with an emphasis on non-profits. Lee Newton gave a testament later about the fine work Cindy provided to his eye care practice. Cindy has also done numerous projects for this club.
The Centennial Committee plans to revise and re-print the 100 year book for the Bay City Club.

If you are interested in bidding on this project, please contact Ron Bloomfield.
Rotary Club of Bay City
View Centennial Year Celebrations Schedule
July 2014-June 2015
---
DATES TO REMEMBER
International Night committee
- Tuesday August 19 - 11:00 prior to the regular meeting.
Family of Rotary Picnic and Hidden Harvest Food Drive
- Wednesday August 13 - food drive all day - picnic 5:30 to 7:30 - food, beverage and entertainment - Rotary Park at the Pere Marquette Depot
Paul Harris Statue Dedication
- September 16, 2014 - Noon - Rotary Park at the Pere Marquette Depot
International Night 2014
- October 23, 2014 - 5:30 to 9 - Bay City Country Club
---
Upcoming Programs
(See the official schedule at RotaryBayCity.org )
August 12, 2014: District 6310 Governor Visit:
Delores Brock will present her vision for the District for the upcoming Rotary year. Governor Brock will also be a special guest at our 11:00AM board meeting.
August 19, 2014: Field Neurosciences Institute
Mr. Thomas Cline will review the FNI as well as highlight its largest annual fundraiser, a concert that typically features Saginaw native Brian D'Arcy James.
August 26, 2014: Marshall M. Fredericks Sculpture Museum at SVSU
Director Marilyn Wheaton will provide an overview about the museum along with sharing information about its history and talk about many of the fine pieces of art on display.
September 9, 2014: Estate Planing
Walt Fitzhugh, Attorney with Birchler, Fitzhugh, Pertell & Madziar PLC, will talk about all of the things necessary to effectively plan your estate. A well done plan can save family members lots of headaches and certainly lots of money.
September 23, 2014: Overview of Bay County
Tom Hickner, Bay County Executive, will enlighten us with information about what is going on across the entire county.
---
Current and past
DISTRICT DISPATCH
newsletters are available on the District site shown in the LINKS section below.


Rotary Bay City on Facebook!
Click on the Blue Facebook to visit us there.

Remember! Check attendance sheets at the front desk.
---
LINKS