Incoming District Governor Speaks To Rotary
August 12, 2014
By: Stephen Kent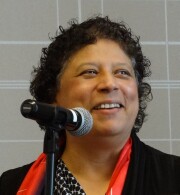 Delores Brock
Delores (Dee) Brock
, 2014-15 District Governor, addressed the Bay City club on Tuesday to outline her objectives for the year. Prior to the meeting she sat in on the club's board meeting then offered her views and agenda. After listening to the board;s business session, she said "actually, you're already doing many of the things I usually suggest."
Addressing the full club after the luncheon, Brock began by introducing the "Happy Clap". This simple group exercise was introduced by International President Gary C.K. Huang. The Happy Clap is used to open Rotary Club meetings in Taiwan, his home country.
Clap once, clap twice, then three times, then four, and end with two claps.
"I don't know if you'll start every meeting like this, but we'll do it together now."
Brock hails from Shepherd, Michigan, where her home Rotary Club is one of the district's smaller clubs, having only 12 members. The club is a very close group where members are accountable to each other. The entire membership is the board, the committees, and everything else. This year Shepherd will host the district convention, with the help of the Alma/St Louis and the Mt. Pleasant clubs.
Born and raised in Sandusky, Brock was educated at CMU. She went on to teach in Shepherd's schools for 36 years. She's the mother of 2 sons, who were both teachers and are now in school administration.
Brock came from a family of migrant workers who came to Michigan in 1930's. Her Grandfather died leaving his wife with eleven children and one on the way. Before he died, however, he told his wife that his wish was that she bring the family to Michigan and insure that they were all educated. "That's the only way out of a life like they had."
As Rotarians, Brock said, we can have the type of impact that her Grandfather had with his simple wish. Rotarians, with small effort, can impact the lives of children and adults worldwide. Rotarians fund health, food, water, and humanitarian efforts like the Polio Plus effort to eradicate that disease.
Brock outlined and spoke about each of the Rotary International goals for the year:
Polio Eradication (the number one priority)
Membership
The Rotary Foundation.

Th RI goals are also the District goals. But to those we add
Youth Services (Interact, Youth Exchange, RYLA, and Rotaract)
Rotary's Public Image, which is the key to all other District goals.

For the 2013-14 year, Brock said, the District gave grants totaling $34,753. On a global basis we also have two district approved water and sanitation projects in the Dominican Republic.

The theme for the Rotary Year is "Light Up Rotary". The Bay City Club is celebrating it's 100th year anniversary with projects throughout the year that "Give Back". Brock applauded those efforts and said they fit perfectly with the RI year in that they do Light Up Rotary.


---
CLUB NEWS and ANNOUNCEMENTS
President Ron opened the meeting with a greeting in Italian . Rotary arrived in Milan, Italy in 1923 and included major prominent citizens of the city. In the next few years Rotary expanded to other cities.

August 19: Club meets at the Country Club!

Konnie Gill was presented with a Paul Harris Fellowship. District Governor Brock assisted Connie Schweitzer in making the presentation. Thanks to Konnie for her support of this important cause.

Andrea Hales presented the business spotlight for the day. Andrea is VP of Business Services for Wildfire Credit Union. She manages all of the commercial services provided by Wildfire. She came to the company five years ago, prior to which they didn't have a Commercial department. Andrea went on to outline some of the history and facts about Credit Union commercial operations.

Remember that the September 16 noon meeting will be held at the Pere Marquette Depot where the Paul Harris statue will be unveiled.

The International Night theme was announced as "Celebrate Rotary Around the World". The event will be at the Country Club. The committee gathered before today's meeting and received an exciting report on potential food. They also discussed new ideas for auctions and other plans. That committee meets next on August 19.

Rotary Club of Bay City
View Centennial Year Celebrations Schedule
July 2014-June 2015




---
DATES TO REMEMBER


International Night committee - Tuesday August 19 - 11:00 prior to the regular meeting. - Meeting at the Country Club

Paul Harris Statue Dedication - September 16, 2014 - Noon - Rotary Park at the Pere Marquette Depot

International Night 2014 - October 23, 2014 - 5:30 to 9 - Bay City Country Club


---
Upcoming Programs
(See the official schedule at RotaryBayCity.org )


August 19, 2014: Field Neurosciences Institute MEETING AT THE COUNTRY CLUB Mr. Thomas Cline will review the FNI as well as highlight its largest annual fundraiser, a concert that typically features Saginaw native Brian D'Arcy James.

August 26, 2014: Marshall M. Fredericks Sculpture Museum at SVSU Director Marilyn Wheaton will provide an overview about the museum along with sharing information about its history and talk about many of the fine pieces of art on display.

September 9, 2014: Estate Planing Walt Fitzhugh, Attorney with Birchler, Fitzhugh, Pertell & Madziar PLC, will talk about all of the things necessary to effectively plan your estate. A well done plan can save family members lots of headaches and certainly lots of money.

September 23, 2014: Overview of Bay County Tom Hickner, Bay County Executive, will enlighten us with information about what is going on across the entire county.



---

Current and past DISTRICT DISPATCH newsletters are available on the District site shown in the LINKS section below.







Rotary Bay City on Facebook!
Click on the Blue Facebook to visit us there.

Remember! Check attendance sheets at the front desk.
---
LINKS