Dunbar Speaks to Rotary About Field Neurosciences Institute
August 19, 2014
By: Stephen Kent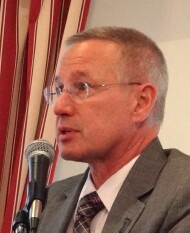 Gary L. Dunbar, Ph.D.
Dr. Gary Dunbar
, Executive Director of the
Field Neurosciences Instute
and Director of the
Program in Neuroscience at CMU
, spoke to Rotary about the work of
FNI
and its Education and Research Programs.
FNI is a charitable, not-for-profit corporation under the sponsorship of the Daughters of Charity national system. FNI works closely with St. Mary's of Michigan to provide a full continuum of care to neurological patients. It was founded in 1988 through a gift from the four Field brothers.
The Mission of the FNI is the prevention, early diagnosis, care and cure of neurological diseases, disorders and injuries. This mission symbolized the promise for the future for neurological patients and their families. A promise to keep the light of progress burning bright in the battle against neurological diseases, disorders and injuries.
Dunbar went on to outline the FNI programs which include Education, Research, and Treatment. These are further divided into areas like prevention and early diagnosis, clinical work, primary care, and rehabilitation services.
In the area of education and prevention, Dunbar said "We go to schools all across the area. We've probably given more [bike] helmets out than anyone in the state." FNI runs a nationally renowned program called "Think First Michigan!" that provides education and safety programs. The "Buckle Your Brain" program allows cops to pull kids over just to give them a coupon to McDonalds and say a few words about safety.
Various FNI research programs were outlined. The "clinical research study dance" was noted to show the interrelated components of a properly run study. He went on to talk about the "LDR Spine Mobi-C" program which is now in its 5th year. This study implants artificial disks in the spine. "All of us, sooner or later, if we live long enough and nothing else gets us, are going to suffer from these degenerative disk diseases."
FNI works locally but also collaborates with others including colleagues at SVSU, CMU, Northwestern University, and Emory University. Working particularly in the area of brain injury, they have just published a joint publication this past month.
Outlining one study, Dunbar said "I'll try to keep the words down to one sylable, but that's not easy. We'll just call it MSC". This stands for Mesenchymal Stem Cells, which are a type of adult stem cells which have the ability to differentiate into other tissues, a process called transdifferentiation.
Talking about "genetically-engineered MSCs ability to reduce behavioral deficits in the YAC 128 mouse model of Huntington's Disease", Dr. Dunbar made a statement that sums up the work of FNI. He said: "If you had asked me 10 years ago, or 15 years ago, if I would be doing this, now, I would say you were talking science fiction. But the fact of the matter is, we have done this study and it's on its way to the clinic now. This may be the first effective treatment ever for Huntington's Disease. "
---
CLUB NEWS and ANNOUNCEMENTS
Meeting off-site at the Country Club, President-elect
Brenda Scramlin
stood in for Ron and opened the meeting with a greeting in the language of the
Netherlands
, followed by a brief outline of Rotary in Holland.
Rob Clark
reported on last week's
Hidden Harvest
food drive and the Rotary picnic. "We had cars coming and going all day." The program ran from 8 am to 5 pm. The club collected 3,000 pounds of food, "a ton and a half". This food will be distributed to four Hidden Harvest partner agencies.
Welcome visiting Rotarian
Kimberly Corey
who was visiting from the
Montgomery Sunrise
club in Alabama. She present a flag to the club and Brenda will reciprocate when they return to the Doubletree.
Ashley Anderson
received a
Paul Harris Fellowship
for her mother
Mary Anderson
, who attended the meeting. Ashley noted that her father, the late Andy Anderson, sponsored Steve Kent, who in turn sponsored Ashley a few years ago. Don Carlyon noted that Ashley's grandfather Oscar Anderson had sponsored him.
Steve Kent
presented the business spotlight for the day. Steve moved to Bay City in 1979 to provide computer software services to a group of companies around the state. He soon teamed up with OJ Cunningham to for Mid-Michigan Computer Consultants. That company has continued to evolve with the industry. MMCC designs and develops integrated desktop and internet software for a number of industries. Steve also acts as consultant, sitting on the client's side of the table as outside companies propose computer solutions.
Remember that the
September 16
noon meeting will be held at the
Pere Marquette Depot
where the Paul Harris statue will be unveiled.
The
International Night
theme is "Celebrate Rotary Around the World". The event will be at the Doubletree. The committee will meet this Tuesday, August 26 before the regular meeting. All interested parties are invited.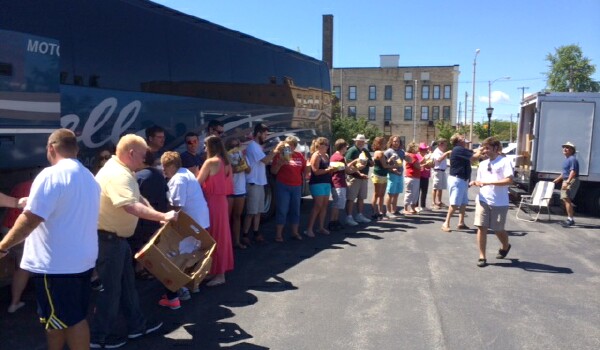 Bus load drops off food at the Rotary / Hidden Harvest food drive.
The bus was going to Caseville and part of the ticket price was to bring some food.
The group also had 250 pounds of potatoes.
Rotary Club of Bay City
View Centennial Year Celebrations Schedule
July 2014-June 2015
---
DATES TO REMEMBER
International Night committee
- Tuesday August 26 - 11:00 prior to the regular meeting. -
Meeting at the Doubletree
Paul Harris Statue Dedication
- September 16, 2014 - Noon - Rotary Park at the Pere Marquette Depot
International Night 2014
- October 23, 2014 - 5:30 to 9 - Bay City Country Club
---
Upcoming Programs
(See the official schedule at RotaryBayCity.org )
August 26, 2014: Marshall M. Fredericks Sculpture Museum at SVSU
Director Marilyn Wheaton will provide an overview about the museum along with sharing information about its history and talk about many of the fine pieces of art on display.
September 9, 2014: Estate Planing
Walt Fitzhugh, Attorney with Birchler, Fitzhugh, Pertell & Madziar PLC, will talk about all of the things necessary to effectively plan your estate. A well done plan can save family members lots of headaches and certainly lots of money.
September 23, 2014: Overview of Bay County
Tom Hickner, Bay County Executive, will enlighten us with information about what is going on across the entire county.
---
Current and past
DISTRICT DISPATCH
newsletters are available on the District site shown in the LINKS section below.


Rotary Bay City on Facebook!
Click on the Blue Facebook to visit us there.

Remember! Check attendance sheets at the front desk.
---
LINKS