Marshall Fredricks Museum Topic of Talk
August 26, 2014
By: Stephen Kent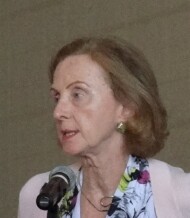 Marilyn Wheaton
Marilyn Wheaton
, Director of the Marshall
M. Fredericks Sculpture Museum
at SVSU spoke to Rotary Tuesday. After a few words about the college, Wheaton talked about the life and work of Fredericks.
Born in Illinois in 1908,
Marshall Fredericks
spent time in Florida before his family moved to Cleveland in his teen years. He studied in Ohio then spent time in Sweden on a fellowship before traveling throughout Europe.
In 1932 Fredericks was invited to join the staffs of Cranbrook Academy of Art in Bloomfield Hills, Michigan. He taught there until WW II when he enlisted in the armed forces. After the war he returned to Bloomfield Hills to work for the rest of his life.
Over a 70-year career Fredericks became a nationally known artist who's sculptures are found worldwide. He was known for his figurative pieces and public art on buildings, fountains, and displays.
Wheaton showed slides of a number of famous Fredericks works. Many of the original models as well as finished pieces are now housed in the collection at SVSU. Other pieces are on display in many Michigan locations as well as other venues.
Showing some of the best known pieces, Wheaton told the back story and other interesting facts. Among the pieces were the Cleveland War Memorial, the Expanding Universe Fountain at the Department of State Building in Washington, DC, the Levi L. Barbour Memorial Fountain on Belle Isle, Christ on the Cross at the Indian River Catholic Shrine in Indian River Michigan, and the The Spirit of Detroit, situated in front of the city-county government building in Detroit.
The Marshall M. Fredericks Sculpture Museum features a unique collection of more than two thousand works that span the 70-year career of Detroit-based public sculptor Marshall M. Fredericks (1908-1998). He is known nationally and internationally for his impressive monumental figurative sculpture, public memorials, fountains, portraits, and medals.
For more information visit
marshallfredericks.org
---
CLUB NEWS and ANNOUNCEMENTS
President Ron opened the meeting with a greeting in the language of Wales. He then told some of the history of Rotary in that country.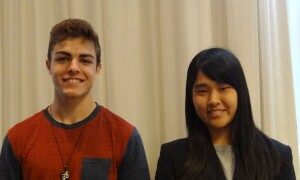 Welcome to our new exchange students:
Niko Stang and Madoka Mori
Thanks to
Brenda Scramlin
for filling in for Ron last week. And thanks to
Rob Clark
for his work on the food drive and picnic.
Chuck Cusick
gave an update on the Polio eradication efforts.
Bob Chadwick
gave an update on the Paul Harris statue, which is being shipped and should be in Bay City soon. Photos of the finished statue have raised the level of excitement. Remember that the
September 16
noon meeting will be held at the
Pere Marquette Depot
where the Paul Harris statue will be unveiled.
Ann Grady
gave a brief update on International Night plans. The sponsorship levels will be named for spices, using the most expensive spices from around the world. The next meeting of the committee will be September 8, 3:00 pm at the Country Club, where the event will be held. There won't be a silent auction this year, but there will be other exciting events.
Rob Clark
gave the business spotlight for the day. After saying that his Mom used to tell him that she expected him to be a minister, he told of becoming a journalist instead. Today he serves as Editor of the Bay City Times, a part of the M-Live media group. "It is my job to report the news. Sometimes that's good, sometimes that's bad. It's my job to tell the story of this community, to document history, to make people better informed, to be a watchdog and to entertain, to set forth new ideas and challenge old ones. Make people think, make them laugh, make them cry, make them happy, make them angry. To make people take action. It is my job to ask questions endlessly, it is my to never turn off my story radar, to think creatively and critically, to solve problems to be a positive voice, to process information quickly, to help right wrongs, to pursue the truth now how difficult that may be. And, while doing all of this, to remain fiercely independent. I love what I do. I consider journalism to be a noble profession with a great deal of privilege and responsibility."
Rotary Club of Bay City
View Centennial Year Celebrations Schedule
July 2014-June 2015
---
DATES TO REMEMBER
International Night Committee
- Monday, September 8, 2014 - 3:00 pm - at the Country Club.
Board Meeting
- September 9 - 11:00 before regular meeting - Everyone invited.
Paul Harris Statue Dedication
- September 16, 2014 - Noon - Rotary Park at the Pere Marquette Depot
Off Site Meeting
- September 23, 2014 - Noon - Bay City Country Club.
International Night 2014
- October 23, 2014 - 5:30 to 9 - Bay City Country Club
---
Upcoming Programs
(See the official schedule at RotaryBayCity.org )
September 2, 2014: State/Local Public Policy Issues
. Dr. John Kaczynski, Department of Political Science at SVSU, shares his views on public policy issues.
September 9, 2014: Estate Planing
Walt Fitzhugh, Attorney with Birchler, Fitzhugh, Pertell & Madziar PLC, will talk about all of the things necessary to effectively plan your estate. A well done plan can save family members lots of headaches and certainly lots of money.
September 23, 2014: Overview of Bay County
Tom Hickner, Bay County Executive, will enlighten us with information about what is going on across the entire county.
---
Current and past
DISTRICT DISPATCH
newsletters are available on the District site shown in the LINKS section below.


Rotary Bay City on Facebook!
Click on the Blue Facebook to visit us there.

Remember! Check attendance sheets at the front desk.
---
LINKS