Fitzhugh Speaks About Estate Planning
September 9, 2014
By: Stephen Kent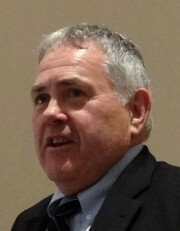 Walt Fitzhugh
Walt Fitzhugh
, Attorney with Birchler, Fitzhugh, Pertell & Madziar PLC, and former Rotarian, addressed the club on some of the things necessary to effectively plan an estate.
After starting by following his father into accounting, Walt moved to law. Today Walt's practice concentrates on estate planning services. To accomplish this he works with a team of financial planners, insurance people, CPA's and Accountants. "I think that it's important to involve all of those people if you're going to put together a good plan."
From the legal perspective, Walt works on the documents which will document your intentions for who is going to handle your affairs and who is going to get your property if you are incapacitated or if you die.
He talked about 401k plans, IRAs, and insurance policies, which all have beneficiaries. Those are not directly addressed in estate documents, since they have beneficiaries. "But", said Fitzhugh, "it's important that you know who is designated. You'd be surprised by how many people come into my office and don't know. They bought policies and designated beneficiaries when they were 25 and now they are 65 and have no idea who they designated. When they find out they may be unhappy about that".
For many years, estate planners did as much tax planning as they did estate planning. "That's really no longer true because the amount of money you can pass either as a gift or at the time of your death as part of you estate without any federal or Michigan taxes is $5,340,000."
Fitzhugh discussed other considerations of estate and tax planning, elder law, and things to be considered. He talked about the concept that many people think they need a format "Trust". He said there are cases where a simple will is just as effective.
He made a point of advising people to not simply amend and initial an estate plan or will when their intentions change. Such a change can be open to interpretation and may case more harm than good. He advised to get someone to help draft a proper and formal amendment to the document instead.
For more information visit
lpsmlaw.com
. (this URL is soon to be replaced by GreatLakesBayLawGroup.)
---
CLUB NEWS and ANNOUNCEMENTS
President Ron
opened the meeting with a greeting in the language of
Norway
, where the first club was founded in
Oslo
in 1921. It was later visited by Paul Harris. This and many other facts are available at the
The Rotary Global History fellowship
and at
Rotary 1st 100
.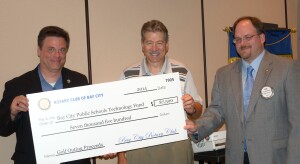 Doug Newcomb Accepts Golf Check from
Tim Holsworth, Ron Bloomfield
Photo: Andy Rogers
Tim Holsworth
presented a check for the proceeds of the
Golf Outing
to
Doug Newcomb
, Superintendent of Bay City Public Schools. These funds, $7,500, will be used for technology for students to use. Thanking the club, Newcomb said "We have been spending a lot of effort putting technology in the hands of kids, directly in the classroom, with a variety of different devices. [this contribution] is really, really cool and I thank you so much for providing us with this funding. It is going to go to a very good use in putting more technology in the hands of our kids."
"
The change in your pocket could change a life
." That challenge from the District Governor is being met by our club with the pocket change containers at the front table and a second one being passed around. Keep that change in your pocket until you get to Rotary so you can help fill these containers.
PAUL HARRIS STATUE UNVELING
Bob Chadwick noted that "Paul now resides in Essexville where he is staying with Jerry Somalski, who is anxious to get rid of his house guest". The statue will be installed Monday and ready for dedication at 12:45, as part of the regular Rotary meeting, on
September 16
at the
Pere Marquette Depot
. The public is invited to the unveiling. If you plan to have a lunch guest at the meeting, please let Cindy Chadwick know in advance.
The meeting on the 23rd of September will be held at the Country Club again.
Rob Clark
spoke about the monthly Centennial Year events. The year kicked off with the Hidden Harvest Food Drive. This month the Paul Harris Statue is dedicated. October sees International Night. And coming up
November 11
is our annual
Rotary Homecoming
. You are encouraged to wear your school colors and bring guests to that meeting. We will present the ROSE award, among other things. That is also the kick off to the membership drive. Everyone should start thinking NOW about prospective members and inviting them to meetings. The goal is TEN new members before the end of the year.
Cindy Luczak, Bay County Clerk,
presented the 2 minute business spotlight. The elected Clerk is the chief election officer. As such Cindy is in the midst of preparing the November ballots at this time. Her office also maintains vital records such as birth, death and marriage. Birth certificates are up this year with around 700 so far this year. "We have average about 1,000 deaths a year and we are way over that already this year." Business filings run 500 to 700 a year and the number is currently only about 300. Cindy mentioned other statistics and services of her office.
Rotary Club of Bay City
View Centennial Year Celebrations Schedule
July 2014-June 2015
---
DATES TO REMEMBER
International Night Committee
- Monday, September 16, 2014 - 11:00 pm - at the Pere Marquette Depot.
Paul Harris Statue Dedication
- September 16, 2014 - Noon - Rotary Park at the Pere Marquette Depot
Off Site Meeting
- September 23, 2014 - Noon - Bay City Country Club.
International Night 2014
- October 23, 2014 - 5:30 to 9 - Bay City Country Club
Rotary Homecoming 2014
- November 11, 2014 - Regular meeting time - Doubletree
---
Upcoming Programs
(See the official schedule at RotaryBayCity.org )
September 16, 2014: Paul Harris Statue Dedication
Pere Marquette Depot.
September 23, 2014: Overview of Bay County
Tom Hickner, Bay County Executive, will enlighten us with information about what is going on across the entire county.
September 30, 2014: Chinese Visitors.
Five principals from China and eight students will be visiting. They will be attending this meeting along with their interpreter. Judy Cox, Principal WHS, and Amy Bailey, Principal at WMS will talk about their visit and the exchange program they have in place.
October 14, 2014: Update on Global Status of Polio.
Our own Chuck Cusick will provide us with an update about the global battle to totally eliminate polio.
---
Current and past
DISTRICT DISPATCH
newsletters are available on the District site shown in the LINKS section below.


Rotary Bay City on Facebook!
Click on the Blue Facebook to visit us there.

Remember! Check attendance sheets at the front desk.
---
LINKS