Rotary Dedicates Paul Harris Statue
September 16, 2014
By: Stephen Kent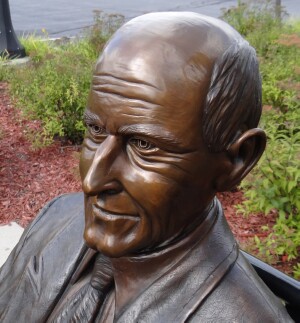 Paul Harris statue gazes on County Building
Rotary met Tuesday September 16 at the
Pere Marquette Depot
for the unveiling of the
Paul Harris Statue
residing outside in
Rotary Park
. During the abbreviated program, dignitaries were introduced including the sculptor of the Paul Harris statue,
Carl McCleskey
, from Cloudland, Georgia.
At 12:45 the gathered Rotarians and guests went outside to
Rotary Park
where they joined others who had come for the dedication. Short speeches were made including the history of the project. McCleskey then gave a short talk about the process of creating the statue, which involved both himself and his wife,
Betsy Scott
, who was project lead and who did the face.
The sculpture was the idea of Don Carlyon, who proposed it to Jerome Yantz some six years ago. Since then, those two, and others including Bob and Cindy Chadwick, spearheaded an effort that raised some $50,000.
The finished piece is the third full size sculpture in the world of Paul Harris, who along with three business friends founded Rotary in 1905. Today Rotary is the world's largest service clubs. This is the only piece that is in a setting that invites the public to sit have have their picture taken with Paul.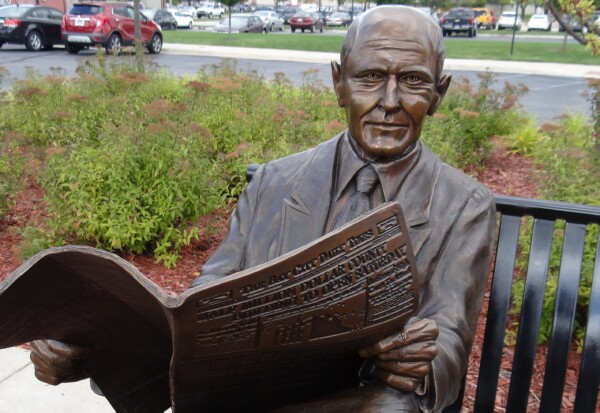 Paul Harris statue views the County Building while reading an
article covering the dedication of that building in the 1930's.
---
CLUB NEWS and ANNOUNCEMENTS
"
The change in your pocket could change a life
." That challenge from District Governor Brock is being met by our club with the pocket change containers at the front table and a second one being passed around. Keep that change in your pocket until you get to Rotary so you can help fill these containers.
The meeting on the 23rd of September will be held at the Country Club again.
October sees International Night. Coming up
November 11
is our annual
Rotary Homecoming
. Wear your school colors and bring guests to that meeting. We will present the ROSE award and kick off the annual membership drive. Start thinking NOW about prospects and invite them to a meeting. The goal is TEN new members before the end of the year.
The Centennial Committee has set the goal of EVERY MEMBER achieving
Paul Harris Fellow
status during the Centennial Year. There are matching points available that allow a member to receive their first Paul Harris level at a fraction of the normal $1,000 contribution.
MORE PHOTOS OF THE PAUL HARRIS STATUE DEDICATION


District Governor Dee Brock addresses audience

Jerome Yantz

Don Carlyon

Carl McCleskey

Rob Clark, Ron Bloomfield, Carl McCleskey, Don Carlyon, Jerome Yantz

Sculptor Carl McCleskey and Harris pose looking at county building

Nancy and Chuck Cusick showing the "this far" from eradicating Polio.

Andy Rogers has a conversation with Harris.

Ron Bloomfield and District Governor Dee Brock

Bob Sherman poses with Harris

After all the crowds have left, Don Carlyon sits and appreciates the
results of his idea first stated some six years ago.
Rotary Club of Bay City
View Centennial Year Celebrations Schedule
July 2014-June 2015
---
DATES TO REMEMBER
International Night Committee
- Monday, September 16, 2014 - 11:00 pm - at the Pere Marquette Depot.
Off Site Meeting
- September 23, 2014 - Noon - Bay City Country Club.
International Night 2014
- October 23, 2014 - 5:30 to 9 - Bay City Country Club
Rotary Homecoming 2014
- November 11, 2014 - Regular meeting time - Doubletree
---
Upcoming Programs
(See the official schedule at RotaryBayCity.org )
September 23, 2014: Overview of Bay County
Tom Hickner, Bay County Executive, will enlighten us with information about what is going on across the entire county.
September 30, 2014: Chinese Visitors.
Five principals from China and eight students will be visiting. They will be attending this meeting along with their interpreter. Judy Cox, Principal WHS, and Amy Bailey, Principal at WMS will talk about their visit and the exchange program they have in place.
October 14, 2014: Update on Global Status of Polio.
Our own Chuck Cusick will provide us with an update about the global battle to totally eliminate polio.
---
Current and past
DISTRICT DISPATCH
newsletters are available on the District site shown in the LINKS section below.


Rotary Bay City on Facebook!
Click on the Blue Facebook to visit us there.

Remember! Check attendance sheets at the front desk.
---
LINKS